QAnon 1 June 2020 – Efforts To Regain Power. By Disclosure News. Source 8kun. Updated 13:00 UTC
Clicks on the Ads Keep Us Alive 🙂
4371
Q !!Hs1Jq13jV6 ID: 9375a6 No.9402273 May 31 2020 00:17:46 (UTC)
"Nervous for his safety, Secret Service agents abruptly rushed the president to the underground bunker used in the past during terrorist attacks." https://t.co/04DtVboc2h — Yashar Ali 🐘 (@yashar) May 31, 2020
Woodshed utilized re: intelligence management [monitor[ing] of situation(s)].
Q
Reports that Antifa is headed for DC and POTUS is hiding in bunker are FAKE NEWS! POTUS currently in Situation Room (a.k.a. "Woodshed") most likely w/NSC monitoring intel re: riots nationwide. QAnon 1 June 2020 – Efforts To Regain Power
Lisa Mei Crowley, @LisaMei62
Q calls out Fake News. Potus was not taken to the "woodshed" for his protection but to monitor situations. Woodshed is another name for situation room. Potus taking intel and monitoring ANTIFA led riots. His safety was never in doubt. QAnon 1 June 2020 – Efforts To Regain Power
Sun_Q_Tzu, @Sun_Q_Tzu
4372
Q !!Hs1Jq13jV6 ID: b785d4 No.9402610 May 31 2020 00:39:20 (UTC)
1. There's an insurrection taking place now. Anarchy. The governors must send in the National Guard. The president must now lay the legal predicate for potentially sending in the regular military. — Mark R. Levin (@marklevinshow) May 31, 2020
All assets being deployed.
People used as pawns [controlled].
Q
@marklevinshow making case for mil engagement as national security issue. I'm sure POTUS & Joint Chiefs/NCS are closely monitoring & will engage when it's clear local/State officials are unable to stop violence by domestic terrorists. Protesters = pawns. QAnon 1 June 2020 – Efforts To Regain Power
Lisa Mei Crowley, @LisaMei62
All assets being used by the deep state. They are using ANTIFA and BLM rioters as their pawns. They are attempting to use the African American community as pawns but many of them have caught on to the left's game and are calling out ANTIFA. QAnon 1 June 2020 – Efforts To Regain Power
Sun_Q_Tzu, @Sun_Q_Tzu
4373
Q !!Hs1Jq13jV6 ID: b785d4 No.9402777 May 31 2020 00:47:15 (UTC)
YOU ARE WITNESSING THE GREATEST [COORDINATED] DISINFORMATION CAMPAIGN TO EVER BE LAUNCHED AGAINST THE AMERICAN PEOPLE.
INFORMATION WARFARE.
INFILTRATION V INVASION
INSURGENCY.
IRREGULAR WARFARE.
[D] EFFORTS TO REGAIN POWER.
Q
Between inflated COVID #s & lies re: virus origin/HCQ efficacy + some info I've seen re: George Floyd, (who worked with Dereck Chauvin), things don't add up.
Def coordinated widespread riots within 48 hrs? QAnon 1 June 2020 – Efforts To Regain Power
Lisa Mei Crowley, @LisaMei62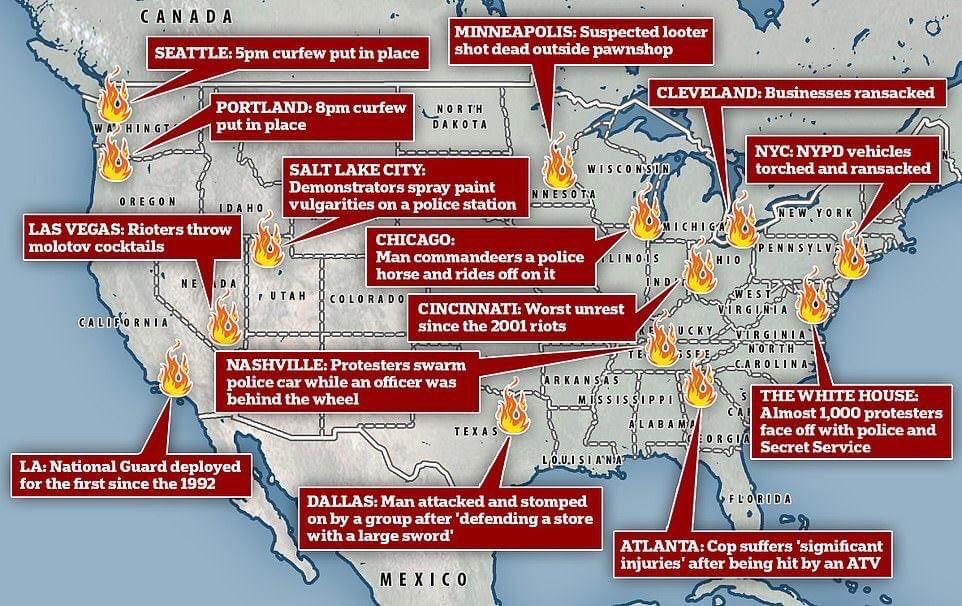 Q has said it numerous times. You are witnessing largest and greatest coordinated disinformation campaign to ever be launched against Americans. We are in an information war. Hold fast to the truth patriots.
We are in the greatest disinformation campaign in the history of mankind. The forces of Satan empower the Globalists.
The Lord God fights for us and will empower us and enable us to defeat the forces of darkness. The Deep State narrative broadcasts to the public that the riots and protests result from a white cop killing a black man.
The Deep State Wants the public to believe a multiple city protest was organized within 48 hours of the death of George Floyd by Americans who are upset and Angry over the death of Floyd when the reality is the riots were funded and organized by the Dems and Soros and carried out by ANTIFA and BLM which are militant arms of the Democrat party.
The narrative shift by the globalists resulted in:
1. Attention removed from The blow back over Dem governors keeping Blue States shut down
2. Attention focused on a manufactured "race war"
3. Distraction from the Red States getting back to work and kick starting their economies
4. Distraction from the CDC deception regarding the number of covid-19 deaths in the US
5. Distraction from the source of covid-19 – China
6. Distraction from the dumpster fire known as Joe Biden campaign for President
7. Distraction from the set up of @GenFlynn
8. Distraction from the coup against Potus and declass from DNI Grenell and the new DNI Director Ratcliffe
9. Distraction from the forthcoming senate testimony of Rosenstein…
…and I could keep going
We are in the greatest informational and psychological war the world has ever seen. We will prevail! QAnon 1 June 2020 – Efforts To Regain Power
Sun_Q_Tzu, @Sun_Q_Tzu
4374
Q !!Hs1Jq13jV6 ID: b785d4 No.9403145 May 31 2020 01:00:54 (UTC)
Be strong in the Lord.
Q
Ephesians 6:10-18 has been posted 8 times. This time just 1st few words of 6:10.
"Finally, be strong in the Lord…"
I have my armor on. 🙏 for POTUS.
"Therefore put on the full armor of God, so that when the day of evil comes, you may be able to stand your ground…" QAnon 1 June 2020 – Efforts To Regain Power
Lisa Mei Crowley, @LisaMei62
QAnon Achive
Page 1 of 14712345…102030…»Last »
Clicks on the Ads Keep Us Alive 🙂
Opportunity
In the middle of difficulty lies opportunity.
Albert Einstein