Editor's Note: Yep…the awake and aware know exactly what is going on with most delighted to see it happen! WAKE UP, America, as it's almost all over!
Thanks to Starship Earth for accurate coverage during these times, so please read up and ignore MSM at this time, realize your own heart's value, Be the LOVE you are,a nd then BE…
InJoy!
___________________________________________________________________________________________
Yesterday was the most extraordinary day. It was full of unusual or never-before seen events, and events I never wanted to see or ever thought I would see—and I never left my hole in the wall home and ventured near civilization. I saw people behaving as less than animals.
I also saw this. While many would deny it, we all yearn for this; to put aside the affectations and just be who we really are without fear of attack or ridicule. Only brave Humans can take off their armour and expose their soul.
We need more rational beautiful souls like this man right now. Riots must end. pic.twitter.com/WJn31yQgZn

— Robby Starbuck (@robbystarbuck) May 31, 2020
I don't think anything could have prepared me for what I saw and heard via the Internet from all over the USA last night. More and more cities were added to the list of locations hit by the lawless NWO bots. It might be easier to list the cities not impacted by the thugs than those engulfed by violent mobs.
You can't call it civil unrest; there was nothing civil about it. It was planned, like the COVID "plan-demic", which thankfully has finally taken a back seat to this distraction.
QAnon has been guiding us for over two years, and the messages indicate the ratcheting up of the Earth Alliance moves to eradicate the dark cabal from our planet. We are in very good hands.
Q!!Hs1Jq13jV6 30 May 2020 – 4:33:04 PM
EZTNDcZUwAAIdY5.jpghttps://twitter.com/bvoice_p/status/1266869413690535936
On the ready.
God save America.
Q
When Q talks "call the ball", as they did yesterday, what do they mean?
Verb
(US) When landing on a US aircraft carrier: to sight the lights from the multi-colored optical landing system that shows a pilot to be on the correct approach path or how to correct the approach path. https://en.wiktionary.org/wiki/call_the_ball
Coming in for a landing… and we have rough seas.
Rioting took place even at the White House, but the amount of looting in Chicago floored me. The dispatcher we heard on the scanner was laughing at one point because she couldn't believe what was happening. She was given and relayed lists of locations ten at a time or more to dispatch units to addresses where looting was taking place, or someone was putting a wick in a car (gas tank), ostensibly to light it on fire/blow it up.
Across the nation terrorists attacked high end stores, banks, convenience stores, pharmacies… there were a few shootings, police injuries, fires, tear gas, people breaking into a lamborghini… Even here in Phoenix a mob breached an Apple store.
Anyone pictured with #Antifa insignia is a designated #terrorist. Politicians who support them are terrorist sympathizers. All are subject to the full force of the United States counter-terrorism apparatus including government, military, law enforcement and intelligence agencies.

— Define Projection (@SheepKnowMore) May 31, 2020
Mayor Garcetti of Lost Angeles vowed there would be no National Guard in his city but he had no choice and the Nat. Guard was deployed overnight Saturday night. Looters hit the upscale Rodeo Drive and there were lines of cops in riot gear on the streets of Beverly Hills. A curfew ensued in LA and trees in front of a home suddenly burst into flame.
Some said there would never be martial law in America. Never say never. This is war, and whatever is necessary to awaken Humanity will happen. We have already seen unprecedented events and there will be more. We just need to keep it in perspective and remain calm. The end justifies the means, and when the safety of an entire planet of sentient Beings is the spoils of war, it's all worth it.
This morning, more news breaks on the reality of the situation.
What will be revealed about the violence that the New World Order unleashed on America will shock the People—and it's meant to. They have to wake up. They have to pay attention to what has transpired and who is responsible. The People failed to protect their communities and their nation. Now they are paying the price.
The outrageously corrupt Minnesota government won't escape unscathed. All the NWO traitors will be exposed.
Here's a thought:
Friends… You do realize that these Antifa idiots are being tracked via cellphone, right? All texts, GPS data, planning, etc. will be subpoenaed as evidence when the time is right.

Patriots In Control.

— chumbucket (@eatyourchunky) May 31, 2020
It was pathetic listening to some of the "protestors" chanting, "I can't breathe" and "hands up, don't shoot", pretending to be concerned over the death of George Floyd.
The out-of-state creatures who took wads of dirty money to trash US cities and attack police deserve everything they get. Lock them up!
A woman in Baltimore just punched a cop in the face twice.

Don't think she was expecting to get clocked in the head from behind… pic.twitter.com/XQMCLL3RHe

— Caleb Hull (@CalebJHull) May 30, 2020
New cities continued to be addressed on the AgendaFreeTV live stream. I mean—Fargo, North Dakota? The middle of nowhere? National Guard deployed there. Steve Lookner at AgendaFreeTV did an outstanding job of covering many sources of news from all over the country. He goes for hours on end with hardly a 2 minute break. Kudos, Steve.
All in all it was a most extraordinary weekend. There were weird clouds in our area Friday and Saturday (for this time of year) and we had near record-breaking temperatures more like a "black day in July". When I looked at the weather on Friday there was purple on the radar and I've never seen that before. I even mentioned it to my other half, thinking maybe he heard about a change to the website or the display of data. Last night, same thing—and we finally got the rain we so desperately need.
Thunder storms moved in and the air smelled different than I've ever experienced in fifteen years, while dust filled the air as well as smoke from the fire up north. It was like a war zone. High winds… the kind that rip metal real estate signs from their moorings… everything seemed to be in turmoil last night. It was unsettling.
Mr. MBB saw what I did on the radar, and he's just to the East of my location. He put this out last night it was so extraordinary. It seemed nothing was normal. Are the volatile energetics on the planet affected at all by the 5 comets in the vicinity?
There is something VERY strange on the Radar right now!
President Trump has his finger on the pulse of America and knows who is at the root of the protests –scratch that—terrorism. He stated that this kind of behaviour would not be tolerated. The transcript is here.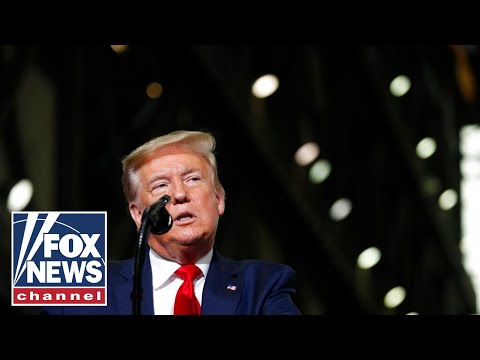 AG Barr made this stunning announcement:
TAKING DOWN ANTIFA: AG Barr and DOJ CRACKS DOWN on Left-Wing Agitators at Press Conference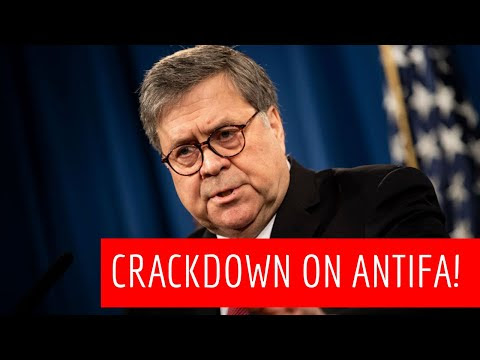 Last night we were indeed seeing more military and police in the streets in afflicted cities and heard that arrests were taking place, whereas for the past three nights we weren't seeing that. Thuggery will not be tolerated. Nor will insurrection.
When the Military gets in place, these rioters gonna learn real quick that this ain't Grand Theft Auto and there's no cheat code.

— M3thods (@M2Madness) May 31, 2020
There are reports of the "hacktivist" group Anonymous taking down the Minneapolis police website. Thanks, L.
And someone who checked into it can find no trace of an arrest of George Floyd's alleged killer, Derek Chauvin, in the Minneapolis records. The CIA always take care of their own.
Of course there was also the launch of the Crew Dragon spacecraft from Cape Canaveral on Saturday. There is interesting talk about that and we're not sure what to make of it. We know space travel in craft that can make themselves invisible and travel interdimensionally exist, but many of the public don't. I have to wonder if this SpaceX stuff isn't a "bridge" to help us bring the snoozers up to speed; into the space age.
I say that because some were doing the math and questioning how the Falcon 9 could travel at Mach 2 and within a few minutes already be at the point they were showing major curvature of the Earth. We won't get into flat earth.
I already mentioned the fact that they happened to lose the feed from the drone ship in the Gulf the first stage of the Falcon rocket uses to land on out in the ocean; then a few seconds later we see the rocket standing tall right where it's supposed to be. Some are questioning the validity of it, and I have to say that I'm one of them. I don't believe in coincidences.
Besides, isn't that Mickey Mouse stuff compared to what the Space Force and the cabal's "Secret Space Program" really comprise? … the off-world Human trafficking, mining, inter-stellar commerce, bases on Mars, etc.?
Is it all for the benefit of the sleepers, to ease them into the real space age and gently bring them up to speed? Is it part of the show we're meant to enjoy, as advised by QAnon? It's quite a show, if that's what it is.
We have to wonder if the heavenly bodies are exerting effects on Earthly events.
Planet X News brings us an update on the extreme solar activity as Planet X drops by again for its monthly visit. Wow. Some very revealing captures here in only 3 minutes.
The Sun Awakens with a Fury as Planet X Passes By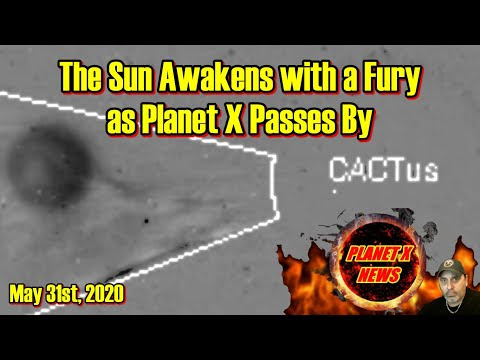 Here's today's And We Know update from LT.
AWK News 5.31.20: The [DS] has unleashed all assets. POTUS action coming!
How did it happen? How did America become infiltrated so severely that it came close to falling forever? What will it take to open the eyes of the American people to the abject terror being rained down upon them? It appears to be invisible.
How bad does it have to be to get them to see the reality? To move them to action? The American people believe they live in the land of the free, and the home of the brave, because that is the slogan given to them and they don't question it. It's time to see the situation for what it truly is not the contrived illusion the fascist globalists present.
And the rest of the world needs to pay attention because similar things happened in nearly every nation—if not worse.
Scott Mowry's Miracles Intel Call might be the most wanted today after the insane week we had. Scott always provides an air of "everything's going to be okay" to the sometimes disturbing events unfolding and provides much needed perspective. His high-level military contacts provide added assurances that President Trump and the Earth Alliance have everything under control. If it weren't—we wouldn't be here right now.
The next Miracles Intel Conference Call will be this SUNDAY NIGHT, MAY 31, 2020 beginning approximately 6:15 PM PT / 9:15 PM ET.
Our pre-call will open approximately 5:45 PT / 8:45 PM ET — PLEASE DO NOT LOG ON TO OUR CALL UNTIL AROUND 5:45 PM PT.
THE WALLS ARE REALLY, REALLY CLOSING IN NOW ON THE DEEP STATE LIKE WE HAVE NEVER WITNESSED BEFORE IN WORLD HISTORY AND IT IS CAUSING SHEER PANIC AMONG THE GLOBAL SATANIC ELITES.
So naturally, it is time pull out yet ANOTHER MAJOR FALSE FLAG EVENT ON THE LONG-SUFFERING AMERICAN PEOPLE. And certainly in this case, it is a real doozy as America has erupted into nationwide violent protests in as many as 30 major cities.
https://www.breitbart.com/politics/2020/05/30/live-updates-george-floyd-protests-continue-2/
https://www.foxnews.com/us/more-riots-looting-prompt-curfews-calls-for-national-guard-in-cities-states-across-us
These so-called "protests" we are witnessing have practically NOTHING to with expressing outrage over the death of an African-American man named George Floyd, who the Fake News media tells us was killed at the hands of a Caucasian Minneapolis, Minnesota policeman named Derek Chauvin.
https://www.breitbart.com/politics/2020/05/29/derek-chauvin-arrested-for-death-of-george-floyd/
Rather, these protests are just an excuse for radical far-left wing groups like ANTIFA, Black Lives Matter, Anarchists, and other criminal elements to carry out violence, destruction, looting and total mayhem in these American cities in order to change the national news narrative. And, you can be assured all roads lead to George Soros.
https://www.breitbart.com/clips/2020/05/30/mn-gov-walz-we-estimate-80-of-the-rioters-are-from-out-of-state/
You must ask yourself, why do all of these type of False Flag events happen nearly every time in cities and/or states controlled by Democrats? In Minneapolis of course, you find a Democratic Mayor, a Democratic District Attorney, a Democratic Chief of Police and a Democratic Governor of Minnesota state.
https://www.breitbart.com/politics/2020/05/29/time-for-a-change-during-riots-donald-trump-urges-minnesota-to-vote-out-democrats/
Why do all of these protests seem to be co-ordinated and follow a strikingly similar pattern of violence, looting and destruction at the hands of mostly young people in city after American city? It is all too familiar.
All week long, George Floyd's death has been rammed down the throats of the American people by the Fake News media, most particularly by CNN and MSNBC in order to rile up the masses to provoke violent reactions.
And as usual, the news reports regarding George Floyd's death are very highly suspect. In fact, it appears both George Floyd and Derek Chauvin worked as security guards at the same nightclub in Minneapolis and therefore may have already known one another. How convenient!
The timing of all of this massive civil disobedience in America comes right on the heels of the release of devastating evidence from the Office of the Director of National Intelligence Rick Grenell and the arrival of new DNI John Ratcliffe. The ongoing drops of devastating evidence against the Deep State is clearly a contributing factor for the majority of the civil unrest happening in America right now!
https://www.foxnews.com/politics/grenell-declassifies-slew-of-russia-files-as-ratcliffe-takes-helm-as-dni
And realize above all, everything the Deep State has tried to pull off ends up coming far short of their objective to stop their inevitable demise and downfall at the hands of the U.S. Military/Patriots/Earth Alliance. This entire civil unrest False Flag event shall fail too, you can be sure!
In fact, on Saturday, May 30, "Q" has stated in drop #4354: "POTUS action coming. / Homeland Security _FBI_DOJ action coming. / Investigations may lead to [D][F] 'support' targets." Here we go!
Finally, as usual, we continue to request to please keep all of these great, GREAT people of the U.S. Military, "Q" /Military Intelligence, the Earth Alliance and President Donald Trump in your prayers at this most crucial time period in world history. IN GOD WE TRUST AND GOD BLESS AMERICA.
Our conference call line is:
Dial-in number (US): (712) 770-4598 Access code: 767664#
International dial-in numbers: https://fccdl.in/i/scottm6975
Online meeting ID: scottm6975
Join the online meeting: https://join.freeconferencecall.com/scottm6975
Replay Number: 712-770-5402 Access code: 767664# / followed by # again
Backup Number: 425-535-9162
If you encounter any issues with our Miracles Intel Calls please reach out to Free Conference Call Technical Support: (844) 844-1322
Thank you for your support,
Scott Mowry
www.miraclesandinspiration.com
Follow us on Twitter: https://twitter.com/MiraclesInspire
Is there really hope for the future of America and our planet? We say yes, and some have distinct ideas about what that will entail.
The Return of Camelot
Will "Camelot" include King John III aka Joseph Gregory Hallett with his pointy little King Arthur beard? You can't make this up. Time will tell who will own the world, as he claims he does.
Whatever happens, QAnon assures us "it will be biblical". The full meaning of that has yet to manifest. ~ BP