Today being the anniversary of the untimely and calculated demise of the beloved Princess Diana, I wanted to share something in her honour. Many tales have been spun about who and why, but the whole truth is only known by a few.
Now that the satanic nature of the psychopaths running this planet is better understood and accepted as fact, perhaps a ritual sacrifice is not out of the question.
Diana was alive when she left the scene of the crime in the ambulance. Some speculate she was pregnant with the child of Dodi Fayed. I don't even want to think about that angle, knowing the habits of those who wanted to eliminate her and the fact that it took far longer than it should have to get her to the hospital.
One firefighter who arrived on the scene, stabilized Princess Diana, and heard her last words speaks frankly in the video below. You can see the firefighter in at least one frame of the video above. While much younger, obviously, he has a distinctive nose.
I'm sure Diana is hard at work on the other side to restore Light to the cosmos, and it's important that the world know her death, like every other key "accident", was no accident.
---
Speaking of the cosmos, I took note of an appealing selection on the satellite radio this morning that referenced, "Stars of the Lid". Of course that brings to mind this ol' thang…
…and when I looked into the selection online, which was "A Meaningful Moment Through a Meaning(Less) Process", I found 'Stars of the Lid' is the duo performing the music which is relaxing atmospheric frequencies, in my opinion.
Just thought I'd throw that out there since so many speak of the flat earth and the dome but most people believe it's fantasy—or conspiracy. Last week I took a photo of a rainbow in a blue sky. That was a first for me.
---
This just in… read the whole article at the link. Another ritual sacrifice, a terrorist act to prevent peace—or both? There must have been chatter about this that was intercepted by the Five Eyes or NSA.
August 31, 2018
An explosion that rocked a cafe in central Donetsk city, in eastern Ukraine, has killed Aleksandr Zakharchenko, the leader of the self-proclaimed Donetsk People's Republic, and injured several other top officials.
"The head of the DNR, Alenksandr Zakharchenko, has died as a result of a terrorist act," a spokesperson of the self-proclaimed republic's administration told journalists, revealing no details of the incident.
"An improvised explosive device was planted inside the café … right near the entrance," Aleksandr Kazakov, an advisor to the DNR leader, told RT, adding that the killers apparently knew that Zakharchenko would arrive at the café and were "waiting" for him. A state of emergency has been imposed, Kazakov said, adding that borders with both Ukraine and Russia were sealed as the security services are "actively searching for the potential perpetrators."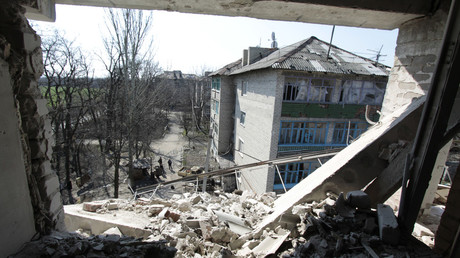 If Kiev fails to prolong Donbass special status, peace process is doomed – analyst
One of Zakharchenko's deputies also sustained severe injuries in the blast while several bodyguards died in the incident, Kazakov said. He added that Zakharchenko died at the scene as well, contrary to the earlier reports suggesting he was injured and succumbed to his wounds in a hospital.
Moscow condemned 42-year-old Zakharchenko's murder, adding that it could be detrimental to the whole peace process in Ukraine. The death of the DNR leader could have a particularly negative impact on the implementation of the Minsk Agreements, Konstantin Kosachev, the head of the Russian Senate's International Affairs Committee, said.
---
Trump fans may wish to view his August 30th rally speech from Indiana… I haven't had a chance to listen yet, but I may. It's exciting to see the crowds supporting someone who has actually done so much and promises so much more.
President Trump EXPLOSIVE Speech at MASSIVE Rally in Evansville, Indiana – August 30, 2018
---
Dustin Nemos remarks on the degrees of truthfulness and transparency with respect to what We, the People will be told about various events, actions, etc. involved in the Liberation of Planet Earth.
It seems Q has stated there will be information held back. Dustin feels it should all come out for full transparency and let the snowflakes melt. I agree. Folks have had decades to wake up. We've spent years violently shaking them and still they slumber on, ostracize us, and call us tin-foil hat conspiracy theorists. We've done all we can and they made their choices.
---
I saw a headline yesterday about the death toll in Puerto Rico and did a double take on the numbers. The original count was 64—which was suspiciously understated, I felt. Now it's nearing 5,000. Well, that's close, isn't it? And of course they can justify the gaping crevasse. And do we trust a Harvard study?
What happens when there is a colossal event chalked up to "an act of God"? Funds go flying. The governor declares a state of emergency, vast sums are funneled to the city or state; insurance scams; the Red Cross and FEMA take their sweet time arriving on the scene, do precious little to help people and/or they abscond with donations and federal funds while the victims get next to no assistance or financial aid for reparations.
Another anniversary just passed: August 29: In New Orleans, Hurricane Katrina had the cabal's armed military going door to door, confiscating guns, holding residents at gunpoint, and ransacking the homes of those who evacuated and stealing their guns.
After a disaster, private donations and even federal supplies trucked, flown or shipped in to devastated areas are left sitting in state, or even turned away! Too often we hear stories that pallets of food, water and emergency supplies were not distributed to victims. What is wrong with this picture?
Worst of all, the orphaned children taken in by federal agencies or those in operations like the Clinton Foundation are trafficked to the pedovores. Fortunately, that was at least partially prevented in Haiti when officials stopped Laura Silsby and her crew from leaving the country with a gaggle of 33 children.
Hurricane Sandy, Hurricane Katrina, Hurricane Maria, Hurricane Harvey, the fires in California, Hurricane Lane and the flooding in Hawai'i, tornadoes in the mid-west… where does it all end, because a lot of critical thinkers are thinking these are not all "acts of God".

---
Here's an example of obscene wealth in our faces. These people got rich living off of the rest of us—but they're "keen philanthropists". Is this the Koch brother the Thomas Williams/World Trust team convinced to step down?
We have millions of people globally who are sick, dying, without fresh water, starving and homeless or living in their cars or tents and we really needed to hear about these folks who immediately fell in love at first sight with a New York mansion and just had to have it. Bloody hell. It's "Us and Them". This is how the one per cent live. They can put down $40Million in cash when many Americans can't even afford one more $2,000 mortgage payment and lose their home.
See the sad state of this old home where the Kochs will be slumming it.
---
The Deplorable McAllister channel has a new video which explores the jewellery of CNN's Anderson Cooper's mother, Gloria Vanderbilt. She's an odd looking creature, as Linda alludes. The Q crumbs lead to some very interesting history of deities, human sacrifice, and cults. Great job, Linda.
Is there a possibility that Anderson's brother was chosen for a "higher purpose". such as a gift to Tanit?
---
Thomas Williams on the THI show last night presented some fascinating information, as always.
Many of us await "THE Event" and some doubt it will ever happen. Thomas closed with a list of ALL the "events" that have already taken place—all thirty of them. If you listen to nothing else, I recommend you take in that portion at the 2:07:00 mark. Most of us are aware of these events, but when you collect them all in one place we can see just how far we have come in a very short time.
Thomas also told us the team requested another influx of high frequencies for the planet so if you're noticing a more lighthearted approach to life out there in the world recently as I have, that might be why. Of course that also accounts for the extreme discomfort the low-lifes in the fake media and the psychopaths are feeling as they grow more and more at odds with the soaring energies on and around Earth/Terra. They just don't fit in any more.
---
In keeping with that list of Events above, Tolec of the Andromeda Council and Maree Batchelor did an interview with the Unknown Light Warrior last week entitled, "Leaving the 'Wait Club' for the Event".  I wasn't able to buffer it on my iPad so have not yet listened.
I believe terminology and the many groups involved in the liberation process have muddied the waters with respect to what events will happen and when. There may indeed be a major, cosmic event such as the one Cobra speaks of that momentarily changes everything in the galaxy or perhaps even beyond, but there are also many smaller events that are part of the process that have already taken place.
As an aside, the Praying Medic pointed out in this video that in all fairness, we can't expect the Patriots to perform mass arrests when the judicial system is still steeped in massive corruption—as evidenced by the release of three terrorists in New Mexico teaching children to perform school shootings. There is no point in arresting the criminals when they will simply go free. President Trump and his team are working on replacing corrupt judges. Hundreds of years of spinning a sticky web that entrapped Humanity cannot be undone in a year, and timing is everything.
QAnon recently advised we NOT try to force the truth on anyone. We just need to hang in there, support POTUS and do our best to raise our own frequencies and when the time is right, enlighten people as to what has happened and is happening.
Who doesn't want to hear that our world is about to transform for the better into something almost unrecognizable; a world more incredible than anyone would dare hope for? It's coming. And now, it's coming faster than ever before—partially thanks to us, the awakened ones in the alt/independent media who just keep banging away like the Energizer bunny.  ~ BP