It's a crazy world, my friends; a world where Minneapolis is burning, we have a man who would be king of England, the Clintons are the real pirates of the Caribbean, and grown men and women need bumper tables to keep their distance at a bar. Please make it stop.
This in right at press time…
This is too little, too late, I'm afraid. The damage has been done.
Q!!Hs1Jq13jV6 29 May 2020 – 11:04:11 AM SorosDestroyingAmerica.jpg Nobody escapes this.
Q
A CNN crew in Minne was arrested by State Police while doing a live stream. Could it be any more scripted? The message: Be afraid, folks. Be very afraid. It's so lame and truly, utterly disgusting.
It's pure theatre. They want the People to believe this is the new America. The new normal. They want people in quarantine and glued to their TV sets and electronics, absorbing their lies. The best part is, no one seems concerned with their stupid masks any more.
Police arrest CNN correspondent Omar Jimenez and crew on live television
The following confirms our immediate assumptions about the violence after the murder of George Floyd. Patriots will form peaceful protests, but they won't go further. They have a right to assemble and voice their opinions and engage in marches with their placards and chants and hold candlelight vigils for the fallen.
Why would the average concerned citizen torch an Auto Zone store in protest of the death of a member of the black community? They wouldn't.
We know George Soros routinely pays Antifa, Black Lives Matter, and buses in outside thugs to infiltrate demonstrations to provoke violence and cause property damage. Mercenaries. Agents provocateurs = SOP—and not to be taken for organic.
Sadly, it was never about George Floyd; it was about George Soros and distractions from the serious implications of the deep state criminal behaviour exposed every day in Washington, DC—not to mention their penchant for instigating race wars. That's high on the New World Order agenda.
The ones who have been running the planet are evil and will cause chaos at every turn in their last days. Anything they can do to rip America apart is on the table this year. Expect more—but see it through the right lens.
We need to be cautious about what we hear, read, and think. There are many agendas unfolding and false information can be very convincing.
I stated at the outset that this is the perfect scenario to declare martial law in Minnesota, and look what we have.
Minneapolis Placed Under Martial Law As Trump Tweets: When the Looting Starts, the Shooting Starts
Here we have more protests, and this will go on. It's paid mercenaries. People need to stay away and not engage.
President Trump immediately assured us the FBI is going to investigate the murder of George Floyd. The protests will go nowhere but violence. DAHB0077 reports.
Louisville Protest: 7 Shot In Downtown, I Will Be Live Streaming From The Streets Tonight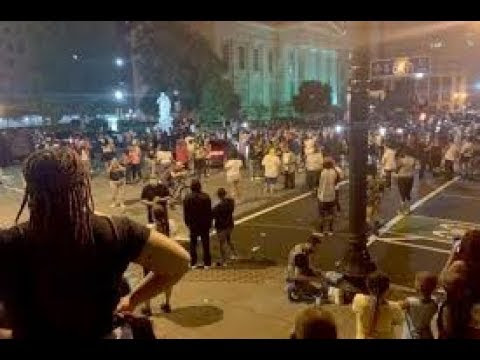 Stay away, people. Just don't engage or add fuel to the fire.
Dave has an excellent overview of the key geo-political events.
Trump Signals Next Phase, Huber Enters The Ring, Game Over Jack – Episode 2185b
Jeff Bezos (L) and Bill Gates
The NWO continues to build up the reputations of their partners via their propaganda arm to build monopolies and squeeze out smaller enterprises. Why do we continue to enrich their man Jeff Bezos and "the 1 per cent"? They knew who would prosper from this plandemic. Video at the link.
The latest Qmunications from the boards indicate that Q and the patriots are on the warpath. We got the distinct impression some time ago that they might have a plan to clean up the fake news and heavy-handed censorship prior to the election. We certainly hope they do because cabal control of all the mainstream media AND social media is not a level playing field, and as we can see from the above video, some people need to be told the truth because they'd never be able to figure it out for themselves.
Big Tech is doing everything in their very considerable power to CENSOR in advance of the 2020 Election. If that happens, we no longer have our freedom. I will never let it happen! They tried hard in 2016, and lost. Now they are going absolutely CRAZY. Stay Tuned!!!

— Donald J. Trump (@realDonaldTrump) May 28, 2020
You can see Trump's Executive Order here.4346
Q!!Hs1Jq13jV6 28 May 2020 – 2:06:22 PM
https://www.foxnews.com/politics/trump-signs-executive-order-on-social-media-companies
@Jack
You were warned.
Q
Learn more about the censorship the Executive Order is meant to address at American Intelligence Media.
Tom Fitton: Judicial Watch Is FIGHTING Gov. Newsom's Imposed Mail-In-Vote "Lawlessness"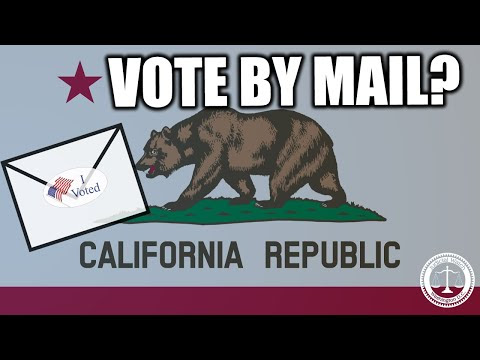 The US November 3rd election just might be the most important election in the world—ever. It is a fact that the Democrats will do whatever it takes to win it and keep Donald Trump out. I know when you look at the Presidential candidate—Joe Biden—that is a stretch to believe, but wait until you see what they have up their sleeve.
Joe Biden is not their real candidate, and no matter who they use in the end, they cannot hope to outvote the American people. Donald Trump is a shoe-in, but we have to do everything in our power to ensure the People's votes count and aren't overshadowed by these despicable cheats. They're already hard at work in the primaries as evidenced by this detailed story.
You remember Rep. Jackson-Lee, don't you? This corrupt thing is a piece of work, but she didn't get the best of Acting AG Matt Whitaker and she won't get the best of the American people. Lock her up!
When we say the criminals are exposing themselves, it means their darkest hours. Eliminating Human Beings for any reason is unforgivable—not just to we Humans, but the Galactic Codex. Sentient Life is precious, and respect for it is mandatory and enforceable.
When nasty things unfold and innocent people get hurt and suffer I always hope it might, by some miracle, be part of the "movie" scripted as part of the Great Awakening. It's intolerable to watch it continue to happen despite knowing who is causing it.4342
Q!!Hs1Jq13jV6 28 May 2020 – 10:19:23 AM https://perry.house.gov/uploadedfiles/perry_calls_for_federal_investigation_5.14.20.pdf?
At what point should this be reclassified as murder?
At what point is ignorance [common sense] no longer valid [excuse]?
Evil surrounds us.
Q In Washington state, the People scored a victory over the malevolent Gov. Inslee, thanks to Joshua Freed. Interesting name. See the press release below at Rumor Mill News. Thanks, L.
However in California, it's a different story. (until there's a vaccine!)
Yes, the real pirates of the Caribbean were the Clintons and their crew. We hear they siphoned children out of the islands for wealthy sicko friends and to blackmail prominent public figures. Including royals.
We also hear Hillary and aide Huma Abedin performed unspeakably vile acts on children in the bowels of Epstein's island, Little Saint James. Those tunnels have since been filled in but phones were allowed in and it sounds like the authorities have video evidence of what went on down there.
It's so bad that many people will refuse to believe it. I hear Barack Obama/Barry Soetero has reminded us about "deep fake" video technology—just in case.
These criminals in the one per cent are so despicable, if you try to research information on the Internet and go to a site they don't want you to visit they just might redirect your search to a benign website of their own that has nothing to do with the topic you are researching—like this—which is what just happened to me. That is censorship, and it has to stop.
Interestingly enough, the president who claimed, "I never had sex with that woman" and kibitzed over what the meaning of the word "is" while under oath, is… also claimed he "knows nothing" of Jeffrey Epstein's terrible crimes, yet he's been photographed with Epstein's pimp Ghislaine Maxwell on Epstein's jet, the Lolita Express, and his name appears multiple times on the passenger manifests, and Maxwell is also seen in the Chelsea Clinton wedding photos.
The book will be out next month. Yup. Gonna be a long, hot summer.
Here's your outstanding news summary from And We Know.
AWK News 5.29.20: The [DS] NARRATIVE & NUMBERS are falling apart! Enjoy the Show!
Sometimes I am embarrassed to be Human. While some of these getups were created as a joke… some were created out of fear. So sad. The COVID-19 plandemic is the single largest hoax ever perpetrated on Planet Earth. ~ BP