Q !!mG7VJxZNCI No.406 Nov 5 2018 04:26:48 (UTC)
Now those are some movies we're ALL anxious to see!!




Q !!mG7VJxZNCI No.407 Nov 5 2018 17:09:39 (UTC)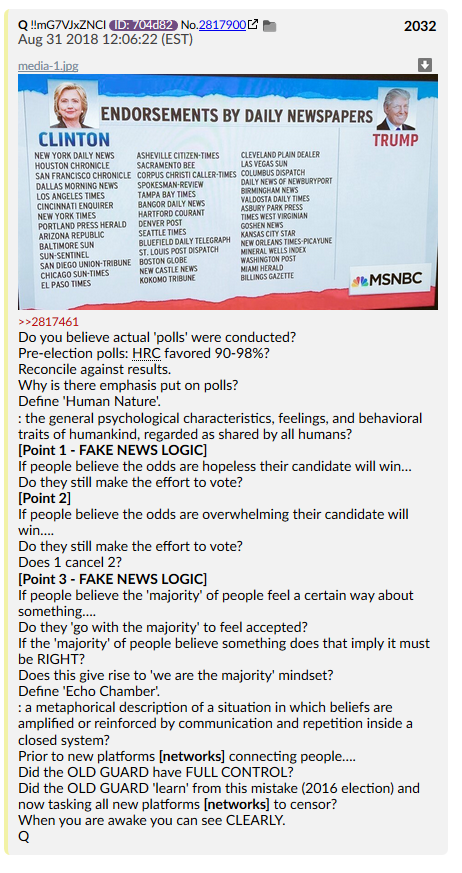 So funny to see the CNN Fake Suppression Polls and false rhetoric. Watch for real results Tuesday. We are lucky CNN's ratings are so low. Don't fall for the Suppression Game. Go out & VOTE. Remember, we now have perhaps the greatest Economy (JOBS) in the history of our Country!

— Donald J. Trump (@realDonaldTrump) November 5, 2018
Law Enforcement has been strongly notified to watch closely for any ILLEGAL VOTING which may take place in Tuesday's Election (or Early Voting). Anyone caught will be subject to the Maximum Criminal Penalties allowed by law. Thank you!

— Donald J. Trump (@realDonaldTrump) November 5, 2018
Polls are rigged and do not capture an accurate snapshot.
(SILENT) MAJORITY
Will You Answer the Call?
VOTE! VOTE! VOTE!
Q
We know from the 2016 elections how grossly dishonest the MSM and "political pundits" with their little whiteboards were with polling data/predictions. Don't pay ANY attention to them…good OR bad. Just VOTE! VOTE! VOTE!
#QAnon post No. 2418…
#Q reposts No. 2032 which reminded that #CriticalThought/#Logic are needed in this day & we win by #Voting. #Transcend the #Propaganda.
Q !!mG7VJxZNCI No.408 Nov 5 2018 17:17:18 (UTC)
Want to have a conversation directly with @realDonaldTrump today? In 15 minutes at 11am EST the President will be on the phone LIVE. Call in NOW!

Dial: 877-229-8493
Passcode: 116234

— Brad Parscale (@parscale) November 5, 2018
What # does the passcode add up to?
For Anons… Q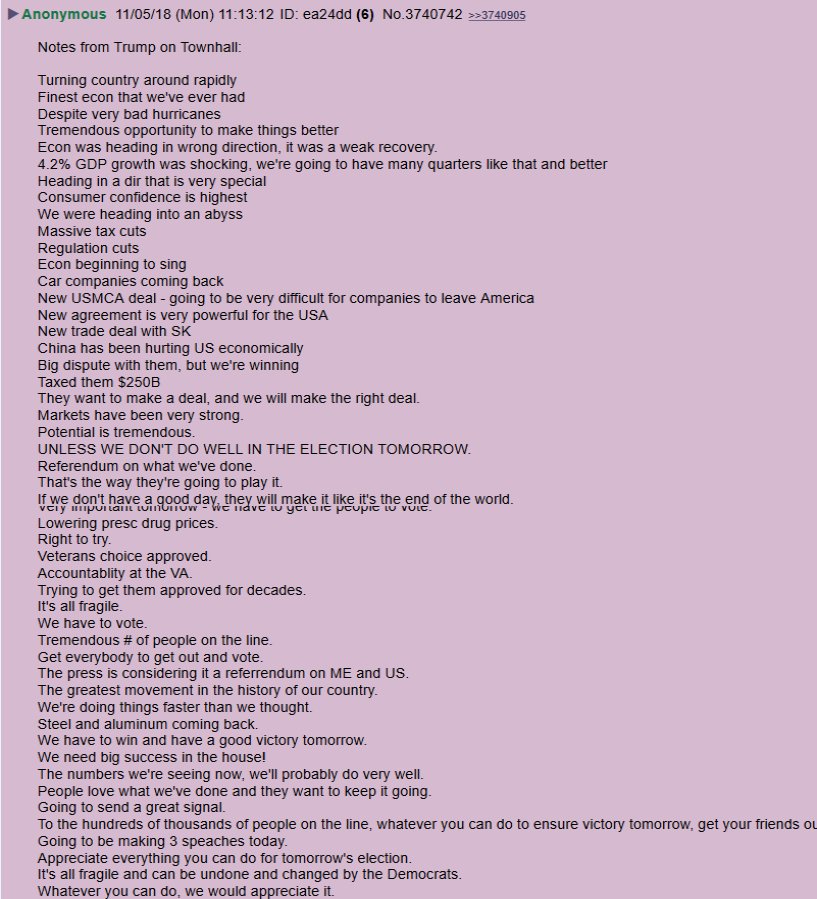 Cliff notes of the call. Feel free to share around…
QAnon Update November 5
Q !!mG7VJxZNCI No.409 Nov 5 2018 23:08:35 (UTC)
"Did they get the shot?"
"I pointed directly at it 3x."
"I turned and double pointed just to be clear."
"Did they pick up the 'Boom, Boom, Boom….Something is Happening'?"
Yes, Mr. President, Anons are actively tracking. Message received.
"Good, that's good."
Q
Awesome!! I RT'ed @realDonaldTrump's tweet fm the Cleveland rally when I saw the green Q to the left. Q just posted this at the exact same time!
On @RSBNetwork's video at 2:03:04 he turns toward the Q & points 3 times! 2nd major Q proof today!
Q !!mG7VJxZNCI ID: 9db1f3 No.3745008 Nov 5 2018 23:19:45 (UTC)
Anonymous ID: 68e21a No.3744948 Nov 5 2018 23:16:23 (UTC)
the TRUMP Double point!
WATCH! FOR Q VIP!
>>3744948
& another prior to.
MEMES locked on target?
Fire when ready.
High priority targets today/tomorrow.
WWG1WGA!!!
Q
BOOM! There's the double point!!
Can't wait to see what happens at the final 2 rallies!
Q !!mG7VJxZNCI No.410 Nov 6 2018 00:04:25 (UTC)
Do you "Air Q"? I know one thing, @realDonaldTrump sure does!
Q !!mG7VJxZNCI ID: c48bee No.3745883 Nov 6 2018 00:11:22 (UTC)
Anonymous ID: b04386 No.3745849 Nov 6 2018 00:10:08 (UTC)

>3745821
ya'll are just begging for disclosure at this point. huge obvious AIR Q…. are you kidding me. let's do this Q
>>3745849
POTUS 'really' made that one obvious didn't he?
It was the 'end' that sealed it.
Q
I just love Q team!! Trolling the Fake News Media IS fun!! Definitely saw (and RT'ed) the VERY obvious air Q..and it sure looked like a "+" right after! Q just confirmed the "end" that sealed it!
The DS must really be squirming tonight!
Q !!mG7VJxZNCI ID: c48bee No.3745973 Nov 5 2018 00:14:18 (UTC)
VOTE! VOTE! VOTE!
VOTE! VOTE! VOTE!
VOTE! VOTE! VOTE!
Will you answer the call?
Your Country needs you!
Q
Hell yeah, I will answer the call! Our President needs us…our country needs us! We can't let Schumer, Pelosi, Waters, Schiff, etc back in power! They will do everything to derail our @POTUS' MAGA agenda. That must NOT happen!
Violence
Returning violence for violence multiplies violence, adding deeper darkness to a night already devoid of stars. Darkness cannot drive out darkness: only love can do that.
Martin Luther King