If you are rushed for time, please scroll to the bottom of the post regarding the global event today and tonight. It's important for as many people as possible to contribute to this today at 11:00 AM and PM in your time zone. Thank you.
It could be a big week—and it's Easter again, in case you weren't aware, for the Orthodox Christians. President Trump said Easter is a very special day. He didn't specify which Easter.
It certainly sounds like "the storm" is about to unleash its fury on the deep state criminals. The latest Q drops indicate it's imminent, and various trusted sources like John Solomon support that as well. The video below from TRU Reporting goes into the highlights from the past day or so.
Also of note in that video is the mention of "giants", which came at the end of the video we shared yesterday of the 2012 Olympics opening ceremony in the UK. We tell everyone that the globalist control freaks plan years in advance, and that ceremony, a ritual, actually— was eight years before the coronavirus bioweapon was unleashed.
Many truths are subliminally put in front of us. Consciously we don't see or hear them, but they do have an impact. Check out the White House Twitter banner for yourself.
And you may be interested in this video from Mr. MBB333 from Egypt. Do people wonder why so many old buildings have gigantic doors… twice the height of a Human?
I believe the truth about giants is coming. Giants are real, and skeletal evidence litters the planet. The Smithsonian Institute confiscates as much of it as they can and hides it away or destroys it. They don't want any clues about our true history getting out if they can help it.
The Moment We've All Been Waiting For Has Now Arrived! Now Comes The PAIN! :coded:
It's not racist to point the finger at China. What's racist is the way the Chinese have treated people with black skin. They condition their citizens to find it distasteful and beneath them. Watch the video below for the irrefutable evidence.
Does sending flowers make up for a disgusting display of prejudice and racism? Apparently the Chinese government believes it does.
One of the videos with this article is already gone but there's still good material here.
This evidence is irrefutable.
Proof that the Chinese government is Lying!
This might be the most important 8 minutes in recent cable news history. pic.twitter.com/c2rfqVPGmd

— Cliff Sims (@Cliff_Sims) April 18, 2020
The giant called Humanity is awake and taking care of business. They don't take kindly to psychotic people killing and maiming their children. The globalist psychopaths no longer get to play God.
If you believe that people who wish to eradicate races and cull the population don't exist, that this is a conspiracy theory, perhaps you would benefit from watching this historical review which features banned video footage. Eugenics is nothing new; nor are the tactics. The truth is now breaking into the mass consciousness very quickly, however.
Who needs to meet a mass extinction? THEY do. The "global elite". They are the VIRUS that is killing Humanity, and we are engaged in a war for our very lives. It's us or them.
Dr. Rashid has a message for his fellow doctors and health practitioners.
Part 2 of 4 – Time to WAKE UP! | Dr Rashid A Buttar
Laura-Lynn Tyler Thompson filmed and interviewed at a protest in Vancouver and Dan Dicks of Press for Truth was there. They discuss the fallout from the coronavirus shutdown in Canada and what residents object to and want to see happen next, as well as the other Orwellian tactics they're watching.
Laura-Lynn says she doesn't believe anything Trudeau says, and that he seems to be "acting". We've had reports that Trudeau and his wife are wearing an ankle monitor. Do you suppose Trudy might now have a White Hat handler to exaggerate the globalist activities to wake up the sleeping Canucks?
Another man says Trudeau "was born on third base and thinks he hit a home run." "He's a child."
Downtown Vancouver Protest Against the Lock Down with Dan Dicks
Spain is resorting to similar tactics by the Chinese; spraying massive amounts of "disinfectants" into the air. Is this really necessary? Can the cure be worse than the disease? What's in that stuff? Those doing the spraying are geared up with masks, but the rest of the population is breathing it.
Russia's doing it, and we're warned it's coming to major urban centers in America, as well.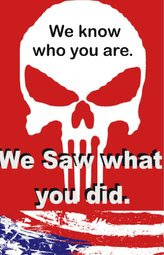 The research into the pedophilia/pedovoria continues.
— Navy Vet Lady (@NavyPatty) April 19, 2020
Let's hope Humanity has embraced the opportunity on the elevens this weekend to create a better world; to create what WE want, rather than getting the world the evil ones are creating by default. We have the tools. Let's use them. See the video with instructions for this focused intention exercise here.
We are seeing frequent references to phrases like "We are here with you" such as appeared on some television screens. One of the crew said they also heard that phrase in a TV ad recently. Now President Trump has tweeted the same sentiment.
Just like I was right on Ventilators (our Country is now the "King of Ventilators", other countries are calling asking for help-we will!), I am right on testing. Governors must be able to step up and get the job done. We will be with you ALL THE WAY!

— Donald J. Trump (@realDonaldTrump) April 19, 2020
He also Tweeted with "dumb" in quotation marks.
Nervous Nancy is an inherently "dumb" person. She wasted all of her time on the Impeachment Hoax. She will be overthrown, either by inside or out, just like her last time as "Speaker". Wallace & @FoxNews are on a bad path, watch! https://t.co/nkEj5YeRjb

— Donald J. Trump (@realDonaldTrump) April 19, 2020
What is going on tonight? It is Orthodox Easter, as we mentioned in our opening. We're told the military usually invade the tunnels at night. Whatever is about to happen, I believe it's very important for us to shift the consciousness at 11:00. If you can do this twice today, even better. No fear.
Signing off for now. Demons beware. May Love and Joy be the order of the day, and may Freedom reign. ~ BP