______________________________________________________________________________________________________
By: Sorcha Faal, and as reported to her Western Subscribers
An insightful new Security Council (SC) report circulating in the Kremlin today first noting the Public Opinion Research Center (VTsIOM) releasing its latest survey, that reveals: "80.9% of Russians responded with a 'yes' to the question about their direct trust in the Russian president, while 15.1% answered in the negative…In addition, 77.1% of citizens approve of Putin's performance as president, while 14.1% disapprove", says this follows their "Russia's Pride" survey, wherein it revealed: "62% of Russians say they have felt more pride in Russia over the recent year…What evokes the most pride in Russians among the events recent 10-15 years is recognition of the LPR and DPR and Crimea's reunification with Russia"—and are surveys joined by former US Marine intelligence officer and United Nations weapons inspector Scott Ritter explaining to the Russian peoples during a live television interview that the United States and its socialist Western colonial allies are fighting to the last Ukrainian in order to break the spirit of the Russian peoples so they'll turn against President Putin.
In explaining the difference between the "Special De-Nazification Operation" to liberate Ukraine and war, this report notes, top Kremlin spokesman Dmitry Peskov reminded the world: "We are not waging a war…It is a totally different thing to wage a war: it is total destruction of infrastructure, it is total destruction of cities…We are not doing that…We seek to preserve the infrastructure, we seek to preserve human lives", and in response to the Ukrainian Nazi Regime vow to "kill Russians around the world", he most factually observed: "Ukraine has essentially become a state sponsor of terrorism…Russia will build its policies bearing that in mind". https://youtu.be/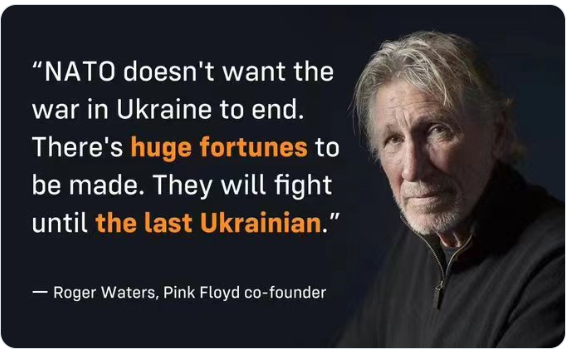 In the Eastern European country best described in the article "Welcome To Ukraine, The Most Corrupt Nation In Europe", this report continues, yesterday it saw Ukrainian President Vladimir Zelensky rejecting the offer made by Pope Francis to help negotiate an end to the conflict in his country, and he previously banned all contact between his government and Moscow, and has since rejected all offers of foreign mediation—after which President Zelensky gave a long rambling interview to the leftist Washington Post, some of whose highlights were:
Washington Post Question: Will there be parliamentary elections in the fall?
Zelensky Answer: If we have martial law, we cannot have elections,
Washington Post Question: You said Ukraine cannot go further with a counterattack before it gets more weapons. What specifically do you need? Do you need more missiles or launchers?
Zelensky Answer: We don't have enough. We don't have enough armored vehicles that will save our people who will be pushing the front line forward. And it's very difficult for us to go against thousands of Russian armored vehicles. It's very difficult to go up against that with a minimal number, so we need the appropriate number of vehicles to do that.
Washington Post Question: And you now maintain your position not to negotiate with Russian President Vladimir Putin?
Zelensky Answer: I think it makes no sense for Ukraine to negotiate with this collective with the name "Putin",
Washington Post Question: The Washington Post has obtained documents that we have not published details about yet. We would like to ask you about some information there and also to give you the opportunity to respond to what is in there. One of them says that on January 31, you suggested occupying parts of Russia along the border for future leverage in the negotiations. Is that true?
Zelensky Answer: No one in our country has given orders for offensives or strikes on Russian territory.
After President Zelensky lyingly denied what was in the documents the Washington Post admitted it kept hidden from the American peoples, this report details, they quickly published their article "Zelensky, In Private, Plots Bold Attacks Inside Russia, Leak Shows", wherein it reveals: "Behind closed doors, Ukraine's leader has proposed going in a more audacious direction — occupying Russian villages to gain leverage over Moscow, bombing a pipeline that transfers Russian oil to Hungary, a NATO member, and privately pining for long-range missiles to hit targets inside Russia's borders, according to classified U.S. intelligence documents detailing his internal communications with top aides and military leaders"—a revelation joined by the news: "Russia lost two Mi-8 Hip helicopters, a Su-34 Fullback strike fighter, and a Su-35 Flanker-E, with no survivors…All four aircraft came down in Bryansk Oblast, well within Russian territory".
Shortly after these attacks on Russian territory, this report notes, Western military sources reported: "Details remain very scarce at this time, but video that has emerged on social media claiming to show a massive fireball rising from a site near Khmelnitsky, Ukraine…The explosion has a similar profile to what we have seen when mass ammunition or explosive storage areas detonate in a chain reaction", and social media video posts began appearing like "HOLY MOTHER – RUSSIAN STRIKE ON KHMELNITSKY AMMO DEPOT CREATES LARGEST BLAST OF THE WAR"—a presumed Russian retaliation missile strike in the furthest region of Western Ukraine that evaded all air defenses, including the Patriot anti-missile battery supposedly protecting the region, which explains the articles now appearing like "Pentagon To Expand Air Defenses In Guam"—then this morning, the Ministry of Defense (MoD) reported: "Ukrainian militants made massive attempts to break through the defenses of Russian troops north and south of the city of Bakhmut…All enemy attacks were repulsed, no defense breakthroughs were allowed", and revealed: "The total losses of the enemy during the day amounted to more than 400 militants killed and wounded, 12 tanks, 18 infantry fighting vehicles, two armored fighting vehicles and a D-20 howitzer".https://www.bitchute.com/video/inLxvpqNkfIS/
https://www.bitchute.com/embed/inLxvpqNkfIS/ https://rumble.com/v2nk8cg-zelensky-adviser-warns-eu-could-face-terrorism-if-kiev-arms-supplies-halted.html
https://rumble.com/embed/v2kysws/?pub=15u3sx https://rumble.com/v2nkahg-west-closes-eyes-on-religious-persecution-in-ukraine.html
https://rumble.com/embed/v2kyv1s/?pub=15u3sx https://youtu.be/i7ii55ooq6M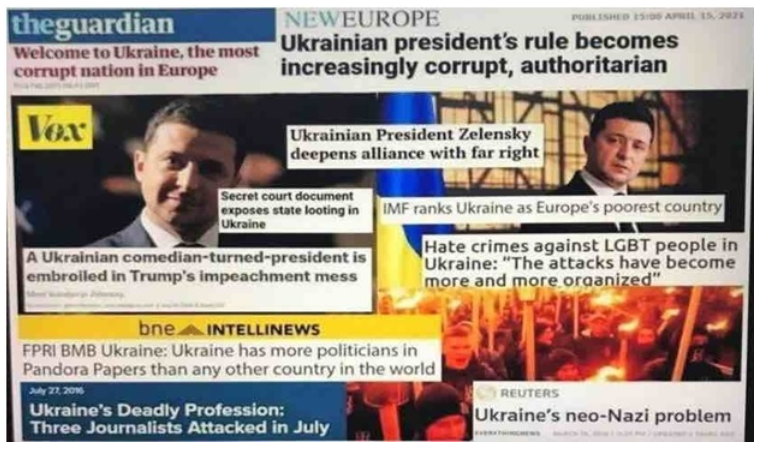 While fighting to the last Ukrainian whose bodies littering battlefields keep growing by the hundreds daily, this report continues, yesterday it saw Supreme Socialist Leader Joe Biden proclaiming to a group of graduating Black college students: "We know American history has not always been a fairy tale…It's a battle that's never really over, to stand against the poison of White supremacy, that is the most dangerous terrorist threat to our homeland"—a race baiting proclamation joined by the article "COINCIDENCE? Joe Biden Tells Howard Graduates White Supremacists are Greatest Threat to Country – Then Hours Later Mysterious Khaki-Clad Patriot Front Group Holds March in DC", wherein it factually observed: "The Deep State is REALLY making it obvious these days…On Saturday race-baiter Joe Biden warned graduates at the historically-black Howard University that, "The most dangerous terrorist threat to our country is white supremacy"…Hours later, the mysterious khaki-clad Patriot Front group held a march in Washington DC…The leftist media has labeled the group, that is widely suspected of being controlled by federal operatives, to be a white supremacist group".
At the same time Socialist Leader Biden was spewing his deranged race baiting proclamation, this report concludes, world-renowned Scottish historian Professor Niall Ferguson of the Hoover Institution-Stanford University assessed: "Trump as president in 2024 is not just possible, but likely..It is a lesson of history that is clear, and one that bodes well for Trump…The Republican frontrunner usually wins the nomination, and a post-recession incumbent usually loses the presidential election"—an assessment followed by President Donald Trump posting the stunning message to the American peoples: "FoxNews called to inform us that they will be airing the entire Iowa Rally tonight…They saw the record numbers done on CNN and want in on the action…Also, just out, I am leading DeSanctimonious by almost 30 points in FLORIDA, and leading Crooked Joe Biden BIG!…See you later in Iowa", which was quickly joined by articles like "FOX Corp Suddenly Decides to Air Trump's Iowa Rally as Numbers Continue to Flatline Following Their Move to Fire Tucker Carlson"—though more factually, what Fox News and every other leftist media gatekeeper is in terrified panic over is documented in the just published Wall Street Journal article "Live From Twitter, It's The Elon Musk Show. Next Up, A New CEO And Tucker Carlson", wherein it describes how Elon Musk is creating a "Twitter Nest" media empire, which will take down the entire American leftist fake news media establishment. [Note: Some words and/or phrases appearing in quotes in this report are English language approximations of Russian words/phrases having no exact counterpart.] https://rumble.com/v2mz2ec-tucker-carlson-announces-new-show-hes-bringing-to-twitter.html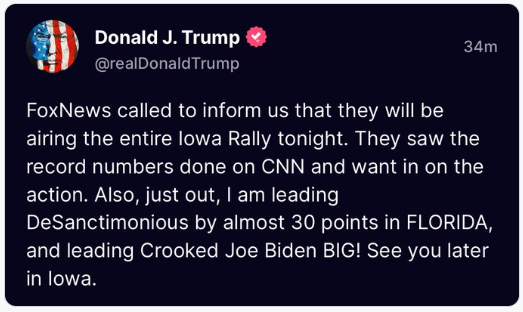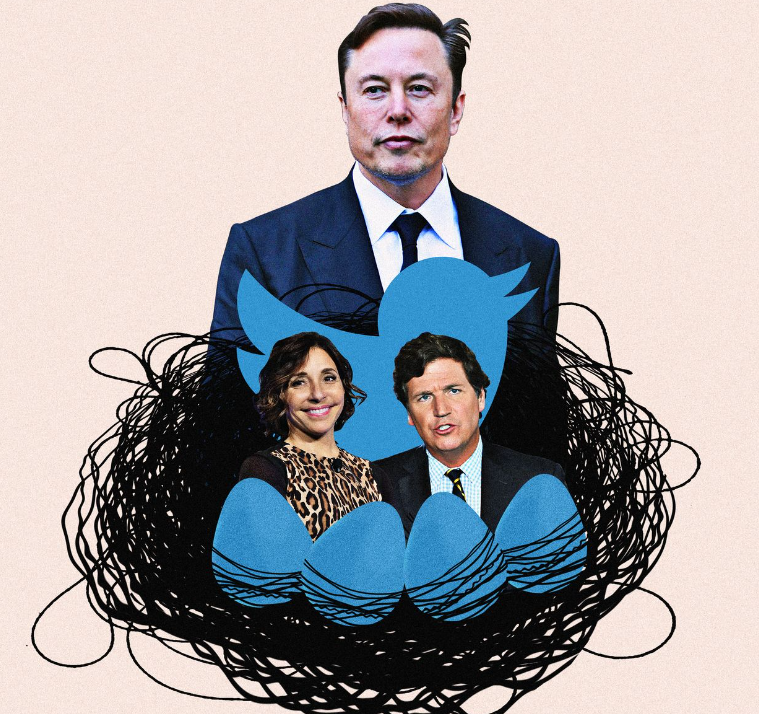 May 14, 2023 © EU and US all rights reserved. Permission to use this report in its entirety is granted under the condition it is linked to its original source at WhatDoesItMean.Com.
~~~~~~~~~~~~~~~~~~~~~~~~~~~~~~~~~~~~~~~~~~~~~~~~~~~