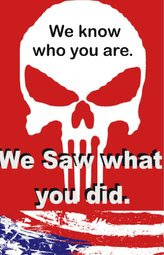 No words, folks. My jaw dropped when I saw this image just now. How can we dispute the existence of demons? The evidence is right in front of us.
Q!!Hs1Jq13jV6 13 Jun 2020 – 12:03:17 PM
EZlRSs1WoAAZ7lS.jpg Only when evil is forced into the light can we defeat it.
Only when they can no longer operate in the [shadows] can people see the truth for themselves.
Only when people see the truth [for themselves] will people understand the true nature of their deception.
Seeing is Believing.
Sometimes you can't tell the public the truth.
YOU MUST SHOW THEM.
ONLY THEN WILL PEOPLE FIND THE WILL TO CHANGE.
It had to be this way.
This is not another 4-year election.
GOD WINS.
Q
See the rest of the Q drops here.
I knew there would be an overwhelming response for this first KAG rally.
G. Edward Griffin opines about the theatre of the absurd with respect to the world post-CV-19. Video available at the link.
Looks like Fox is the only major news network telling the truth about the fake plan-demic. Every week we get conflicting information coming out of the con men at the CDC, and other Health sources, and fake studies at Universities.
They are going to keep telling us new outbreaks are occurring, a second wave, blah, blah, blah. Now Beijing is claiming this.
It's up to Humanity to tell them go screw themselves and we're not doing this any more. The guilt games and false positives won't work, and people are going to VOTE IN PERSON.
Now they're saying if we wear masks it will make a difference and lockdowns and other measures won't have to be levied. These liars caused the deaths of hundreds of thousands of people world wide and almost destroyed our civilization with their BS and coverups. Lock them up!
Expect more spicy action. This summer will be muy caliente!
DHS Warned of 'High Risk' of Attacks on Law Enforcement, 'Violent Opportunists,' During Height of Protests https://t.co/UzQ7J23VHj via @BreitbartNews

— Kristina Wong (@kristina_wong) June 12, 2020
The problem with the cabal's stunts and choreographed social justice claims is their hypocrisy and inconsistency. How many funerals did former police captain David Dorn get? Did they give him a gold casket? Who is screaming for justice over the shooting death of federal officer Patrick Underwood?
Tennessee doesn't have to worry about an "autonomous zone" which is just a fancy, leftist term for a "commie militarized zone". Summer of love? Give me a break. Who writes this stuff? We'll see how much "love" reverberates in Seattle this summer.
Seattle police chief says rapes and robberies are occurring in CHAZ area and officers can't respond to them https://t.co/NqMoSTR40Q

— TheBlaze (@theblaze) June 12, 2020
Tucker Carlson's monologue was satirical, and therefore funny when he unloaded on the absurd Seattle situation. Watch at the link.
Simon Parkes brought us this news from Seattle:
With President Trump talking up army involvement in Seattle due to the Governor pulling police from one precinct and allowing the demonstrators control – The local legislature has said they don't want the President to get involved.

The Ted Mahr radio show which broadcasts from Seattle which is pro Trump and on which I regularly appear is being closed down because local legislators don't want a pro Trump radio station in Seattle !!!

https://edition.cnn.com/2020/06/11/politics/seattle-mayor-trump-protests/index.html
Fortunately, Ted Mahr has found a new station in California and we hope he will be well received with no interference. The censorship is still increasing, folks. They don't want anyone talking about those aspects of our reality. Learn more at Simon's blog.
As bad as it is in America just now, it could be worse. Africa is a war zone at any give time and the savagery is off the scale. Demons. Read or listen to the article at the link below.
Islamic terror group Boko Haram massacred a village on Tuesday in Nigeria's northeastern Borno State killing at least 81 people, German broadcaster Deutsche Welle (DW) reported.
This is another video I didn't get to earlier. Some of the information sounds like it's from Gene Co Sensei, our decoder. Thanks, L. It's a long list of big names arrested, and even those already executed. What we see unfolding now is for the benefit of waking up the masses and often using clones, doubles, CGI and holograms.
Gen. Michael Flynn wrote the message at the link below, and many will find solace in his words. I can't wait to hear what he has to say when the law suit is over and the gag order removed.
Josh Bernstein updates us on the Republican Convention in August and shares some thoughts on what would have happened if President Trump had decided to hold the event in Charlotte, NC.
RNC Convention Location Finalized! Look Where the Party Will Be!
How did we get to where we are today in America? Why is everything so vicious, violent, and political? Here's a factual 10-minute refresher.
Fortunately, America made the right turn at the fork in the road and we are getting further and further away from the planned course that would have destroyed the nation—and the world. It's all under control, despite how it appears. Trust is something we must all indulge at this point, however.
A Story About How America Was Almost Destroyed By Criminals
As for the court case in progress about fluoride in our drinking water, here's an update from FluorideAlert.org
Friday, June 12th, 2020
June 12, 2020 The Fluoridation Trial: Science 4, EPA 0
The fluoridation trial is going INCREDIBLY well. Our scientists are just knocking it out of the park. The score so far: Science 4, EPA 0. Below are links to the written declarations of the four main scientists testifying,… Read More
I don't indulge in channelled messages often any more because the information can sometimes only be validated by our own intuitive feeling about it, but for Kryon fans we have this, from May 2020. I Q'd up the video to 16 minutes where Lee Carroll begins.
It's an interesting bit of wisdom about the coming new world and it resonates with me. Old ways vs. the new ways; the "new normal". Positive or negative? You decide.
Learn more about Kryon channelings here.
Kryon 2020 ~ The Changes: Not What You Expect
Top analyst Dave brought us another terrific X22 Report yesterday on the meaning of what we see unfolding.
Patriots Are 5 Steps Ahead, People Are Beginning To See The Full Picture – Episode 2198b
And there it is. Fascinating.
The Sun Unleashes Another Revealing Coronal Mass Ejection
The end for now. Enjoy your weekend, and remember to stock up on popcorn. ~ BP