QAnon April 19 2019 – Next. By Interstellar. Source 8Chan. Updated 07:07 UTC
3315
Q !!mG7VJxZNCI ID: 652a35 No.6233873 Apr 19 2019 02:53:00 (UTC)
Rod's departure next?
Q
On 9 Feb Q gave us an idea on the sequence of events to expect once the Mueller blockade was removed. Looks like RR's services are no longer needed.
DECLAS next?QAnon April 19 2019 – Next
Lisa Mei Crowley, @LisaMei62
#QAnon 3315…
AG Barr made it clear that he had held over Mr Rosenstein to use him during the release of the Mueller Report. That being done, he's free once again to remove himself post haste…
#GoodbyeMrRosensteinQAnon April 19 2019 – Next
ExtrovertCovert, @ExtrovertCovert
Q asks whether Rod Rosenstein departure is next???QAnon April 19 2019 – Next
De Oppresso Liber, @Sun_Q_Tzu
For all large gatherings this is a good reminder!
Be vigilant at all times.
See Something.
Say Something.
Narrative change needed.QAnon April 19 2019 – Next
RunningTheRace, @2runtherace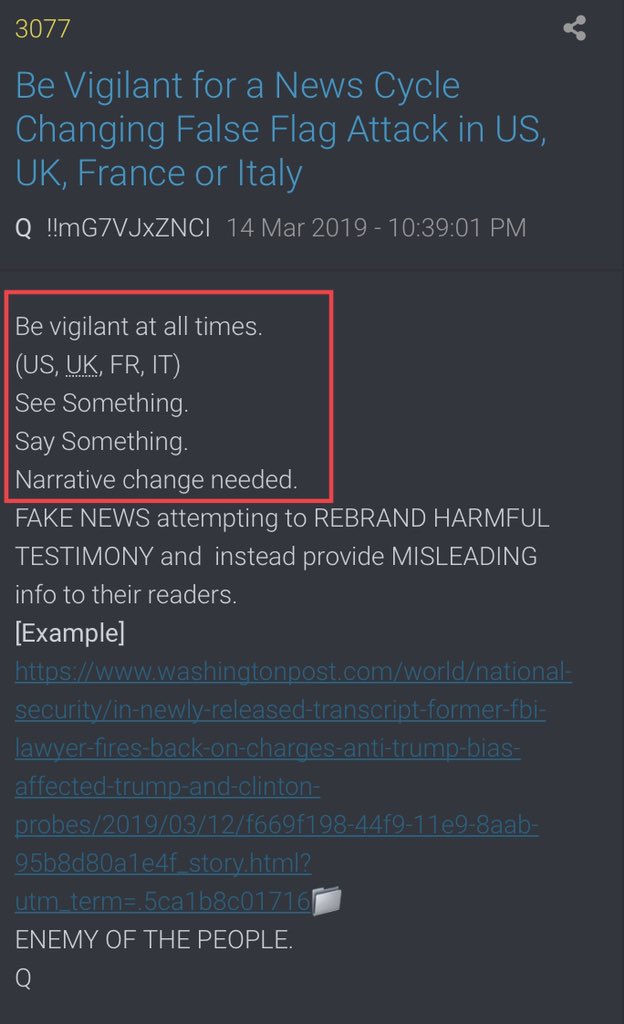 QAnon Achive
QAnon T-Shirt – PAIN!
Support DNI with our Hand Screen Printed T-Sihrt $24.00
Size Available: S M L XL XXL
Pure Cotton 130 g.
Shipping Included
Payment via PayPal (Specify Size and Shipping Address)
Clicks on the Ads Keep Us Alive
Regret
People rarely do what they believe. They do what is suitable, and then they regret.
Bob Dylan