Q !!mG7VJxZNCI No.411 Nov 6 2018 00:05:39 (UTC)
The 'LEFT' has no chance.
Q
This is AWESOME! Way to stick it to the MSM and the anti-Q Hatriots (a.k.a. Fake MAGAs), @DisclosureBP! Congrats on the Q shout-out!
Q !!mG7VJxZNCI ID: 00a06b No.3747136 Nov 5 2018 00:11:50 (UTC)
Anonymous ID: 8dc5e8 No.3747094 Nov 6 2018 19:09:05 (UTC)

Guise, there's rumors exploding all over twitter that skippy podesta committed suicide. Digging for real sauce on this.
>>3747094
Fake News.
But, both brothers do have a pending sealed indictment.
Q
Someone DM'ed me earlier about this rumor and I dismissed it after a quick search. How awesome to get confirmation that both of these pedo bros have pending sealed indictments with their names on them!
Q !!mG7VJxZNCI No.412 Nov 6 2018 00:22:10 (UTC)
MEMES now front & center.
Attack on 'Q' movement?
Fear?
Coincidence?
Q
DS clowns watch the boards & know Q wants us to push memes that are less likely to be censored so now they want to crack down on Instagram & label memes as "hate speech & propaganda" (sounds like the MSM!).
Congrats, @prayingmedic on the Q shout-out!
Great graphic created by my sister-in-law, @Lindee_n! I turned it into a meme. Will anyone have the stones to ask @realDonaldTrump about Q?
Q !!mG7VJxZNCI No.413 Nov 6 2018 05:24:12 (UTC)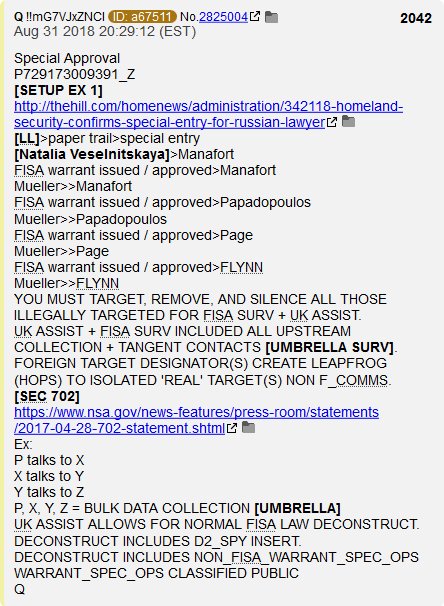 The guys with illegal FISAs on them by the Obama administration, me-Page-Flynn-Manafort, have been silenced. A FOIA request on my FISA should be very interesting reading in case declassification doesn't occur. Shocked the @nytimes is asking for Page's FISA to remained sealed.

— George Papadopoulos (@GeorgePapa19) November 6, 2018
DECLAS coming.
Remain in the public light (safety).
Q
DECLAS coming. Guessing it will happen next week while @realDonaldTrump is in Paris for the Armistice Day parade & meeting w/Putin. Future WILL prove past.
Assume Q's speaking to @GeorgePapa19 re: remain in public light (visible) for his safety.
Q !!mG7VJxZNCI No.414 Nov 6 2018 05:42:24 (UTC)
Eyes On, Patriots!
History books.
Q
So awesome to get a (You) from Q!! Congrats ladies!
Q !!mG7VJxZNCI No.415 Nov 6 2018 06:09:41 (UTC)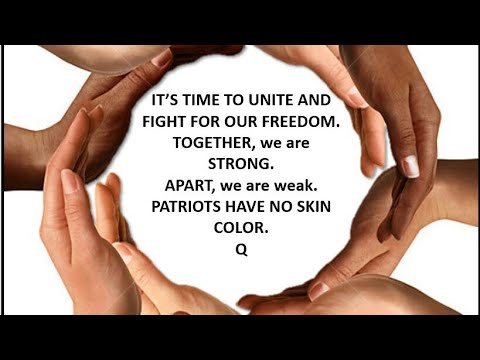 There was a time when our children stood at attention, put their hand on their heart, and in one UNITED voice, recited the PLEDGE OF ALLEGIANCE.
There was a time when STRENGTH and HONOR meant something.
There was a time when standing for our FLAG meant something.
There was a time when our history (heritage) was taught with PRIDE and RESPECT.
There was a time when respect was given to those who serve(d), bled, and died to protect and defend our GOD GIVEN FREEDOM.
There was a time when we were GRATEFUL.
There was a time when these UNITED STATES OF AMERICA, ONE NATION UNDER GOD, was UNITED.
There was a time when these UNITED STATES OF AMERICA, ONE NATION UNDER GOD, was UNITED UNDER ONE FLAG.
There was a time when, WE, THE PEOPLE, decided our future.
There was a time when, WE, THE PEOPLE, had a voice.
There was a time when, WE, THE PEOPLE, were UNITED and STRONG.
I pledge allegiance to the Flag of the United States of America, and to the Republic for which it stands, one Nation under God, indivisible, with liberty and justice for all.
"Freedom is never more than one generation away from extinction. We didn't pass it to our children in the bloodstream. It must be fought for, protected, and handed on for them to do the same, or one day we will spend our sunset years telling our children and our children's children what it was once like in the United States where men were free."
"You and I have the courage to say to our enemies, "There is a price we will not pay." "There is a point beyond which they must not advance."
"We'll preserve for our children this, the last best hope of man on earth, or we'll sentence them to take the last step into a thousand years of darkness."
-Ronald Reagan
It is time, WE, THE PEOPLE, reclaim what is rightfully ours.
Will you answer the call?
Your Country needs you.
Your VOTE matters!
WE STAND TOGETHER.
"Be on your guard; stand firm in the faith; be courageous; be strong."
– 1 Corinthians 16:13
Q
Q issues a clarion call to all freedom-loving Americans to do our part to preserve our precious liberties & bring back the America described in this post. We CAN make it a reality if we vote for those who share this vision. God gave us another chance. Let's not blow it! VOTE!
Q !!mG7VJxZNCI ID: 47eb2e No.3754088 Nov 6 2018 07:05:54 (UTC)
Anonymous ID: 03438c No.3754053 Nov 6 2018 08:06:59 (UTC)

Q, may God bless us all today.
>>3754053
Amen, Patriot.
We are grateful.
Q
Happy Election Day! Q team was up late last night! To say we Patriots, the Q Army of Digital Soldiers & Citizen Journalists are grateful to Q team & our Commander-in-Chief (((Q+))) is an understatement. Today we must PROVE IT by VOTING to keep the winning streak going! Godspeed!
Q !!mG7VJxZNCI ID: 47eb2e No.3754269 Nov 6 2018 07:19:43 (UTC)
Anonymous ID: e54808 No.3754138 Nov 6 2018 08:10:35 (UTC)


>>3754030
The death threats and slander have begun. That can only mean one thing: declassification of FISA abuse, and the exposure of the attempt by Australia and the U.K. to sabotage Trump is near.
twitter.com/GeorgePapa19/status/1059704187255062528
>>3754138
We put the spotlight on him for this very reason.
He has no choice now but to remain in the light.
This is not a game.
Q
Last night Q posted 31 Aug outline of FISA tgting of Manafort, Papadopoulos, Page, & FLYNN (noticed FLYNN was the only name capitalized). Q told us Manafort & Page were plants ("placed") in Trump campaign & there were others & Flynn is safe. Was Papadopoulos one of the others?
Q !!mG7VJxZNCI ID: 47eb2e No.3754365 Nov 6 2018 07:25:29 (UTC)
Anonymous ID: 01ec3c No.3754247 Nov 6 2018 08:18:26 (UTC)

>>3754220
Once you take care of yours.. pls help Canada Q.
>>3754247
The world will follow.
Think Merkel.
Q
While @POTUS is focused on the MAGA agenda, he knows a strong & proserous America is the catalyst to world peace. The beauty of this Great Awakening movement is that it is a WW movement. Merkel's stepping down as CDU leader & will not seek reelection as Chancellor in 2021.
Q !!mG7VJxZNCI ID: 47eb2e No.3754365 Nov 6 2018 07:25:29 (UTC)
VOTE! & MEME!
VOTE! & MEME!
VOTE! & MEME!
We are counting on you.
Q
President @realDonaldTrump has been loyal to us & Q team has been arming us with the TRUTH. It's OUR turn to show our loyalty to them, our country, & most importantly, our God by casting our vote for those who support @POTUS' MAGA agenda. Vote & flood social media with memes!
Q !!mG7VJxZNCI No.416 Nov 6 2018 07:44:13 (UTC)
The entire world is watching.
Patriots from around the world are praying for AMERICA.
We are all bound by a feeling deep inside, a feeling that cannot be publicly expressed for fear of ridicule, a feeling that challenges the mainstream (narrative), against that which we are told to accept and dare not question, put simply, that people are being abused by those in power and time is running out.
Remember the battles of Lexington and Concord – "Give Me Liberty or Give Me Death!"
For far too long we have been silent and allowed our bands of strength, that we once formed to defend FREEDOM and LIBERTY, to deteriorate.
We became divided.
We became weak.
We elected TRAITORS to govern us.
We allowed EVIL to prey on us.
Those who claimed to represent us gave us false hope, made false promises.
The evil and corruption only grew.
——————————
This is more than party politics.
This is about restoring OLD GLORY.
This is about saving our land and our people from those who wish us harm.
This is about preserving our REPUBLIC.
This is about preserving our SAFETY.
This is about restoring our STRENGTH.
This is about LIFE, LIBERTY, and the PURSUIT OF HAPPINESS.
This is about PROTECTING our children.
THIS IS ABOUT SAVING AMERICA.
We are all God's children.
We are, FATHERS.
We are, MOTHERS.
We are, DAUGHTERS.
We are, SONS.
We are, BROTHERS.
We are, SISTERS.
We do not look at race.
We do not look at skin color.
We are UNITED in these STATES OF AMERICA.
We are, and will always be, PATRIOTS.
WE MUST RISE AGAIN.
WE MUST UNITE AGAIN.
WE MUST FIGHT AGAIN.
FOR GOD & COUNTRY —- PLEASE ANSWER THE CALL & VOTE.
GOD BLESS AMERICA.
WWG1WGA!
Q
Beautifully stated, Q! Consider this: If you didn't know the party affiliation of the person who wrote these words, would you guess Republican or Democrat? The answer is self-evident. These words should resonate w/ALL decent Americans. The choice could'nt be more clear. VOTE!
Q !!mG7VJxZNCI No.417 Nov 6 2018 17:16:59 (UTC)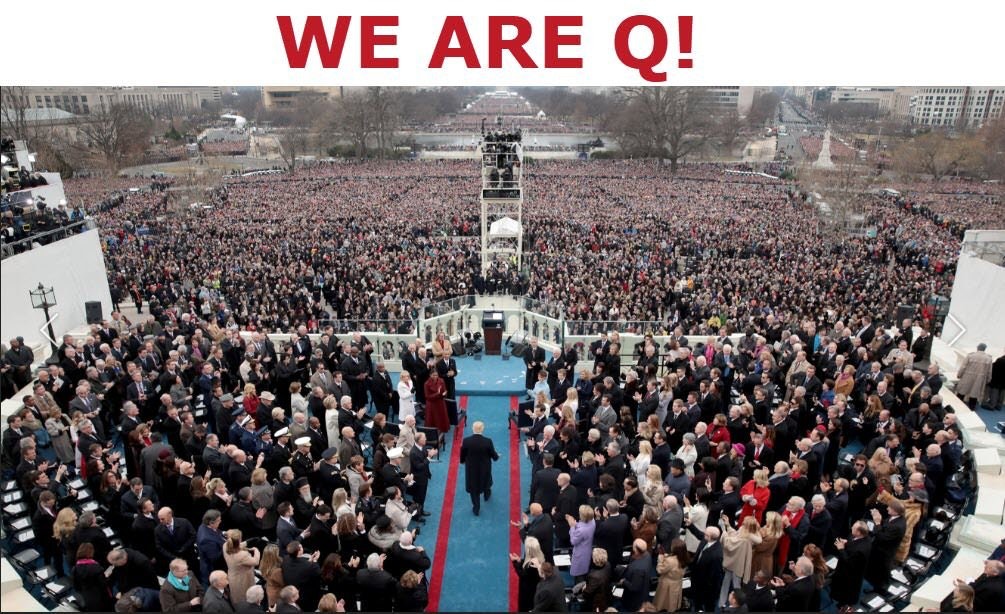 They want one thing, and only one thing, POWER.
They will LIE, CHEAT, and PROMISE YOU THE WORLD to obtain it.
They do not love our Country.
They despise it.
They want to destroy it.
SHOW YOUR LOVE OF COUNTRY BY VOTING TODAY.
RETURN POWER TO THE PEOPLE.
RETURN OLD GLORY TO HER FORMER STATE.
WE HONOR THOSE WHO FOUGHT (& CONTINUE TO FIGHT) TO SAVE & DEFEND THIS GREAT COUNTRY.
WE WILL DO OUR PART —- WILL YOU DO YOURS?
VOTE! VOTE! VOTE!
JUSTICE COMING.
Q
Q !!mG7VJxZNCI No.418 Nov 6 2018 17:24:45 (UTC)
Q !!mG7VJxZNCI No.419 Nov 6 2018 17:39:49 (UTC)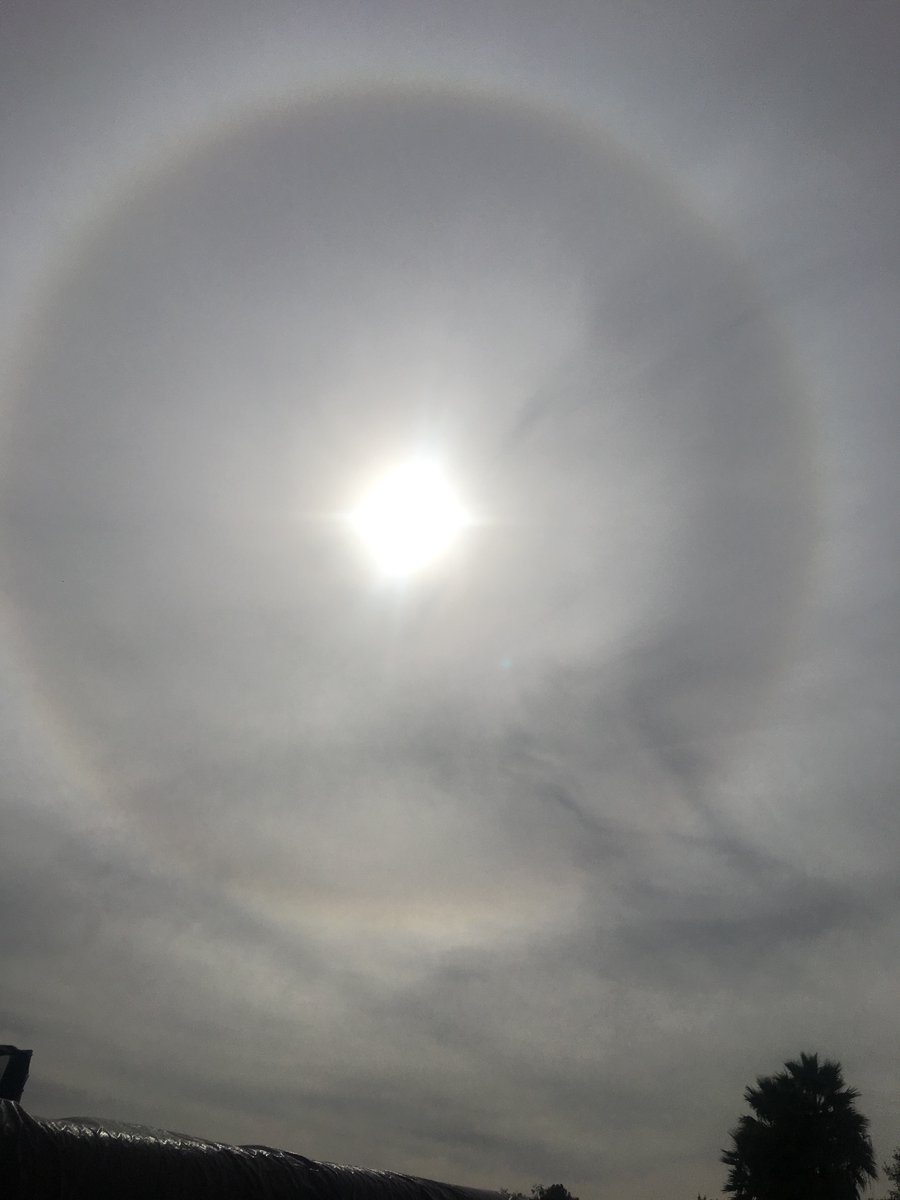 Q !!mG7VJxZNCI No.420 Nov 6 2018 19:51:19 (UTC)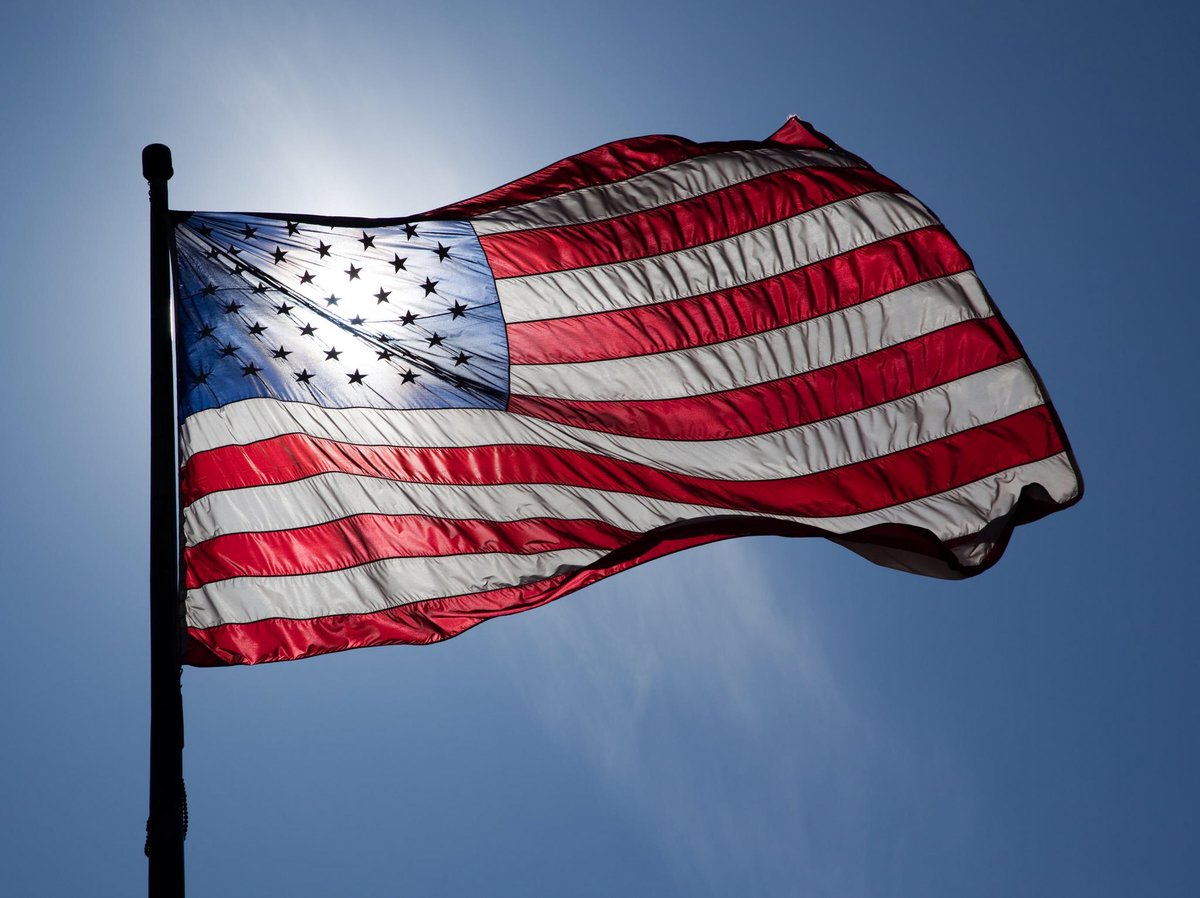 BE PROUD, PATRIOTS.
TODAY, LIKE IN 2016, YOU ARE, IN ONE UNITED VOICE, RISING UP TO DEFEND THIS GREAT NATION.
TODAY, LIKE IN 2016, YOU ARE, IN ONE UNITED VOICE, PROTECTING THE FREEDOMS IN WHICH SO MANY HAVE DIED TO PROVIDE.
TODAY, LIKE IN 2016, YOU ARE, IN ONE UNITED VOICE, MAKING AMERICA GREAT AGAIN.
WE STAND TOGETHER.
WE STAND UNITED.
WE STAND FOR OUR FLAG.
WE STAND FOR GOOD.
WE STAND FOR WHAT IS RIGHT.
WE STAND FOR COMPASSION.
WE STAND FOR FREEDOM.
WE STAND FOR PEACE.
WE STAND FOR LIBERTY.
WE STAND FOR JUSTICE.
WE STAND FOR EQUALITY.
WE STAND FOR PROSPERITY FOR ALL.
WE STAND FOR RELIGIOUS FREEDOM.
WE STAND FOR HUMAN RIGHTS.
WE STAND FOR LIFE.
WE STAND FOR EACH OTHER.
WE STAND FOR FRIENDSHIP.
WE STAND FOR LOVE.
WE STAND FOR ……….
WE STAND FOR THE UNITED STATES OF AMERICA!
ARE YOU PROUD TO BE AN AMERICAN?
TODAY, AMERICA IS REUNITED.
Q
If these words don't make your heart swell w/pride & give you a lump in your throat, you might want to check your pulse. Who doesn't want all of these things other than the power-hungry "elite"?
Q !!mG7VJxZNCI No.421 Nov 6 2018 20:53:40 (UTC)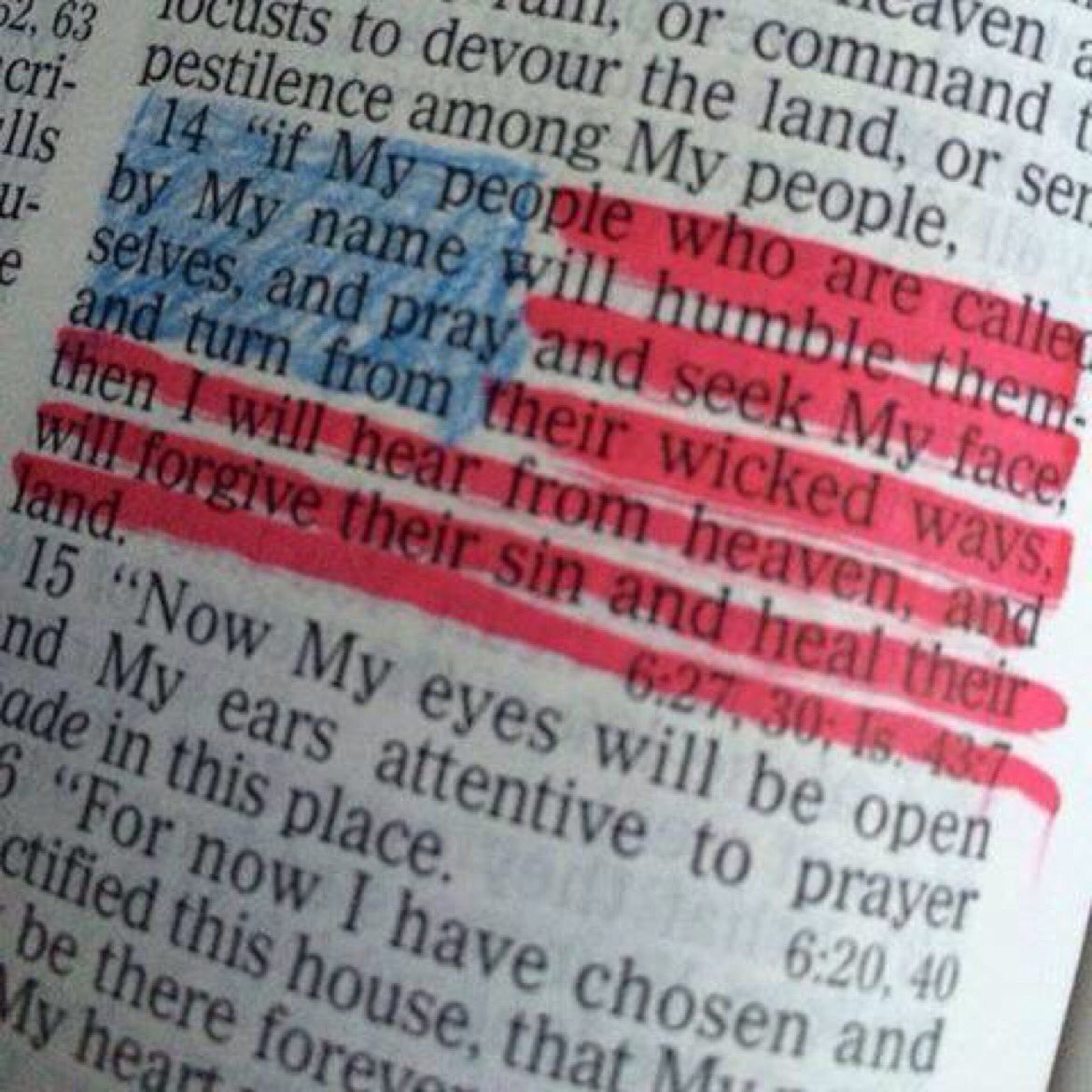 Congrats on the Q shout-out, @RealTT2020! Great video!
I love this verse (2 Chronicles 7:14) & know that millions of prayer warriors have been praying hard for God to help awaken our fellow Americans and to heal this land.
#QAnon post No. 2441…
Nice affirmation from #Q with a shout out to @RealTT2020 & a short video.
#Congratulations, you're a #QDrop [ ! ]
Q !!mG7VJxZNCI No.422 Nov 6 2018 21:16:21 (UTC)
History is being made.
You are the saviors of mankind.
Nothing will stop what is coming.
Nothing.
Q
It truly blows my mind that as old as this planet is, we are living during this historic period in our world's history and we get to be a part of a movement unlike any movement known to mankind. So grateful to God for this great privilege.
Q !!mG7VJxZNCI No.423 Nov 6 2018 21:22:24 (UTC)
We are UNITED.
The world is changing.
Can you feel it?
Q
#QAnon post No. 2443…
Vote & witness the change.
#Q shout out t @AddrianStorm ==> #Congratulations, you're a #QDrop [ ! ]
A rainbow forms over the US Capitol as evening sets on midterm Election Day in Washington, US Nov. 6, 2018. Jonathan Ernst, Reuters
Rain
If you want to see a rainbow, you have to learn to love the rain.
Paulo Coehlo
Make a Donation in Bitocoin
1NrkczypToK9xZAY26nyAn8UEC127cgPk8
2019 Server Cost Support – 2400 €

23%

23%
Clicks on the Ads Keep Us Alive 🙂
Support Disclosure News Italia
We are working hard, and every day, to keep this blog. Like you we are fighting for the truth. If you want to work with us you are welcome, please email us! The blog costs are at our expense, advertising reimburse us very marginally so if you like our work and find it useful buy usacoffee clicking the donation button below that will directu to your PayPal. We need the help of people like you!
Subscribe To Our Newsletter
Join our mailing list to receive the latest news and updates from our team.