QAnon Update November 2 – Every Detail Planned. By Interstellar. Source 8Chan. Updated 11:11 UTC
Clicks on the Ads Keep Us Alive 🙂
Q !!mG7VJxZNCI No.374 Nov 1 2018 19:44:41 (EST)
Do not let them DIVIDE you.
TOGETHER you are STRONG.
TOGETHER YOU WIN.
Your vote matters!
Re_read drops re: Polls
https://www.oge.gov/web/oge.nsf/Resources/Political+Activities
2817461
Do you believe actual 'polls' were conducted?
Pre-election polls: HRC favored 90-98%?
Reconcile against results.
Why is there emphasis put on polls?
Define 'Human Nature'.
: the general psychological characteristics, feelings, and behavioral traits of humankind, regarded as shared by all humans?
[Point 1 – FAKE NEWS LOGIC]
If people believe the odds are hopeless their candidate will win…
Do they still make the effort to vote?
[Point 2]
If people believe the odds are overwhelming their candidate will win….
Do they still make the effort to vote?
Does 1 cancel 2?
[Point 3 – FAKE NEWS LOGIC]
If people believe the 'majority' of people feel a certain way about something….
Do they 'go with the majority' to feel accepted?
If the 'majority' of people believe something does that imply it must be RIGHT?
Does this give rise to 'we are the majority' mindset?
Define 'Echo Chamber'.
: a metaphorical description of a situation in which beliefs are amplified or reinforced by communication and repetition inside a closed system?
Prior to new platforms [networks] connecting people….
Did the OLD GUARD have FULL CONTROL?
Did the OLD GUARD 'learn' from this mistake (2016 election) and now tasking all new platforms [networks] to censor?
When you are awake you can see CLEARLY.
Q
"We have to bypass the media in order to get straight to the people."
"We've gone around them like no one in history has gone around them."
-POTUS @ tonight's rally
Think MSM attacks re: Q (We, the People).
Q
Q !!mG7VJxZNCI No.376 Nov 1 2018 21:48:04 (EST)
Q !!mG7VJxZNCI No.375 Nov 1 2018 20:01:23 (EST)

"We have to bypass the media in order to get straight to the people."
"We've gone around them like no one in history has gone around them."
-POTUS @ tonight's rally
Think MSM attacks re: Q (We, the People).
Q
>>375
Power shall be RETURNED to the PEOPLE.
"…returning power to YOU, the AMERICAN PEOPLE." – POTUS
Coincidence?
Q
Q reminds us DS is using every Clown/Mossad tactic to infiltrate/disrupt on the boards. 8chan has consistently been under attack.
THEY want us divided. I loathe Fake MAGAs!
Q !!mG7VJxZNCI No.377 Nov 1 2018 23:47:08 (EST)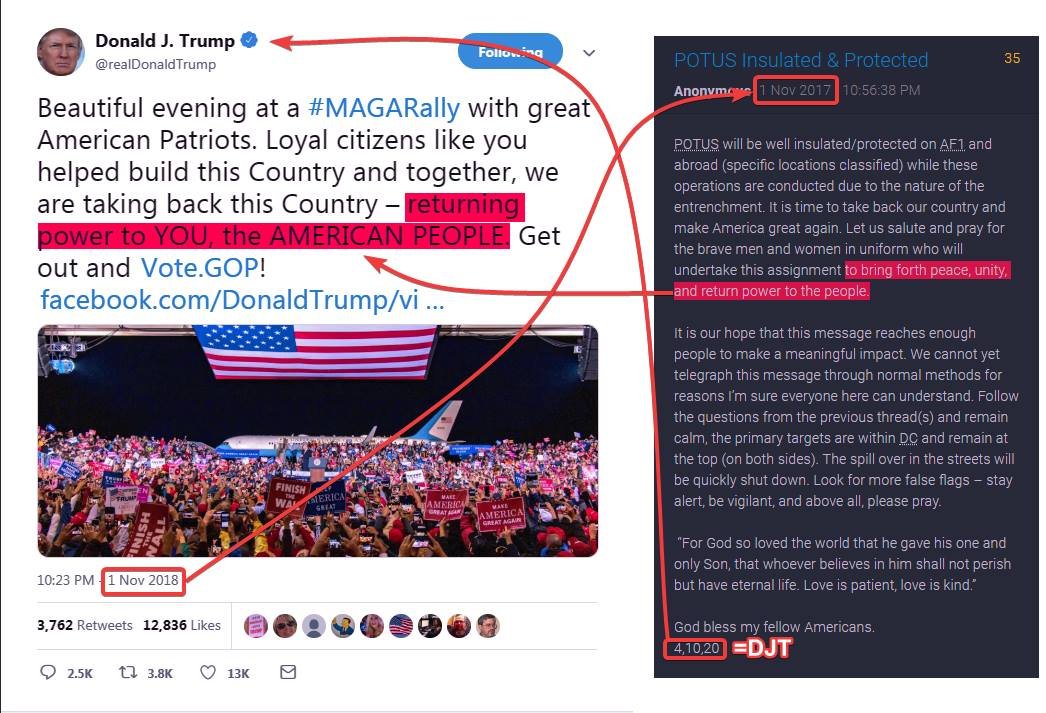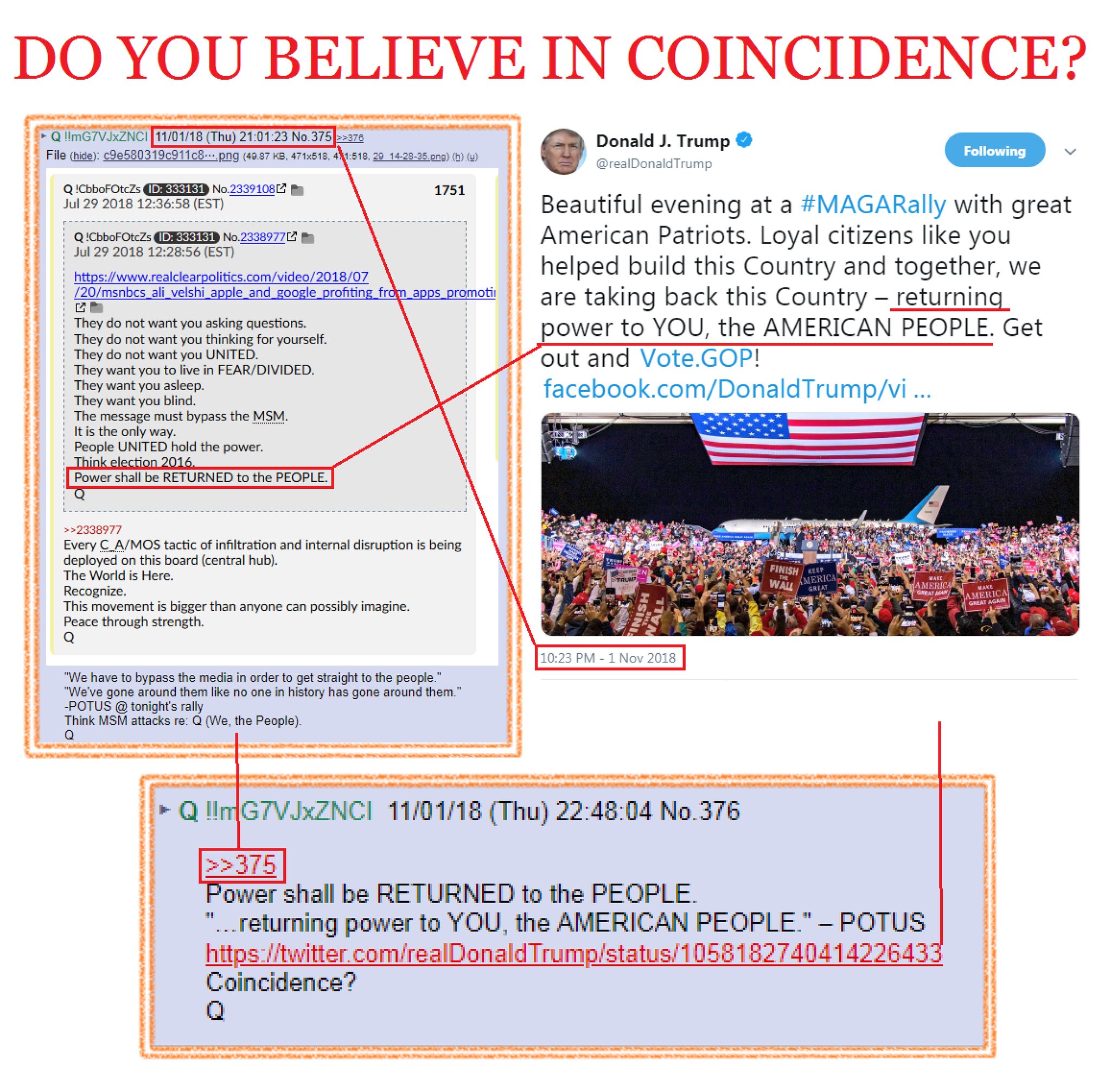 Mathematically impossible or every detail planned?
Today.
1 Year Ago.
WWG1WGA!
Q
At 21:01:23 EST, Q posted quotes fm tonight's rally & embedded a 29 Jul drop (my birthday 😁) with: "Power shall be RETURNED to the PEOPLE."
At 22:23 EST, @realDonaldTrump tweeted: "…returning power to YOU, the AMERICAN PEOPLE."
Another Q proof!
Love All
Love all, trust a few, do wrong to none.
William Shakespeare