Q !!mG7VJxZNCI No.348 Oct 6 2018 14:08:23 (EST)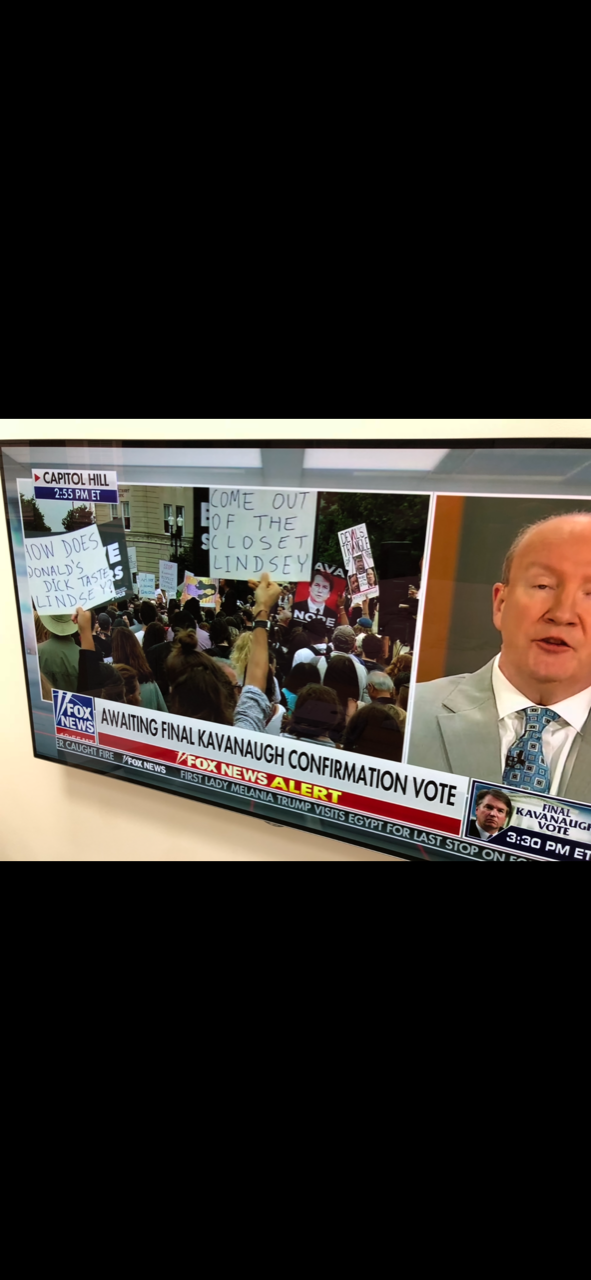 WELCOME TO THE DEMOCRAT PARTY.
The Party of threats, violence, intimidation, name-calling, racism, fascism, division, …..
#WALKAWAY
#VOTEREPUBLICAN
Q
Q !!mG7VJxZNCI No.349 Oct 6 2018 14:28:45 (EST)
NEW: Christine Blasey Ford has no further plans to pursue her sexual misconduct allegations against Brett Kavanaugh, according to her attorneys – ABC

— Breaking911 (@Breaking911) October 6, 2018
POLITICAL HIT by D's.
REGAIN POWER BY ANY MEANS NECESSARY.
NEW NARRATIVE COMING.
Q
Dems know they have no corroborating witnesses & that FBI has evidence this was a set-up. Assuming that is what Q means by "POLITICAL HIT BY D's". They will try ANYTHING to regain power. "By any means necessary".
Wonder what the new narrative will be.
#QAnon post No. 2353…
#Breaking911 #BlaseyFord backing down !
#PoliticalHitJob has run its course with the end result being a #DimmLoss as they fight to remain above water at any cost.
#PANIC [ ! ] ……..
Time that the old #DPlaybook generates a new #Narrative.
Q !!mG7VJxZNCI ID: 9b4509 No.3368187 Oct 6 2018 15:08:40 (EST)
Anonymous ID: 6bc814 No.3367982 Oct 6 2018 15:01:55 (EST)

Congratulations, anons, Americans, and Patriots around the world!

Big thanks to Q!

Let's win those midterms!
>>3367982
God bless, Patriot.
Celebrate – this means so much.
Closer than anticipated but a win nonetheless.
Red-State D's who voted 'no' are in trouble.
Q
Perhaps Q was counting on Red State Dems voting YES. Still not sure the 53-47 drop was in reference to today's vote. Reference to Midterms? Those Red State Dems will pay at the ballot box no doubt.
Q !!mG7VJxZNCI No.350 Oct 6 2018 15:19:18 (EST)
Q !!mG7VJxZNCI No.298 Sep 27 2018 18:39:28 (EST)

Welcome aboard, Justice K.
Q
>>298
A GREAT DAY FOR THE RULE OF LAW.
CONGRATULATIONS, JUSTICE K!
THERE IS MUCH WORK TO BE DONE.
TODAY, THE REPUBLIC, TOOK BACK CONTROL.
Q+
HUGE victory for freedom lovers WW! This "Peace Through Strength" video brings tears of pure joy to my eyes.
"The goal is world peace. That must be our prime responsibility."
"Oh God of Love, Oh King of Peace, Make wars throughout the world to cease."
Q !!mG7VJxZNCI No.351 Oct 6 2018 15:59:59 (EST)
Q !!mG7VJxZNCI No.352 Oct 6 2018 17:36:11 (EST)
Q !!mG7VJxZNCI No.306 Sep 28 2018 11:37:24 (EST)

D's Playbook (Midterm E):
We will impeach Justice K (ZERO corroborating evidence and ALL factual witnesses provided by accuser ALL DENIED ALLEGATIONS) should we take control in NOV.
LIBERAL LEFT LUNACY [BAIT].
These people are EVIL, SICK, & STUPID.
You are watching/witnessing the systematic destruction of the OLD GUARD.
OLD GUARD >>> POWER TO THE PEOPLE
RED OCTOBER.
Q
>>306
Expect this.
We will impeach Justice K…
CON sold to voters by the LYING D's.
[HERD THE SHEEP]
2/3rd Senate vote required to impeach SCJ.
What are the odds of that?
Q
We heard Schumer on the Senate floor saying the only way to fix things is to vote. Dems already talking impeachment of Kavanaugh but don't mention 2/3 Senate votes needed. Won't happen but sheep will be motivated to vote. Fox already reporting on this.
#QAnon post No. 2357…
It's likely that the new #Narrative will include the #DS selling that lie as a con to continue to #Herd the #Sheep.
There is no way a 2/3's #SenateVote would come to pass against #JusticeK at this time ] ! [
Q !!mG7VJxZNCI No.353 Oct 6 2018 17:52:44 (EST)
Pelosi describes Dem tactic called "Wrap-Up Smear" where they make false accusations, tell propagandists in MSM to report it, then Dems cite the press reports as proof. Sound familiar? Thank God this time they failed. EVIL! Archive before it's deleted!
Q !!mG7VJxZNCI No.354 Oct 6 2018 20:18:38 (EST)
Justice Kavanaugh: "The Constitution gives the Senate an important role in the confirmation process, but you have replaced advise and consent with search and destroy. "
Jun 2017 – Pelosi describes "Wrap-Up & Smear tactic".
Used vs Justice K & POTUS.
#QAnon No. 2358 & 59 have a link to #Pelosi on "The wrap-up smear?".
It's still remains incredible…
a.That they are in this high school world in their minds & they do this sort of thing, even to the point of naming them.
b. #Pelosi opens her mouth & this comes out.
c. That there exist people in #Politics & life, that live day to day with absolutely no ethical or moral conscience.
They have a personality disorder whereby they feel absolutely nothing in regard to the extreme antisocial attitudes and behaviors they display as they fabricate & gleefully partake in maligning other human beings.
Q !!mG7VJxZNCI No.355 Oct 6 2018 21:22:26 (EST)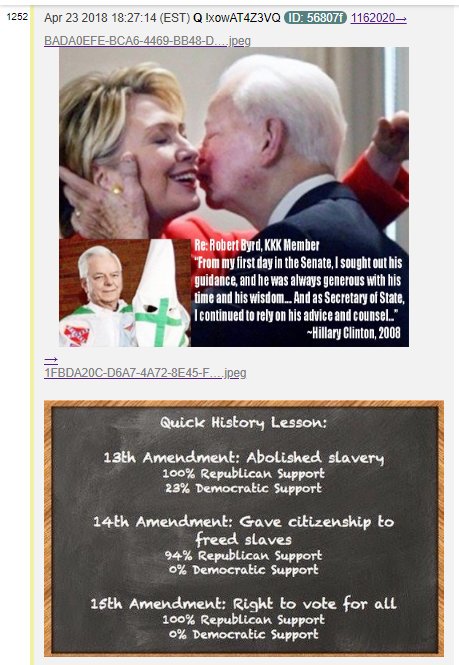 UNPLUG FROM FAKE NEWS [FALSE REALITY]
[PROPAGANDA ARM OF D PARTY]
THINK for yourself.
RESEARCH for yourself.
TRUST yourself.
FIND THE TRUTH.
DON'T BE A PAWN IN THEIR SICK GAME.
Q
I believe this is for those still asleep. Dems, it's time to WAKE UP! You've been lied to by those you trust in DC, MSM, Hollywood, colleges, etc. RESEARCH for yourselves, TRUST yourselves, the TRUTH is out there. Do NOT trust the Fake News Media!
Door
When a door closes, another door opens. But often we look so long at the closed one.. we don't see what was open for us. Paulo Coehlo