QAnon Update May 1 – Focus Only On The FBI [for now]. By Interstellar. Source 8Chan. Updated 07:47 UTC
Apr 30 2018 12:38:11 (EST) Q !xowAT4Z3VQ ID: 53e65c 1249365
Knowing what you know now.
re: Israel disclosure moments ago.
Authentic.
Why is Sec of State there?
WHY IS THE EU / OTHERS PRESSING TO REMAIN IN THE DEAL?
Think logically.
France & Germany came to the WH for the sole purpose of pressing POTUS to remain in the deal.
5% shared.
POTUS deCLAS Syria/Iran + U1 connection.
Where does EU fit in?
SICK!
Q
SecState in Israel to discuss US w/drawal fm Iran deal esp. in light of Netanyahu's revelations re: Iran's violating terms of the deal. Did EU pressure us to stay in because of their cut (5%?) of $250B biannual installments fm U.S.? POTUS declassified U1 ties to Syria/Iran.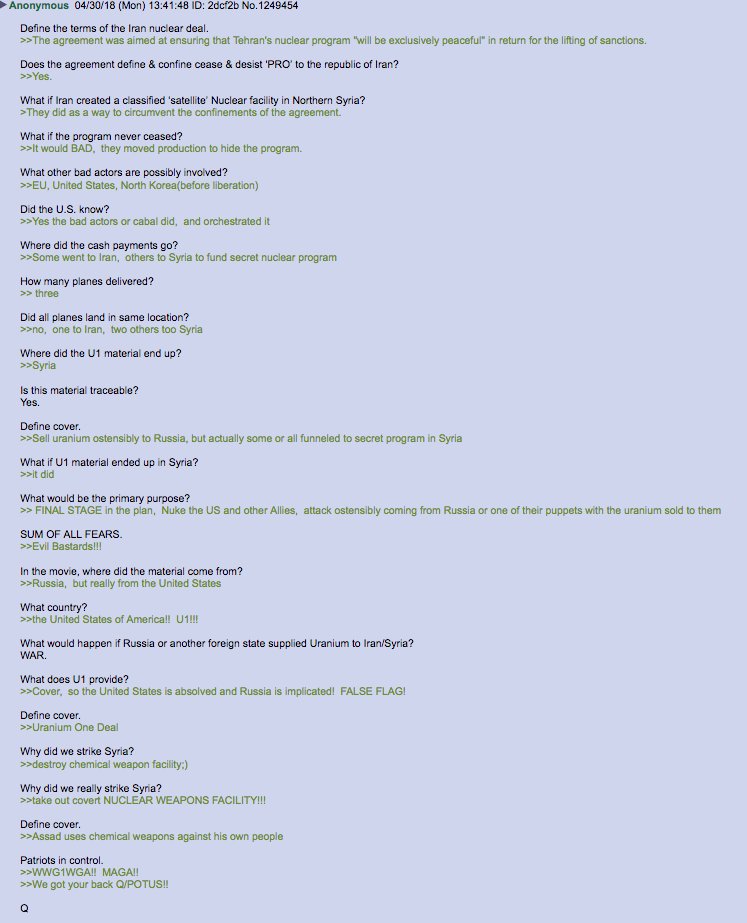 Anon Interpretation Of Yesterday Drop
Past drops (below) re: why Macron (& Merkel) came to WH. EU's share of the $250B biannual installments (sent on 1 Jan & 1 Jun) to fund terrorism, wars, drug & human trafficking, ANTIFA, etc. was at stake. They wanted Iran (Clowns) to launch nukes at us & blame Russia or vice versa.
Another past drop (below) re: Iran. How many in Congress knew what this deal really entailed and did nothing to investigate? Is that why so many are stepping down? Betting Songbird is neck deep in this but Hussein is ultimately the one who pushed for this.
"Never gotten over the fact that Obama was able to send $1.7 Billion Dollars in CASH to Iran and nobody in Congress the FBI or Justice called for an investigation!"
Follow the money.

Future proves past.
Conquer
Conquer yourself rather than the world.
Renè Descartes