It's astonishing to see July arrive so far ahead of schedule. I wasn't expecting it for another couple of weeks. You? The locomotive called "Father Time" is a runaway and we're just along for the ride. Faster and faster and faster it goes until now events whizzing by the windows are a dizzying blur. Hang on tight, we're coming into a curve and a lurch could send you flying. You've been warned: strap yourselves in.
Happy Canada Day to The Great White North, where we do not live in igloos and the nation is actually larger than the United States—just to set some silly misconceptions and manipulated maps right. Perception management is all the rage and facts matter, Q reminds us.
And speaking of Q, the team had some visibility at the celebrations in Ottawa. WWG1WGA! Canadians—at least a big chunk of them—are awake and building the New Canada. I've seen a few "WWG1WGA" signs. Go Q!
The intrepid Norm Traversy along with a big crowd of protestors are delivered documents to the US consulate with the evidence of pedophilia and other crimes within the government so they will be forced to respond. Unless they simply ignore it as they always have. I'm thinking things are a little different now, however.
The crowd is rambunctious but orderly and so far it's very peaceful with the police kindly attending to someone who may have succumbed to heat exhaustion as it's 29C there.
I have one eye on the festivities in Ottawa while I put this post together.
CHAZ/CHOP HAS FALLEN!
This is a July 1st Q drop with more valuable "intel" for our greater understanding. You can see the newer ones here.
Q!!Hs1Jq13jV6 1 Jul 2020 – 7:36:21 AM What % [of total] of BLM donations between June 1 – July 1 went to the Biden campaign for president?
What % [of total] of Biden's campaign for president donations [money raised] came from BLM donations [past month]?
Worth tracking.
Why is BLM pushed every 4-years?
Who pays for Sharpton to fly private?
Does BLM 'donated' money end up in Sharpton's [+other 'propped up' narrative drivers] foundation [National Action Network (NAN)] and/or other private account(s)?
What outside [F] groups donate large sums of money to BLM 'knowing' it is then routed to Biden campaign for president and other 'friendly' [D] service providers?
How do you avoid campaign finance laws?
How do you 'wash' [clean] money?
Is this about improving the quality of life for Black Americans OR SOMETHING ELSE?
Q
We've warned about the "climate crisis hoax" for a long time, folks. Whichever way the wind blows they change the terminology to try to suck a few more people in.
Because facts matter, we have stiff admiration for the cahones of climate activist Michael Shellenberger who has the nerve to support the climate crisis hoax and now says "sorry", admitting the Coronavirus pandemic puts climate 'crisis' into perspective. Really? How? One hoax diminishes the importance of another?
Yes, a simple apology is sufficient to the control freaks for the monstrous lies and manipulations to secure "carbon tax" funds from the already strapped citizens who just want to do the altruistic thing and save their planet. I wonder how much these "experts" and "scientists" were paid to go along with the charade. I'll bet Shellenberger sleeps better now.
Little Greta sailed around on a beautiful yacht. We say, "How dare you!"
I dare say the Coronavirus DID put a lot of other things into perspective for a great many people. They're finally understanding that "experts" lie—or perhaps at the very least "massage the truth"—when they're not outright creating a massive disinformation campaign and coverup, that is with the assistance of their lackeys, the mainstream media.
Sometimes they tell the truth, however—a decade in advance! They love to tease and titillate the peasants with "predictive programming", giggling and tittering in the wings amid smug smiles because we just don't get it. They led us to believe it was "entertainment" when all along they were telling us what they were going to do. They open the playbook now and again so they can feel better about their inconceivable evil deeds. If we don't object… it's AOK to proceed. In their twisted little psychotic minds, they told us.
This blast from the past is a perfect example. Ten years ago the Simpsons predicted a human health crisis. Like COVID-19. Q-incidence?
Is it any wonder we call it a "plan-demic"?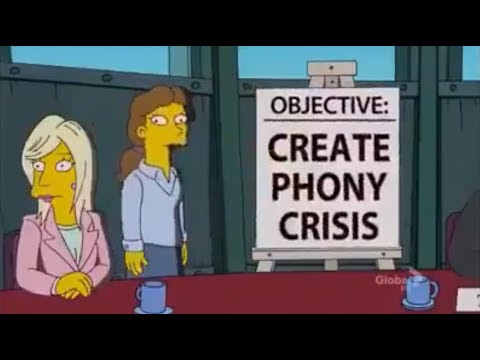 And the CV19 scamdemic seems to give medical staff the right to play god.
The ones who have been running the world believe they are gods, you see; here to manage the herd as they see fit.
The most imperfect ones—the elderly and those with disabilities—they're to be culled, apparently, and they're not even trying to hide it. They're just doing it. In our faces. That's what this world has come to, my friends. It's shocking to Human sensibilities.
Independent journalist Jon Rappaport continues to chronicle the hideous fallout from the globalists' "plandemic" and subsequent lockdowns. You WILL NOT hear this on the lamestream news, folks. It's rarely the virus killing anyone. It's not that virulent.
Murder by lockdown: details from a dozen countries
Make that 13, plus one city, New York
"We now have mortality data for the first few months of 2020 for many countries, and, as you might expect, there were steep increases associated with the beginning of the COVID-19 pandemic in each one."

"Surprisingly, however, these increases did not begin before the lockdowns were imposed, but after. Moreover, in almost every case, they began immediately after. Often, mortality numbers were on a downward trend before suddenly reversing course after lockdowns were decreed."

"This is an astonishing finding…"

"You will notice that only after each country (or city) was locked down did the increases begin. Moreover, they began immediately, and in nearly every case, precipitously."
Read the rest here… and more related articles here.
This activity took place yesterday, June 30th. Just an FYI.
We have a LOT of search activity happening right now over Baltimore MD and the general area… pic.twitter.com/h5c3XR75Ac

— MilSpecOpsMonkey (@mil_ops) June 30, 2020
They're not all getting away with their crimes [against Humanity]. Kip Simpson tells us four council members in Toledo, Ohio were arrested on Tuesday. You can listen or read along with Kip in this video.
FBI ARRESTS MULTIPLE DEMOCRAT OFFICIALS IN 'SHOCKING' BRIBES FOR VOTES SCANDAL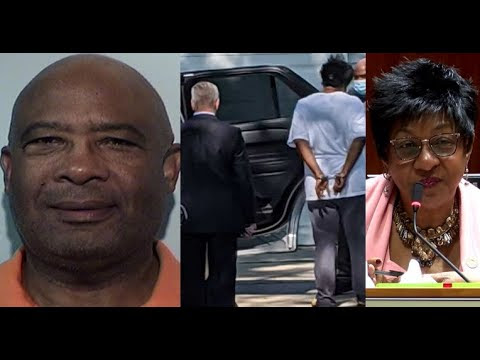 Folks are going to be learning a whole lot more about the "experts" who have been running the world and their seedy lives; much of which would curl the toes of most decent folk.
The Patriots are losing their patience with the terrorists. They deserve whatever they get, in my opinion. If you stand in front of a vehicle—salute the bumper and maybe say hello to the undercarriage. You asked for it. We're not intimidated. We don't negotiate with terrorists. If you want to protest, follow the etiquette for peaceful protests. You have no right to impact the safe travel of sovereign Beings.
After what we have seen on the streets of America the past two weeks, how do you think someone is going to respond when a protestor approaches the window of the vehicle and wants to chat?
One reason ANTIFA and BLM psychos are so violent and have behavioural problems is because few have taken them to task. Perhaps they should go back to kindergarten to learn some manners as to how to fit into civilized society. Behave, or get arrested or… run over. Your choice.
The Miracles Intel Call is coming up again tonight for patriots everywhere, because what happens in America ultimately affects what happens everywhere else. Listen in via your phone or log in via the app. Details are below Scott's news summary.
The next Miracles Intel Conference Call will be this coming WEDNESDAY NIGHT, JULY 1, 2020 beginning approximately 7 PM PT / 10 PM ET.
Our pre-call will open approximately 6:30 PT / 9:30 PM ET — PLEASE DO NOT LOG ON TO OUR CALL UNTIL AROUND 6:30 PM PT.
WE ARE NOW MERE DAYS AWAY FROM THE START OF THE 2020 FOURTH OF JULY HOLIDAY WEEKEND. IT WILL BEGIN THIS FRIDAY, JULY 3 WHICH HAS BEEN DESIGNATED AS AN OFFICIAL NATIONAL HOLIDAY. AND WE SEND OUT HAPPY FOURTH OF JULY WISHES TO ALL OF OUR LISTENERS!
ALSO ON FRIDAY, JULY 3, FOR THE FIRST TIME IN TEN YEARS, THERE WILL BE A PRE-FOURTH OF JULY FIREWORKS EVENT AT MOUNT RUSHMORE, SOUTH DAKOTA WITH PRESIDENT TRUMP AND GOVERNOR KRISTI NOEM IN ATTENDANCE. THIS EVENT WILL BE TELEVISED BY FOX NEWS AND STREAMED LIVE ON YOUTUBE.
THEN ON SATURDAY, JULY 4, PRESIDENT TRUMP AND FIRST LADY MELANIA TRUMP WILL HOST A FOURTH OF JULY EVENT FROM THE WHITE HOUSE WHICH WILL ONCE AGAIN INCLUDE A STRONG SHOW OF MILITARY AIRCRAFT. THIS EVENT WILL ALSO BE AVAILABLE ON FOX NEWS & YOUTUBE.
One year ago at this time, the Patriots, the U.S. Military/"Q" Military Intelligence and President Trump apparently were finalizing some very big plans to begin to the process of moving America forward into a brave new world. However, at the 11th hour, those plans evidently were called off.
In fact we know this to be true, because approximately two and half weeks earlier on June 14, 2019 during a press conference at the White House, the President himself gave a preview when he said "we're going to have another big announcement in two weeks". And he also said, "it will be a very big announcement. Nobody knows what it is. It's going to be a big surprise, but it's going to be a really pleasant one."
Instead, the nation was treated to the "A Salute to America" event which featured a massive display of U.S. Military firepower and flying machines from nearly all branches of the service. All of which deliberately flew right over the top of the obelisk — the Washington Monument — in nothing-less-than a major and spectacular show of force against the the Deep State.
From the sheer size and scope of the super-patriotic "A Salute to America," it was clear a tremendous amount of planning and preparation went into this event and it seems clear something more was scheduled to happen on July 4, 2019 than what we actually saw.
Then, in April of this year during another press conference, President Trump said he was planning on a second "A Salute to America" at the National Mall similar to the 2019 event. However, due to the lingering Coronavirus pandemic those plans have since been revised.
https://www.fox5ny.com/news/trump-plans-another-salute-to-america-july-4-show-on-national-mall-despite-covid-19-concerns
On June 19, 2020, the White House issued a brief statement indicating the second annual "A Salute to America" event this Fourth of July, will be scaled back significantly and will be held at the White House and Elipse Park.
https://www.whitehouse.gov/briefings-statements/president-donald-j-trump-first-lady-melania-trump-announce-plans-2020-salute-america/
Of course, the entire nation is still dealing with the Coronavirus pandemic, social distancing and mask wearing in public so many scheduled Fourth of July events across America have been outright cancelled, or scaled back as well.
Yet here we are, one year later and A LOT OF HUGE, HISTORICAL DEVELOPMENTS have unfolded by the week throughout the year 2020, and have set the course to restore America's original Constitutional Republic, which quite honestly, now seems more possible than ever before.
Meanwhile, both the U.S. House and Senate are scheduled to be out of session until July 6, 2020.
https://ballotpedia.org/116th_Congress_legislative_calendar
All in all, the intel we have received from high level sources has indicated a very big announcement is forthcoming from President Trump regarding the status of our American Republic — and perhaps even much more!! Therefore, it may be a very, VERY exciting Fourth of July weekend like no other. However, we must remain cautiously optimistic given what transpired last year.
And all of this is happening as America has come under extreme attack from a radical, far-left, Socialist/Marxist insurgency which is terrorizing major cities across our land. Wow, can it get anymore dramatic?
Finally, as usual, we continue to request to please keep all of these great, GREAT PATRIOTS of the U.S. Military, "Q" /Military Intelligence, the Earth Alliance and President Donald Trump in your prayers at this most crucial time period in world history. IN GOD WE TRUST AND GOD BLESS AMERICA.
Our conference call line is:
Call-in Number: 605-472-5764 Access Code: 810201#
Playback Recording Number: 605-475-4957 Access Code: 810201# / followed by # again
Online meeting ID: scottm69756
Join the online meeting: https://join.freeconferencecall.com/scottm69756
Download the FCC app: https://www.freeconferencecall.com/downloads
Backup Number: 425-535-9162
If you encounter any issues with our Miracles Intel Calls please reach out to Free Conference Call Technical Support: (844) 844-1322
Thank you for your support,
Scott Mowry
www.miraclesandinspiration.com
Follow us on Twitter: https://twitter.com/MiraclesInspire
Scottm6975@yahoo.com
I would add that Agent Margaritaville told Field McConnell one year ago that we should watch the skies during the Independence Day festivities last year for some unexpected craft. They were there, but it was cloudy so the orbs or "light ships" were difficult to see. Agent Margaritaville shared the proof in a video. The probs for Washington and Keystone, SD are mostly sunny so we'll see what happens this year.
We're expecting explosive news in the next few days, folks. Let us hope the globalist psychopaths will not be successful in blocking our forward momentum as they have so many times in the past. From what Q has alluded I think we're about to make a break for it. Stay tuned.
As luck would have it, my Internet connection disappeared this morning for a few moments and we could see more of that. Hopefully the patriots will be able to keep our comms functioning so we can continue to share the news—the REAL news. It just might be BIG news.
Do the lunatic left have an inkling of what may be about to be "unleashed"? Don't take any chances. Maintain situational awareness and avoid large gatherings—not because of a stupid flu virus—because of sleeper cells that may be activated to do damage and harm innocent people. ~ BP