_________________________________________________________________________________________________________
Israel is a 'backdoor conduit' for Russian and Chinese access to US critical infrastructure. MEGA link at bottom to send policy brief to your local and state representatives.
Key Messages
The US-Israel Energy Cooperation Act demands US technology is handed to Israel as a matter of law.
The Talpiot Program, an elite Israeli Defense Forces training program, uses their expertise to further IDF technological research and trained under Israeli military intelligence for at least 7-10 years.
Israel has a long history of espionage and stealing U.S. high technology, then on-selling it to China and Russia.
Israel's Talpiot graduates and Unit 8200 veterans populate cybersecurity companies contracting with the U.S. government to secure state's critical infrastructure.
The Israeli State is the PRIMARY hub for core coding of ALL Microsoft Products – Windows, Office, Azure Cloud – and core research and development of Intel Corporation CPU design and fabrication.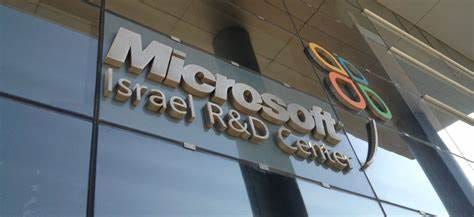 Introduction Many have heard of the Chinese and Russian role in the Belt and Road Initiative (BRI), but few know of Israel's central role in the new 'Multipolar World' nor understand the ramifications to the United States. The goal for Israel as the technological hub for the BRI providing vital data from fiber optic cables that will intersect Africa, Asia, and Europe.
During a Beijing summit in 2017, Chinese Vice Premier Liu Yangong and Israeli Prime Minister Benjamin Netanyahu agreed to improved bilateral relations by an "innovative comprehensive partnership" and "bring the ties and the cooperation between the two countries to new heights." Netanyahu stated, "We want to marry our technology with China's capacity". The United States is wary of China and Russia but willfully ignore their long history of close economic and military ties to Israel for political gain.
Background Israeli and Jewish American journalists have written on the effects of mass immigration of Soviet "Aliyah" with loose immigration requirements for decades. According to Israel's Central Bureau of Statistics, "around 30% of immigrants from the former Soviet Union in the 1990s were not Jews or not considered Jewish under Orthodox law. In 2005, that figure leapt to 59%. Only around 5% of the non-Jews have converted." Lilly Galili, an opinion piece writer for The Guardian, noted the high technology industry in Israel is dominated by Russian and Ukrainian computer scientists, missile technicians, aeronautical engineers, and materials scientists. "It was a very different type of immigration," said Ms. Galili, "They didn't want to integrate. They wanted to lead. They changed the nature of the country." She pointed to "some sense of alienation between Russian immigrants and native-born Israelis. There is not much social interaction. There are still places for 'Russians' that 'Israelis' don't go and aren't wanted – and vice versa."
Israeli-Russian Immigrant Antagonism The conflict between Russian immigrants and Israelis is exemplified by the Soviet-born Israeli politician Avigdor Lieberman. He is the founder of the secular Yisrael Beiteinu (Israel is Our Home) party, whose base is overwhelmingly Russian-speaking immigrants, and he is regarded as a "kingmaker" in Israel's coalition government. Liberman's disdain for religious Jews was apparent when he stated, "I will send the haredim, together with Netanyahu, in one wheelbarrow to a garbage dump." In a 2009 visit to Moscow, Lieberman "behaved like an old friend" Israeli delegate Yuval Fuchs said and noted that the Russians "acted as if they already knew him," according to a Wikileaks document. His close ties with the Kremlin concerned many in Israel.
The 'Backdoor Conduit' to Russia Soviet immigrants are populating Israel's Talpiot Program and Unit 8200 (NSA equivalent) that produce high technology CEO's placing them all over the world, including the United States. The Talpiot Program is an elite Israeli Defense Forces training program using their expertise to further IDF technological research and trained under Israeli military intelligence for at least 7-10 years. It is surprising government officials have failed to grasp and address the Israeli state as a "backdoor conduit" for American high technology illegal transfers to Russia with security concerns over Russian election interference and technology acquisitions. This is an open-door for Russian GRU (Military Intelligence) and SVU (KGB) to infiltrate the American high technology sector and critical infrastructure via easy Israeli visas and citizenship. Elements inside of Israeli intelligence have warned Israel is heavily penetrated by Russian GRU and SVU assets. Thus, Russian penetration of American critical infrastructure has come through Israel's Talpiot Program and Unit 8200 military intelligence units.
Eugene Kaspersky, head of the Russian cybersecurity firm Kaspersky Lab, is partnering with the "Jerusalem municipality and others in Israel" as a center of cyber-security technology. Kaspersky has alleged ties to Russian intelligence due to his education at a KGB-sponsored technical college, direct work for the Russian military, and in 2017 the Trump administration banned Kaspersky software from government computers. The day after Russia invaded Ukraine, The U.S. government privately warned a few American companies "Moscow could manipulate software designed by Russian cybersecurity company Kaspersky to cause harm," according to senior U.S. official.
Russian-Israeli Espionage Israel has a long history of espionage against the United States. In 2007, according to the U.S. National Security Agency, it was flagged as a top spy threat. Israeli stealing of U.S. high technology (including nuclear weapons) and on-selling it to our enemies in China and Russia is well documented. Cyber espionage firms such as NSO Group, Candiru, Black Cube and others are heavily recruited from Unit 8200 to develop powerful cyber weapons. This is predominately an unregulated market and will take more than blacklisting to rein in these companies when Israel's private sector and military intelligence are intimately intertwined with one another. The military and private sector in Israel allowed dangerous cyber weapons like NSO's Pegasus spyware, to flourish worldwide. Pegasus spyware unequivocally led to journalist Jamal Khashoggi's death and even targeted U.S. officials. Unit 8200 whistleblowers are coming forward to expose Israel's unethical behavior, not only towards the Palestinians, but also against American citizens. "We spent our time essentially carrying out surveillance of a civilian population who had no access to legal counsel and were denied civil rights," G [anonymous Unit 8200 veteran] said of his experience in Israeli army intelligence. "We were trained to violate people's privacy for a living, and then were offered even more money to do it abroad."