I felt inspired to try something different today, which is to offer you a card reading. This is something that I used to do once a week on YouTube, and I really enjoyed it. So let's try one for today! These two cards are from the Sacred Destiny oracle deck by Denise Linn. And by the way, isn't it great that we have so many oracle decks with such amazing art? The artwork on these is the best part 🙂
Here are the two cards that I pulled: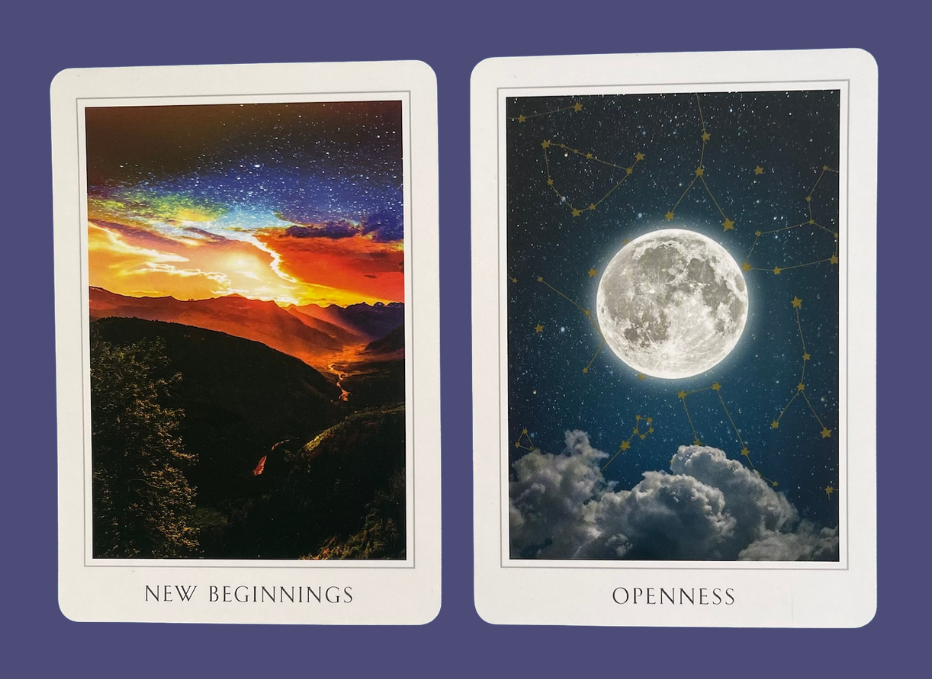 Now this is pretty amazing, given that tomorrow (September 10th) we have a full moon in Pisces. These cards immediately struck me as being perfect for this moment in time. Full moon energy is always good for clearing and cleansing, which is exactly what creates an opening for something new and better. Now I am not an astrologer, but I do know that Pisces is a water sign and this moon will very likely tap into our emotions.
Think about this. Emotional energy is the force that causes us to hold onto patterns and resist change. So this could indicate a need to release old emotional attachments to habits or beliefs that no longer serve, and are just keeping you stuck. It could also indicate a need to open your heart and follow its wisdom by tuning into your intuition and higher knowing about yourself. This is very different from following the orders of the ego, which tends to trap your emotional energy into old ways of doing and looking at things.
The NEW BEGINNINGS card is so beautiful because it perfectly follows as the next step of opportunity once you let go and open up. (Both of these cards came out together, so I think the message exists as the two combined.) This card shows the sky opening up to the Universe, which I think signifies an opening for inspiration about something new that you never thought of before. Or it could indicate new opportunities that you can discover once you tune into your higher self.
And here's another thought… In the new beginnings card, we see light shining on a formerly dark terrain. Once you open up to your higher self and higher mind, things you need to know can be illuminated in your life in mysterious and amazing ways.
Much of life on this planet consists of solving various problems. The biggest problem that we all face from time to time is a feeling of being stuck and not knowing how to move forward. This generally takes the form of unanswered questions and even unanswered prayers. One of the main reasons that we don't receive the answers we need is because we place too many conditions on the answers that we are willing to accept. If the real answer does not fit in with those conditions, then we will find ourselves with unanswered prayers or no answers at all.
So if you feel stuck in any way or unable to figure out your next step forward, check in with yourself and see if you have conditions on the answer. If you are willing to release those conditions and open up to what you don't know, the Universe can provide you with the illumination, inspiration, and magic that you need. ❤️
Now onto this week's newest YouTube video! If you missed it, you definitely need to check it out because I tried something very different and it seems that people like it a lot, based on so many comments I received. This video is more conversational and has very little editing. I got lots and lots of great feedback, which was so helpful. And I was really happy because it was all done respectfully. I have such a fantastic audience on YouTube! It seems that overall, people love this new style but many also really like my usual style with lots of editing. So I will be experimenting further with this…Maybe a combination?
And remember that September is a wonderful month for transitions! Let's glide into some graceful transitions for a healthier, happier life going forward.
Talk again soon!
Much love,
Saratoga ❤️