_______________________________________________________________________________________________________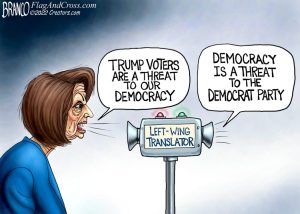 By Greg Hunter's USAWatchdog.com (WNW 544 8.26.22)
The Deep State Democrats are afraid Trump will help win the House and Senate in 2022 and be back in the White House in 2024.  It's so bad that the White House, DOJ and FBI are trying to come up with a new crime to frame Trump.  The last frame job by the FBI was a spectacular failure as it was revealed the so-called "Russian Collusion" was ALL made up right down to the totally phony incriminating dossier paid for by Hillary Clinton.  This time, the frame job appears to be more out in the open as the judge, who signed the affidavit to raid Trump's personal Florida residence, has ordered the affidavit to be unsealed.  It will also be redacted.  So, expect to see a lot of black ink.
After the Interview:
Six-time best-selling author Jonathan Cahn will be the guest for the Saturday Night Post. He's coming to talk about his upcoming book "Return of the Gods" and reveal it's really a return of demons and evil that is plaguing the world today. He'll tell you how to deal with the evil chaos that is happening all around. You will not want to miss this.