A California-legal AR-15 style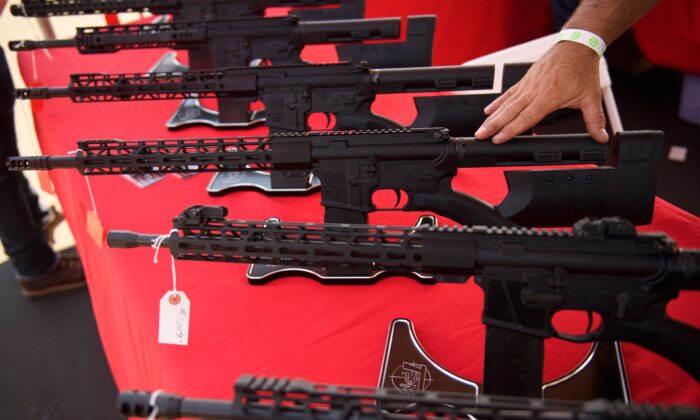 The school system in a North Carolinacounty is planning on putting AR-15-style rifles in emergency lockboxes in its six schools following a mass shooting in Uvalde, Texas, earlier this year.
"We were able to put an AR-15 rifle and safes in all of our schools in the county," Madison County Sheriff Buddy Harwood told the Asheville Citizen-Times about the plan. "We've also got breaching tools to go into those safes. We've got extra magazines with ammo in those safes."
Harwood told the paper that he wants to ensure Madison County "deputies are prepared" in the event of a school shooting. It comes weeks after Texas state officials criticized Uvalde police for not being able to neutralize the shooter at Robb Elementary School for more than 75 minutes.
"Those officers were in that building for so long, and that suspect was able to infiltrate that building and injure and kill so many kids," Harwood remarked, adding, "I do not want to have to run back out to the car to grab an AR, because that's time lost. Hopefully, we'll never need it, but I want my guys to be as prepared as prepared can be."
As a firearms instructor, Harwood said that he's not fond of having to place AR-15s in schools, but he stressed that he wants "the parents of Madison County to know we're going to take every measure necessary to ensure our kids are safe in this school system."
"If my parents, as a whole, want me to stand at that door with that AR strapped around that officer's neck, then I'm going to do whatever my parents want as a whole to keep our kids safe," he remarked.
More Details
Madison County Schools Superintendent Will Hoffman said that school officials have been meeting with the sheriff's department in recent days to discuss safety measures. The Epoch Times has contacted the school district for comment.
"Our partnership with law enforcement is a critical part of our daily preparations," said Hoffman. "We have to be vigilant and prepared for any possibility at any time. Our students have to feel safe in order to be safe."
In mid-July, a report released by a Texas state House committee said there were systemic failures on behalf of law enforcement officers who responded to the Uvalde mass shooting, which left 19 students and two teachers dead in May. The report blamed officers for not responding quickly enough and retreating to safety.
"In this crisis, no responder seized the initiative to establish an incident command post," the report said. "Despite an obvious atmosphere of chaos, the ranking officers of other responding agencies did not approach the Uvalde CISD chief of police or anyone else perceived to be in command to point out the lack of and need for a command post, or to offer that specific assistance."
Underscoring the nationwide popularity of AR-15-style rifles, the National Shooting Sports Foundation (NSSF) recently issued a report finding that figures released by Winchester Ammunition show that 60 percent of centerfire rifle hunters use AR/AK-platform rifles.