Sweden's new Arab Party, established to champion the rights of the country's Arab population, has vowed to assist integration "and protect the rights of Arabs" while denying any claims it might "Arabize Sweden." According to its website, the party assumes a "socialist orientation with certain capitalist elements" while highlighting that it is a "secular party and no religious symbols or clothing are allowed within the party's representatives." At present, its stated aims are to combat "exclusion, anxiety about the future, division and lack of sense of community," while also reducing "crime and unemployment within the same group." It has laid out several requirements for membership including: an Arab background from at least one parent dating back several generations, as well as a Swedish college education and clean criminal record. To avoid any systemic discrimination, Sweden does not keep demographic figures according to ethnicity but in Sweden at the start of the decade, or roughly 1.5 percent of the total population. A census is due to be carried out in 2021, which may shed more light on the significance and potential influence that the new Arab Party might expect to yield in Swedish public policy in the coming years.
Limiting the comments to subscribe-only didn't save Hillary Clinton from a flurry of Epstein pictures after she invited Twitter to wish her former-president husband Bill a happy birthday. "Join me in wishing this young man a happy birthday," Clinton tweeted on Wednesday, along with an old college photo of the political power couple. It would seem that the former secretary of state was speaking directly and only to the 850 accounts she was following, as nobody else was permitted to comment under her post via the site's new privacy feature. As only the people Clinton was following could reply, the general Twitter populace had to find a workaround to join the discourse – which was easily done by retweeting the birthday greetings themselves and adding their comment. It would appear that many Twitter users actually did not want to wish Bill a happy seventy-fourth birthday. Instead, they brought up allegations surrounding his personal friendship with the late financier and pedophile Jeffrey Epstein.
As if it weren't awkward enough for the party that bills itself as a defender of women to feature Bill Clinton at its convention, photos of the ex-president with one of Jeffrey Epstein's victims surfaced on the day of his speech. The UK's Daily Mail published exclusive pictures on Tuesday showing Clinton receiving a massage in 2002 from 22-year-old Chauntae Davies, who was allegedly raped by billionaire Epstein repeatedly over a period of four years. Nevertheless, the images serve as an untimely reminder of the many sexual misconduct allegations made against Clinton during his years in politics and of his relationship with Epstein. A Clinton spokesman has said the former president knew nothing about Epstein's crimes and flew on the financier's jet only four times, but flight logs showed that he traveled on the plane dozens of times in 2002 and 2003. Davies and other alleged victims said in a 2020 Netflix documentary on Epstein that he had secret surveillance cameras at his properties to gather blackmail-worthy dirt on his powerful friends.
Russian opposition figure Alexei Navalny was admitted to an intensive care unit in a grave condition, his press secretary Kira Yarmysh announced via Twitter. "This morning Navalny was returning to Moscow from Tomsk. He felt unwell during the flight. The plane made an emergency landing in Omsk. Alexei has toxic poisoning. We are in an ambulance now", she tweeted, adding that at the moment Navaly is unconscious. In August 2019, the Investigative Committee of Russia summoned several FBK employees for questioning over a money laundering case and announced it had ordered to freeze the FBK's bank accounts. The authorities launched a criminal investigation into the laundering of around 1 billion roubles ($15.3 million), obtained via criminal means. As a result, in July 2020 Navalny said he would close the foundation, which had also been declared a foreign agent.
In Chiapas, sugary drinks can be easier to find than bottled water. With average daily consumption of 2.2 liters of Coca-Cola, Chiapas leads the world. It's more than five times higher than the national average. Jaime Tomás Page recently published in the journal Social Medicine, a case study on Mayan communities whose health condition is affected by the growing cases of diabetes mellitus. The study of the doctor in anthropology of the center of multidisciplinary research on Chiapas was even mentioned in the week by the National Council of Science and Technology, regarding the excess with which Coca-Cola is taken.
Life insurance company Prudential Indonesia expects to tap deeper into the sharia insurance market amid rising demand. President director Jens Reisch said sharia products were suitable for everyone, because they were not only a religious positioning but also carried a gotong royong (working together) spirit. He noted that sharia-compliant insurance was the company's fastest growing business. Total sharia insurance assets amounted to Rp 45.45 trillion (US$3.06 billion) last year, up 8.44 percent annually, according to the Indonesian Sharia Insurance Association (AASI). Sharia life insurance assets, meanwhile, grew 8.74 percent to Rp 37.48 trillion. Reisch said the country still needed to raise awareness about the importance of life insurance, as only 19 million people in Indonesia had a life insurance policy.
The Food and Drug Monitoring Agency (BPOM) has said potential COVID-19 remedies being developed by Airlangga University in Surabaya, East Java, require additional clinical trials. BPOM head Penny Kusumawati Lukito said that upon inspecting the clinical trial of the drug — developed in collaboration with the Indonesian Army and the State Intelligence Agency (BIN) — on July 28, the agency found several critical findings that affected the test's validity. According to the agency, the clinical trials had not fulfilled the BPOM's protocols in randomizing the test subjects, including symptom severity variations. The tested drug was also administered to COVID-19 asymptomatic patients, whereas the BPOM's protocol stated that tested drugs should be given to patients with mild, moderate and severe symptoms. Penny added that the trial showed no significant results, and the BPOM also called for the researchers to note possible side effects in future tests, given that the drug contained combinations of a number of potent medications.
Patients who recently died of COVID-19 in Banyumas, Central Java, experienced an unusual coronavirus effect of "happy hypoxia", in which they had dangerously low oxygen levels in their blood yet showed no usual symptoms of the disease. Banyumas Regent Achmad Husein said on Tuesday that three out of seven patients who succumbed to the coronavirus disease "seemed to be just fine and showed no symptoms of COVID-19, such as a cough, runny nose or high fever, but their oxygen saturation had slowly dropped [without them knowing it]." Oxygen saturation refers to how much oxygen hemoglobin is carrying. It is measured in a percentage, scored out of 100. The regent said the patients' oxygen saturation had dropped to 75 percent, below the normal level of 90 percent or more. He urged the public to be more aware of the newly discovered symptom of COVID-19. The official further suggested that relevant authorities measure oxygen saturation in addition to temperature checks.
Faces covered in white dust and chisels in hand, marble sculptors in Myanmar say the hills that have given them a livelihood for generations are disappearing, as large companies reap the rewards of the prized white rock. The mounds, lined with jagged edges from where huge chunks have been hewn, are the country's prime source of white marble — cherished as far back as the reign of King Mindon Min in the 19th century. Ko Lay, a sculptor for animals, making around $360 for each elephant, lion or tiger figure.
"The entire village relies on them, but we're worried they'll disappear soon," Ko Lay tells to AFP. Like others here, he points the finger at shadowy Chinese and military-linked companies, who were granted decades-long licenses over swathes of land under the previous government. "We want our mountains back," says Ko Lay.
Former Trump advisor Steve Bannon has been arrested and indicted by the Manhattan US attorney for defrauding people in an online fundraising scheme. The arrest is tied to the "We Build The Wall" online fundraising scheme which invited Americans to donate to a campaign to build the wall with private funds. Bannon was arrested alongside Brian Kolfage, Andrew Badolato and Timothy Shea, all four of whom were involved in the online fundraising project (we reported on the fundraiser back in 2018). Prosecutors allege that after promising not to use "one cent" of the money raised in the GoFundMe page and other fundraising venues to pay themselves, the men – particularly Brian Kolfage, the public face of the endeavor – broke this promise. In particular, Kolfage used much of the money to finance a "lavish lifestyle," according to prosecutors. According to the indictment, which was unsealed in Manhattan Federal Court on Thursday, Bannon and the three men willfully conned donors with their promise to build the wall with private money. Per the indictment, Bannon once described WBTW as a "volunteer organization". Eventually "hundreds of thousands of dollars" were siphoned from the campaign, money supplied by donors, including some in the Southern District.
According to the Wall Street Journal, the FBI and SEC have launched an investigation into Bannon-linked GTV Media Group, which raised over $300 million this spring in a private placement. At issue is whether any securities laws may have been violated during the placement, which was restricted to accredited investors – thus avoiding SEC registration requirements. GTV Media holds itself out as "the only uncensored and independent bridge between China and the Western World," telling potential investors that "it would be a platform for news, social media and e-commerce," while stating a pre-investment valuation of $1.8 billion. Company directors include Bannon and John A. Morgan – son of Morgan Stanley's co-founder, while exiled Chinese businessman Guo Wengui is listed as an adviser to the endeavor. Investor Kyle Bass is listed by the company as a director, however he tweeted in July that he no longer serves on GTV Media's board, and a person familiar with the company confirmed that he had resigned.
Brian Kolfage is a veteran of the United States Air Force and founder of the organization We Build the Wall which has begun construction of a privately funded barrier on the US-Mexico border and allegedly defrauded donors for the personal benefit of Kolfage, Steve Bannon and two other conspirators. On August 20th, 2020 Brian Kolfage was indicted for his role in defrauding donors to build a privately funded boarder wall between Mexico & United States. Kolfage is a triple amputee, with some articles claiming that he is the most severely wounded US airman in history. His injuries resulted in the fastest medevac to the United States from a war zone.
News Burst 21 August 2020 – Bonus IMG
​The Captain Under Arrest
Sunil Kumar Nandeshwar, the Indian captain of the MV Wakashio, the Japanese oil tanker that ran aground off the coast of Mauritius on July 25, causing a devastating oil spill in one of the world's cleanest ocean environments, is now under arrest. Additionally, International Tankers Owners Pollution Federation Ltd and Le Floch Depollution will both begin cleaning 3 sites on the country's shoreline that were affected, joining local efforts from fishermen, according to Reuters. The tanker, MV Wakashio struck coral reef off the coast of the Indian Ocean and began to spill oil on August 6. As a result, Mauritius announced a state of environmental emergency. The spill spread over a "vast area of endangered corals" according to the report. Some are calling it the country's "worst ecological disaster". Inspector Siva Coothen said: "We have arrested the captain of the vessel and another member of the crew. After having been heard by the court they have been denied bail and are still in detention." The country's coast guard had "repeatedly tried to reach the ship" in order to warn it about its dangerous course. They said they received no reply. An official for Mauritius said: "The route set five days before the crash was wrong and the boat navigation system should have signalled that to the crew and it seems the crew ignored it. The boat did also fail to send out an SOS (when it ran aground), and did not respond to attempts by the coastguard to get in touch."
Below: part of the boat being towed away to be sunk.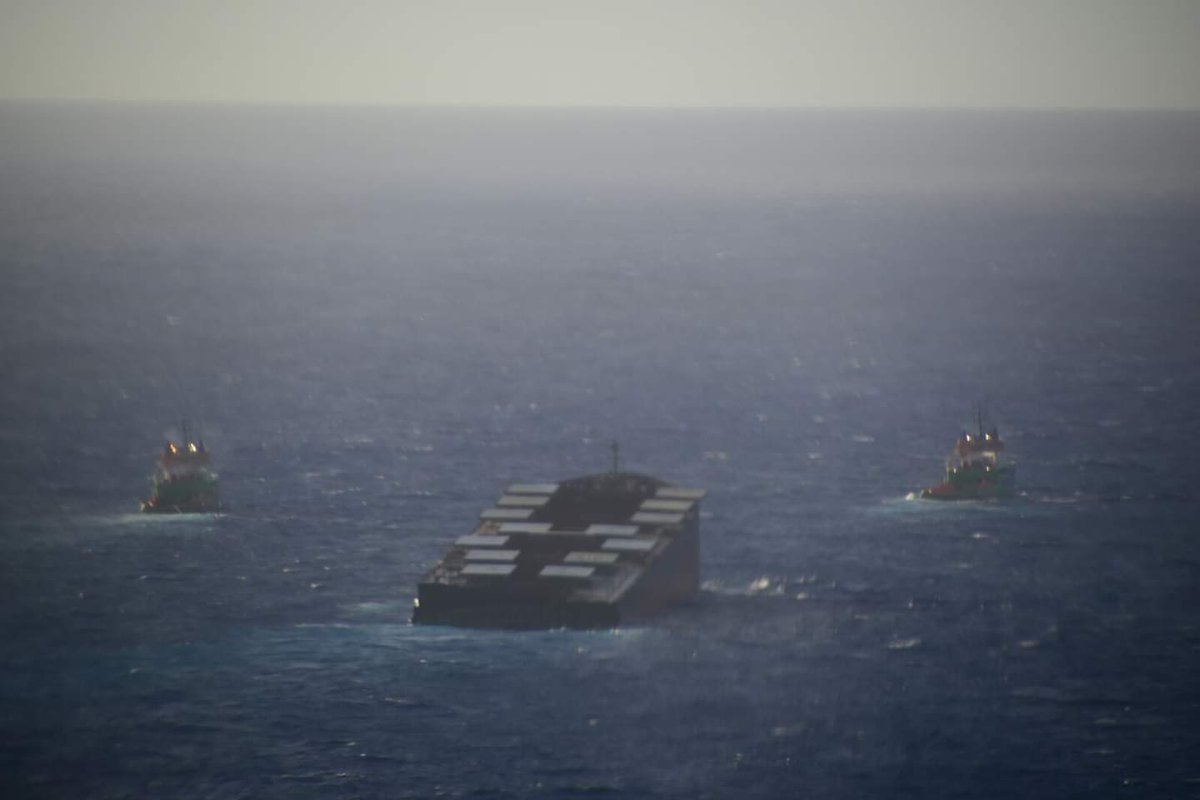 News Burst 21 August 2020 – Bonus IMG
​Jaguar And Its Cub Caught On A Camera Trap
Cameras, drones and traps are being used to capture jaguars in Guerrero. Efforts under way to capture jaguar and its cub in Chilpancingo, near Guerrero capital , after the pair was seen last weekend in neighborhoods near the capital city. Authorities want to relocate the animals to protect them from hunters.
News Burst 21 August 2020 – Bonus Video
Three Gorges Dam Live Multicam + Radar
By August 20, the Three Gorges Dam in central China's Hubei Province is expected to see the most severe round of floods since it was completed in 2003, Chinese authorities said. According to a forecast by the Changjiang Water Resources Commission of the Ministry of Water Resources, the inbound flow of water is expected to reach more than 74 000 cubic meters per second after continuous heavy rain battered the upper reaches of the Yangtze River.
News Burst 21 August 2020 – Solar Activity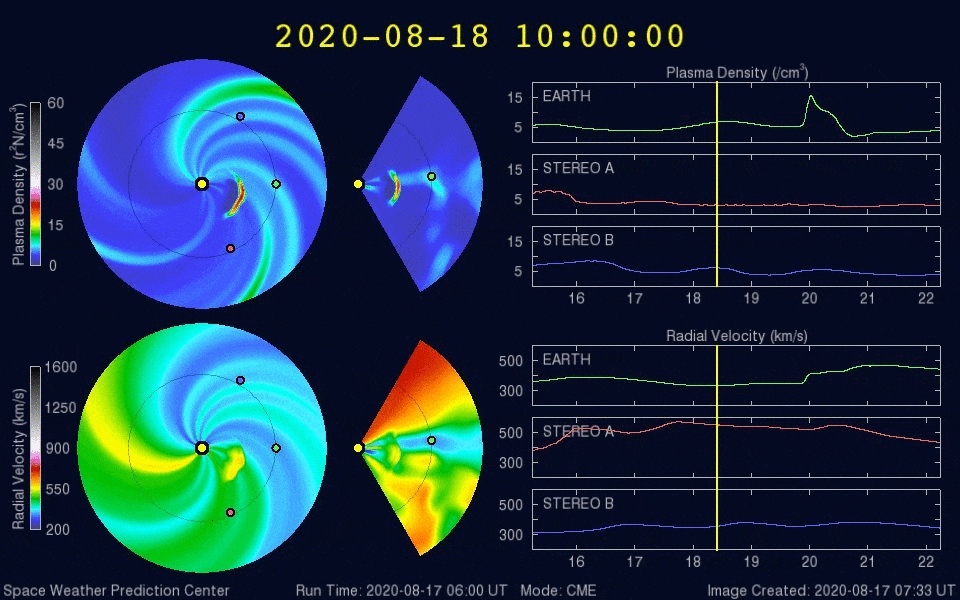 As the forecast animation shows, the CME was never heading directly for us. The bulk of the plasma cloud is expected to sail to the south of our planet. However, its outer edge could graze Earth's magnetic field, and that might be enough to spark a minor (G1-class) geomagnetic storm. There's also a chance the CME will miss, and space weather will remain quiet.
News Burst 21 August 2020 – Active Weather
​Tropical Storm Genevieve
With the pressure quickly rising to 985 hPa and wind down to 60 kts gusting to 75, Hurricane Genevieve has been downgraded to Tropical Storm.
Atlantic
Two Tropical Depression are brewing in the Atlantic, Thirtheen and Fourteen, the latter off the coast of Yucatan, Mexico. Both have wind of 30-40 kts and pressure well above 1000 hPa.
News Burst 21 August 2020 – Earthquakes
20 August 2020
Europe – M4.4 Crete, Greece
---
Atlantic – M4.7 Mid-Atlantic Ridge
---
Africa – M4.7 Democratic Republic of Congo
---
North America – M5.0 Alaska
---
Central America – M3.2 Puerto Rico
---
South America – M5.4 Colombia
---
Asia – M4.8 Indonesia
---
Pacific – M3.4 Hawaii
---
Deepest EQ – M4.0 322 km Japan
Symmetry
The symmetry of the distribution of earthquakes is visible in this image which shows the shocks of yesterday and today, the M4 in Japan is 322 km deep and occurred yesterday, today we see the shallow earthquake of M4.6 at the fulcrum point, between the deep shock and the previous one in Kamchatka. We may now see movement on the M4 to the Aleutian Islands, the next fulcrum. Earthquakes Last 24 Hours – M4 and Above