The founder of anti-compulsory hijab and women's rights activist, Masih Alinejad, has insisted that sentencing her brother to eight years prison in Iran, exerting pressure on her family, and other threats cannot silence her. Masih Alinejad who is in self-exile in New York is one of the most effective Iranian activists when it comes to rejecting compulsory hijab and defending women's rights. She had a strong presence on social media and following in Iran. Iran security forces arrested Masih's brother Alireza Ali Nejad's last September in what she says was a clear attempt to pressure her and convicted him to an eight-year prison sentence last week. "The only reason behind my brother's conviction is to silence me," the outspoken defender of women's rights said. Expanding on the reasons behind her brother's conviction, Masih Alinejad disclosed for the first time that the agents of the Islamic Revolution Guards Corps Intelligence Organization (IRGCIO) set a trap to capture her. They were set to lure me into traveling to Turkey, ensnare me there, and force me back to Iran, Alinejad reveals, asserting, "However, my brother raised the alarm and relayed a message, warning me against traveling to Turkey. That's one of the reasons for my brother's conviction."
The personal assistant of murdered tech CEO Fahim Saleh has been charged with second-degree murder, after Saleh was found decapitated and dismembered in his $2.2 million Manhattan luxury apartment on Tuesday, after a cousin stopped by to check on him. 21-year-old Tyrese Haspil of Brooklyn was arrested on Friday morning in the lobby of a different luxury apartment building several blocks from where Saleh lived. On Saturday, two detectives walked Haspil out of the 7th Precinct in a white Tyvek suit, face mask, handcuffs and leg shackles – ignoring question from reporters, according to the report. "He tried to run," the building superintendent, adding that Haspil had arrived at the apartment sometime on Wednesday, and said he was planning to leave on Monday. Haspil, who handled Saleh's finances and personal matters, is believed to have owed his boss a "significant amount of money." Rumors say that Saleh discovered that Haspil had allegedly embezzled $90,000 from him, and had set up a repayment plan after firing him, instead of reporting it to authorities
China on Sunday raised the flood alert level in the Huai River region in the country's east to Level II from Level III, the second highest on its four-tier scale, after days of torrential downpours and amid expectations of further heavy rainfall. Ten reservoirs on the Huai River have seen water levels exceeding warning levels by as much as 6.85 metres, according to the Huaihe River Commission of China's Ministry of Water Resources. Torrential rains have battered China for two weeks from Chongqing in the southwest to Shanghai on the east coast. "Floods are occurring at the same time at the Yantze River, Huai River and Tai Lake…The flood prevention situation is very severe," the water resources ministry said. Water levels in the region were likely to exceed the maximum level that reservoirs can withstand, the ministry added.
Twitter said that hackers were successful in manipulating several of the social media company's employees into handing over credentials for internal systems, sparking this week's massive hack of many of the platform's highest-profile accounts. Twitter said in a blog post Saturday that hackers were able to gain access, change passwords and send tweets for 45 users and completely download data, including private messages, of eight users. The hack mostly targeted prominent profiles, like those of former President Obama and billionaire Warren Buffett, but no data was downloaded from verified accounts. The platform also declined to reveal some details of the hack, noting the hackers may have tried to sell usernames or read private messages of any prominent users while logged into their accounts.
A Bangladesh hospital owner accused of issuing thousands of fake negative coronavirus test results to patients at his two clinics was arrested Wednesday while trying to flee to India in a burqa, police said. The arrest marked the end of a nine-day manhunt for Mohammad Shahed over allegations of giving fake certificates to patients saying they were virus-free without even testing them. Shahed, 42, was one of more than a dozen people detained by authorities over the past few days in connection with the scam. Experts warn the false documents has worsened the already dire virus situation in the country of 168 million people by casting doubt about the veracity of certificates issued by clinics. "He was arrested from the bank of a border river as he was trying to flee to India. He was wearing a burqa," Rapid Action Battalion spokesman Colonel Ashique Billah told AFP. Italy last week suspended flights to Rome from Bangladesh to stem the spate of coronavirus cases. Several passengers arriving from Dhaka had tested positive for COVID-19. (In Italy national health is free and anyone can seek treatment. Is that why they all go there?)
A large majority of people are of the opinion that television and online shows on ghost-hunting and the supernatural should be subject to control by government agencies to prevent people being deceived, according to a survey by the Thailand National Institute of Development Administration – Nida. The poll was conducted on July 13-14 on 1,256 people aged 15 and over of various levels of education and occupations throughout the country to gauge their belief in people who claim to be able to contact and communicate with dead people. This followed a controversy over a television show which featured mysterious or untold stories about ghosts and the spirits of dead people. 37.46% said they were sceptical and 33.04% said they thought the stories were made up. On the other side, 23.67% said they believed them to a certain extent and 5.83% strongly believed the stories were true.
Repentant bandits in Nigeria's north-western state of Zamfara are being offered two cows for every AK-47 they surrender. It is an attempt to encourage them to give up a life of crime and live a normal life as responsible citizens, Zamfara Governor Bello Matawalle said. Motorcycle-riding armed bandits have been terrorising the state. Cows are valued by the Fulani herder community who have been accused of being behind a wave of attacks. However, members of the community have repeatedly rejected the allegations saying that they too were victims. An average cow in northern Nigeria costs about 100,000 naira ($260; £200) while an AK-47 on the black market could cost as much as 500,000 naira ($1,200; £950), the BBC's Mansur Abubakar reports. "These bandits who choose to repent initially sold their cows to buy guns and now that they want a life free of criminality, we are asking them to bring us an AK-47 and get two cows in return, this will empower and encourage them," Mr Matawalle said in a statement.
An Instagram video about the custodial deaths of a father and son in the south Indian state of Tamil Nadu was instrumental in getting the case national attention. Suchitra Ramadurai spoke to the BBC: "Hi, I'm Suchitra, and I'm south Indian and I hate how every south Indian issue just remains a south Indian issue because we don't talk about it in English." Armed with details from the case filed by the victims' family, and matching eyewitness reports, she then goes on to explain in graphic detail what happened to P Jeyaraj, 58, and his son Benicks, 38, who were arrested and held an entire night at the Sathankulam police station in Tuticorin town. They died within hours of each other two days later. Relatives of the two men say the men were subjected to brutal torture and even sexual abuse after they were picked up for allegedly keeping their stores open past permitted hours – Tamil Nadu is still observing a lockdown to curb the spread of Covid. Ms Ramadurai, a singer, and a radio jockey with a popular radio station in Chennai (formerly Madras) is a familiar name in Tamil Nadu's capital city. The viral video on custodial deaths has taken down.
The damage to a pre-Hispanic aqueduct in an archaeological site in Texcoco, Mexico, is irreparable, says a director of the National Institute of Anthropology and Hitale (INAH). According to media reports, farmers in the city of Santa Catarina del Monte have components of the aqueduct at the site commonly known as The Nezahualc-yotl (Nezahualc-yotl Baths) as they chart a new path between the city and farmland. After examining the wear and tear caused by heavy equipment, the head of the INAH of the State of Mexico, Luis Antonio Huitron, told the press that it was compatible with Reforma that it was "irreversible" and Hitale said the amounts of an aqueduct were eliminated or moved. The ancient aqueduct, built while Nezahualc-yotl, known as the King of Poets, was the ruler of the city-state of Texcoco in the 15th century, sparked a wave of anger on social media. Nezahualc-yotl, who led Texcoco from 142 to 1472, used the Baos site in Nezahualc-yotl as a position of retreat and meditation, as well as an astronomical center, according to the INAH.
UFO hunters believe they finally have proof that Earth has been visited by alien crafts after a peculiar pattern was spotted hovering over a beach in New Zealand on Google Maps' street view. The supposed unidentified flying object appears to be suspended in the air over St Kilda beach on New Zealand's South Island in the Google 360-degree image. The photo was uploaded by a user named David Newstead all the way back in 2014, but it shot to prominence this week after self-proclaimed alien-hunting expert Scott Waring posted a video about it on Friday. "The UFO looks like a fat disc, thicker in the upper and lower middle. The object is metallic in color and has no wings and nothing to indicate that it might be a balloon, drone, plane or anything," Waring breathlessly claimed on his ET Data Base blog.
A Supreme Court ruling has vindicated the activities of the unregulated groups who snare paedophiles with covert tactics. But those involved say it's unlikely to make a defiantly underground scene any more professional. After being vindicated by Britain's top legal minds, it looks like the country's controversial vigilante paedophile hunter groups are here to stay. Convicted paedophile Mark Sutherland's lawyer had contested that evidence gathered by hunters and used to convict him had breached Article 8 of his human rights, which ensures "Respect for your private and family life." But judges unanimously dismissed the appeal, in effect appearing to endorse the hunters' activities. And that has caused some concern. After the decision, Brian McConnachie QC said: "The major concern I have is that these groups are now likely to consider that they have the green light to do what they want, effectively." The irony is that those currently involved in the hunting community shun the idea of turning professional. Hunters pose online as 'decoys', pretending to be children, and interact with unsuspecting paedophiles. Once a meeting is arranged, the hunters carry out 'the sting'. They film the confrontation as they present their evidence to the suspect, and post the shocking footage online.
Ghislaine Maxwell fears she will meet a similar end to her former lover, Jeffrey Epstein. The British socialite – who is awaiting trial in a Brooklyn prison – reportedly believes that the convicted sex offender was killed while in jail. "Everyone's view, including Ghislaine's, was that Epstein was murdered," the family friend said. Meanwhile, Jeffrey Epstein's private Gulfstream jet is on sale in Florida for $16.9 million. The money from the sale could raise cash for several victims who are suing Epstein's estate for sexually abusing them as minors. According to Florida-based aircraft sales firm Equus Global Aviation's website, the 16-seat jet boasts a new interior with camel-colored leather seats, mahogany-finished surfaces, and plush royal blue carpet.
The Duke of York was left out of official photos released yesterday from his daughter's surprise wedding — even though he walked her down the aisle. Ex-Royal Press Secretary, Dickie Arbiter, said: "A wedding day is always special to the bride — but it's also a huge event for their mother and father too. "So it's tragic for Beatrice that neither of the two official images feature her parents, to whom she is so close. But it's a sign of how far Prince Andrew has fallen. "His absence from his eldest daughter's private wedding photographs was perhaps to be expected, if highly unusual. "Presumably this was in deference to public opinion." Prince Andrew's absence from Princess Beatrice's wedding photos is "a sign of how far he has fallen" a royal expert has said.
Nearly four million people in India's northeastern state of Assam and neighbouring Nepal have been displaced by heavy flooding from monsoon rains, with dozens missing as deaths rose to at least 189, government officials said on Jul 19. The overflowing Brahmaputra River, which flows through China's Tibet, India and Bangladesh, has damaged crops and triggered mudslides, displacing millions of people, officials said. The flood situation remains critical with most of the rivers flowing menacingly above the danger mark,
Sumo began a new tournament in front of a live audience Sunday Jul 19, despite a steady rise in COVID-19 infections, with fans voicing both joy and caution about watching the Japanese spectacle during the pandemic. The tournament runs through Aug 2 at Ryogoku Kokugikan, the primary sumo arena at the heart of the Japanese capital.
News Burst 4 July 2020 – Bonus IMG
Photo taken on July 19, 2020 shows water gushing out from sluiceways of the Xiaolangdi Reservoir on the Yellow River in central China's Henan Province. The Xiaolangdi Reservoir has continued to release floodwater since July 1, preparing for the critical period of flood control of the Yellow River.
News Burst 20 July 2020 – Bonus Video
Akashic Records Keeper
News Burst 20 July 2020 – Bonus Video
India, New Delhi
One person has been reported dead due to drowning along the low-lying Minto Road area in India's national capital city after heavy rains lashed Delhi on Sunday, causing water logging in various areas. "This is the situation of 'National Capital' of India. And most importantly, after first rain, there is the entire rainy season coming on the way. Imagine, what will happen to Delhi?"
News Burst 20 July 2020 – Solar Activity
A stream of solar wind might hit Earth's magnetic field on July 23-24. The gaseous material is flowing from an equatorial hole in the sun's atmosphere. It's not a major hole, but the emerging gas might be enough to spark high-latitude auroras when it reaches Earth later this week.
Sunspot number: 0
Spotless Days
Current Stretch: 8 days
2020 total: 151 days (75%)
2019 total: 281 days (77%)
News Burst 20 July 2020 – Earthquakes
July 19 2020
Europe – M4.4 Iceland
---
North America – M4.1 Alaska
---
Central America – M3.7 Puerto Rico
---
South America – M4.8 North Chile
---
Asia – M5.0 China
---
Pacific – M4.8 Micronesia
---
Deepest EQ – M4.1 490 km Kamchatka, Russia
---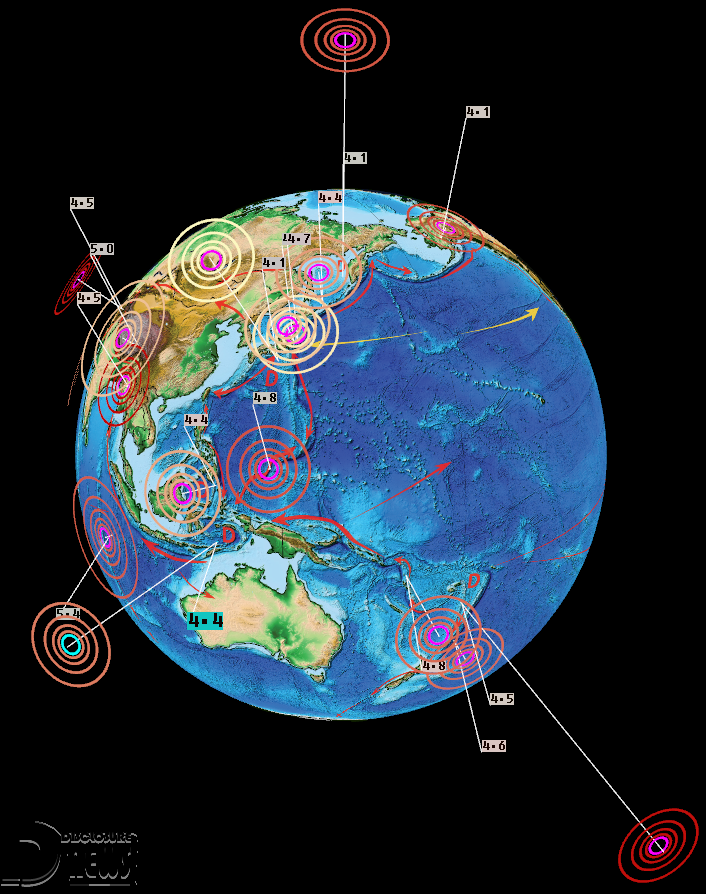 The Pacific Plate is in massive motion; on the west side, in the last 24 hours there have been 4 deep earthquakes, M4.5 in Fiji on July 18, the other there were today. The biggest silent areas that can be seen in the image are two, one goes from south Japan to north Philippines and is centered in Taiwan, and the second from PNG to Vanuatu centered in the Solomon Sea, all these places can see movements around mid to high M5. Same probability for the Aleutian Islands.
While in the Pacific the new seismic wave is taking shape some movements in China and in the Gulf of Aden show that a new M5 push is transiting in Asia toward Europe and The Atlantic. We will probably see movements in Nepal, that area has been silent for long, and again in Iran. Earthquakes Last 24 Hours – M4 and Above