Controversial video sharing app TikTok has another demerit to add to its growing list: the app was just fined by South Korea for mishandling child privacy data. The company was fined 186m (about $155,000 USD) by the Korea Communications Commission (KCC) for collecting the data of children under 14 years old without the consent of their legal guardians. The KCC found that "more than 6,000 records involving children were collected over six months, violating local privacy laws." In addition, the Chinese firm "failed to inform" its users that their personal data was being transferred overseas.
The best tennis player in the world, Novak Đoković, arrived in Sarajevo on Monday, and accompanied by the founder of the "Archaeological Park: Bosnian Pyramid of the Sun" Foundation, Samir Osmaganić, he visited the pyramids in Visoko. Djokovic is an extremely spiritual man who is interested in energy and spirituality, which is why he decided to visit the Bosnian Valley of the Pyramids. "Archaeological and Tourist Park Ravne 2 is something new in Europe. People feel comfortable here. When you arrange an area that has been neglected for 100 years, the soil starts breathing again and paying you back multiply. It is an area where soul gets to rest," said Samir Osmanagić.
The Chinese government has deployed a mass sterilization campaign against Muslim ethnic minorities in the country's western provinces, according to a new report, which argues the tactics could amount to genocide. China's treatment of Uighurs, the Muslim ethnic group that has historically lived in China's westernmost province, known as Xinjiang, has come under increased scrutiny in the last couple years, as the Chinese government ramped up what it casts as a "re-education" campaign that uses mass detention camps. Those camps are used as a form of threat and punishment, with officials detaining women and families who fail to comply with pregnancy checks or forced intrauterine contraceptive devices — more commonly known as IUDs — sterilizations, and even abortions. The result is a huge drop in birth rates among China's Muslim population, even as it moves Han Chinese, the country's main ethnic group, into the mineral-rich region. Birth rates in Uighur areas have plunged by over 60% in the last three years alone, according to the report published by the Jamestown Foundation, a nonpartisan think tank in Washington.
A Twitter employee collaborated with hackers to take over blue-ticked accounts across the platform on Wednesday, Vice reported, citing two sources from a hacking community responsible for the attack. It also provided leaked screenshots obtained by Vice's Motherboard allegedly proving the deed. According to the sources cited by the outlet, the Twitter insider was paid to "literally" do "all the work" for the hackers. The employee could have provided hackers with access to a necessary tool which helped them carry out the attack or simply hijacked the account by himself or herself, Vice said, citing the comments of a Twitter spokesperson. So far, the Twitter Support team has only publicly stated that: "We detected what we believe to be a coordinated social engineering attack by people who successfully targeted some of our employees with access to internal systems and tools."
A British judge on Thursday, 2 July refused to give Venezuela's Nicolás Maduro access to 31 tons of Venezuelan gold – $1 billion in gold – being held in a Bank of England (BoE) vault, on the basis that the U.K. does not recognize the socialist leader as president of the Latin American country. Banco Central de Venezuela (BCV), whose board is appointed by Maduro, took legal action to release the gold from the BoE, which it said it wanted to sell to help tackle the country's coronavirus crisis. The BoE is the second largest keeper of gold in the world with some 400,000 gold bars, after the New York Federal Reserve. But British judge Nigel Teare ruled that the bank was not entitled to make the request since the U.K. government has "unequivocally recognized" his rival Juan Guaidó as president.
Portland police have brought a swift and unceremonious end to a newly-created 'autonomous zone' in the city, which was seen by many as an offshoot of a now-defunct protester camp in Seattle.
Protesters camping out at the Chinook Land Autonomous Territory (CLAT) were ordered by law enforcement to leave the area on Thursday morning. Several arrests were made due to non-compliance. Portland demonstrators began setting up barricades and tents on Tuesday night, meaning CLAT existed for less than 48 hours.
Piracy and armed robbery incidents on ships in the Singapore Strait doubled in the first half of 2020 compared to the same period last year, according to a maritime information sharing centre on Jul 16. Such incidents in the region as a whole also doubled, said the Regional Cooperation Agreement on Combating Piracy and Armed Robbery against Ships in Asia (ReCAAP) Information Sharing Centre. In the first half of the year, 16 piracy and armed robbery incidents were reported in the channel, and 51 altogether in Asia. According to its half-yearly report, the centre said what is "of concern" is the "continued increase of incidents" in the Singapore Strait. The other incidents occurred in Bangladesh, India, Indonesia, the Philippines, Vietnam and South China Sea.
Flash floods and landslides killed at least 30 people on the Indonesian island of Sulawesi and left hundreds displaced, authorities said on Thursday Jul 16. Fifteen people remain missing, Indonesia search rescue agency spokesman Yusuf Latif said in a statement. The flash floods struck the North Luwu district of South Sulawesi province after heavy rain on Monday caused three nearby rivers to burst. More than 4,000 residents were affected.
India: Monsoon floods have swamped large parts of India's densely populated eastern states, forcing more than a million people into makeshift shelters despite the risk of coronavirus, senior officials said on Thursday Jul 16. The floods have killed at least 10 people and injured more than 70 in the states of Assam, Bihar and Jharkhand, where heavy rain has submerged thousands of villages in the past 24 hours as authorities battle to ensure social distancing in relief camps.
Using execution as a means of suppressing dissent has a long history in the Islamic Republic of Iran. Iranian officials appear to have only one solution for all problems from drug trafficking to social protests: Execution. The Islamic Republic has been using execution as a solution and a preventive measure. Hours after executing two prisoners, Saber Sheikh Abdollah and Diako Rassoulzadeh, on July 14, the West Azarbaijan Province Justice Department said in a statement: "It is a firm policy of the Judiciary to be decisive and teach people a lesson at this time of change." The Judiciary claims that it has been undergoing a "change" since Iran's Supreme Leader Ali Khamenei appointed Ebrahim Raeesi as Judiciary Chief in February 2018. During the 18 months he has been in office as Judiciary chief, his supporters say his main mission has been campaigning against financial corruption. But the issuance of a large number of execution orders during this period indicate that Raeesi's mission during this "period of change" has been one of suppressing dissent. For a long time, execution has been a tool for maximum suppression of dissent in Iran. Reports by Amnesty International and the Iranian Human Rights Organization reveal that 8,071 executions have taken place either in public or behind the walls of prisons between the years 2000 and 2019.
Indigenous tribes in Brazil should be safer than the rest of the population in the country hit very hard by the COVID-19 pandemic, as their lands are supposed to be protected from unauthorised entries. Instead, the coronavirus is dangerously spreading across their territories. According to the Secretariat of Indigenous Health, more than 8,000 indigenous people living in villages have developed COVID-19 and 184 have died as a result. Indigenous people and rights activists accuse the government of an incompetent response and state authorities of a lack of desire to protect the native population from the deadly coronavirus. The Illegal miners that regularly invade the protected territories, and health-care workers sent by the government, are being blamed as the main source of infection.
An environmental disaster is the making sits off the coast of Yemen. The oil tanker FSO SAFER has been left abandoned off the coast of the Yemen port Hodeida with its 1.1 million barrels of crude oil and risks sinking in the Red Sea. The result would be a humanitarian and environmental catastrophe, according to statements made during a UN Security Council meeting. The UN is prepared to send a team of experts to assess the situation.
A 17-year-old was arrested following the rape last week of a 12-year-old Grade 7 pupil in Bulwer, KwaZulu-Natal, South Africa. The young girl was reportedly turned away from a screening point at a school in order to go back home and fetch her face mask. Upon returning, she informed her teachers that she had been raped. Basic Education Minister Angie Motshekga demanded severe punishment for the 17-year-old accused. New lockdown regulations have also been amended, stating strict protocols to ensure children's safety in the event they forget their face masks when arriving at school.
News Burst 17 July 2020 – Bonus IMG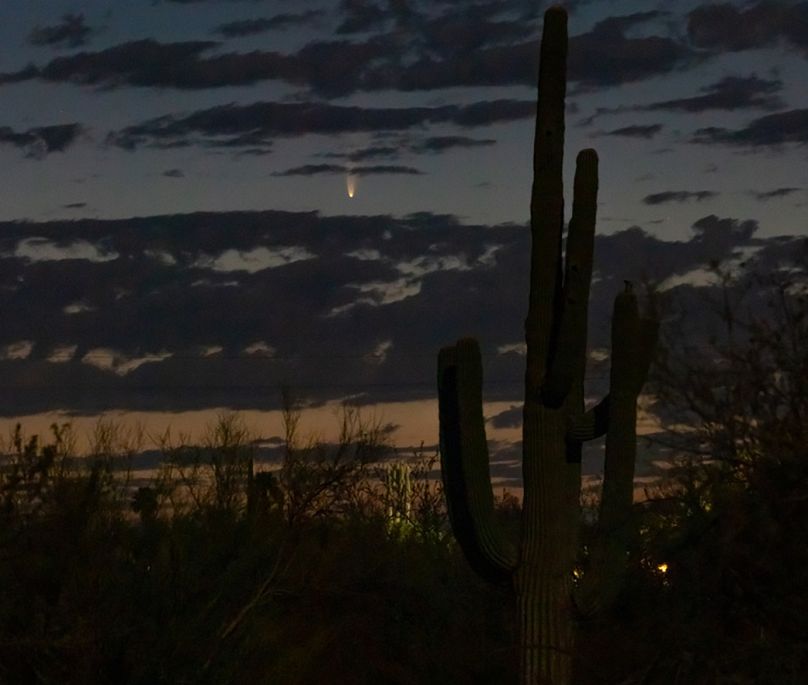 Neowise Comet Above Tucson, USA
Seeing the icy visitor on its visit to the central solar system is a truly once in a lifetime opportunity. It won't be coming back past the Earth for around 7,000 years.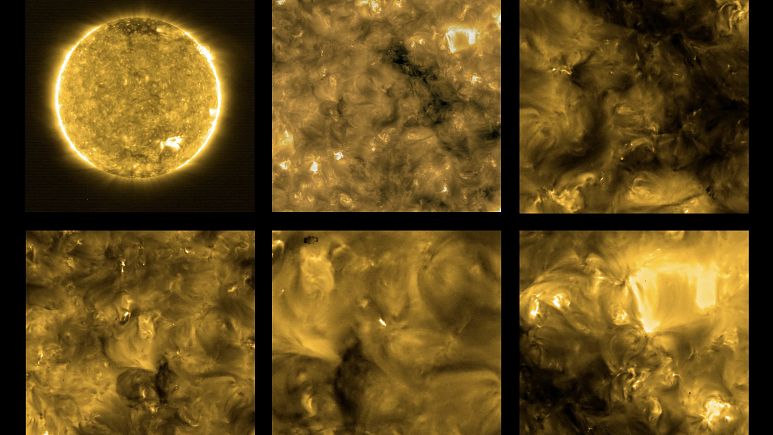 Images Of The Sun Taken By Its Solar Orbiter
The European Space Agency (ESA) has today released the first images of the Sun taken by its Solar Orbiter. This is the closest any camera has ever been to the Sun, with the satellite just 77 million km away from it when the photographs were taken – about half the distance between Earth and the star. "It's as if the spacecraft had sent us a postcard from its journey," said Daniel Müller, Solar Orbiter Project Scientist at ESA. The satellite was launched on February 10, 2020, and made its first up-close approach to the Sun in mid-June. In the lead up to the big reveal, Müller said: "The first images are exceeding our expectations."
News Burst 17 July 2020 – Bonus Video
Palermo, Italy July 15 2020
Dozens swim to safety after floods trap cars in Palermo underpass. A flash flood in Palermo, Sicily, left dozens of people trapped in their cars on Wednesday. Mud and water swept away the vehicles and left them blocked in a highway underpass. Drivers and passengers escaped and swam to safety, but a witness reported seeing two people disappear in the water. Firefighters worked all night searching for them.Two children, who were stuck in a car with their parents, have been hospitalized with hypothermia.
News Burst 17 July 2020 – Solar Activity
Solar Cycle Update: Solar Minimum is here, and it's a deep one–a century-class lull in solar activity. At the same time, the next solar cycle is showing signs of life. A recent profusion of reversed-polarity sunspots, plus a big solar flare in May, herald the coming of Solar Cycle 25. Despite the recent quiet, Solar Maximum could be only a few years away.
News Burst 17 July 2020 – Earthquakes
July 15 2020
Europe – M3.5 France
---
North America – M5.3 Adak, Alaska
---
Central America – M5.8 Panama
---
South America – M4.2 Chile
---
Asia – M4.5 Turckey
---
Pacific – M4.7 Papua New Guinea
---
Deepest EQ – M3.0 306 km Italy
An M3.0 earthquake occurred between the Aeolian Islands and the underwater Marsili Volcano (located on the Pliny underwater mountain), this movement could generate a push for a medium-high M3 shallow earthquake even if at the same time as the deep quake there was a shallow M3.3 in the Sicilian hinterland 50 km west of the Etna Volcano. The force later flowed toward Gibraltar with M4.3 probably to move again the Azores tomorrow.
Yesterday we saw the two deep earthquakes in the Wets Pacific and the one south of the Fiji Islands has pushed a shallow shock of M4.3 in New Zealand, we can see how today's earthquake is located in the intermediate point between the two previous shocks. Earthquakes Last 24 Hours – M4 and Above