On Tulsa time… it's party time. RSBN is streaming their coverage of the pre-show from the BOK Center now and we can see the crowds and feel the energy. Watch here all day.
President Trump will be speaking inside AND outside at a stage there. He'll be like one of those spheres that seem to suck energy out of the sun. Our President needs to refuel and we've got just the ticket.
Wasn't it interesting how they did that about face in Tulsa on the curfews? And the legal challenges all overturned, too. Victory for the Light.
ANTIFA and lunatic left agitators… don't even think about it. The National Guard are all over it—and those are just the bodies you can see.
Holy smokes they're interviewing a guy who's letting lose on Epstein Island, Obama, pedophilia, eating babies—whoa! He's not holding anything back, saying COVID is a hoax, etc.
LIVE: President Donald Trump Rally in Tulsa, OK 6/20/20
Q's spotted…
Check out what just popped up on #FNC

#Qanon #WWG1WGA #Trump2020 pic.twitter.com/9zfL4ulkYH

— Soldat De L'Esprit (@SoldatDeCiel) June 20, 2020
Qanon left this drop for us today…4484
Q!!Hs1Jq13jV6 20 Jun 2020 – 10:00:58 AM https://twitter.com/TheJusticeDept/status/1274148764769452033
SDNY
Importance of SDNY control?
Jurisdiction:
Weiner evidence collection
Clinton Foundation
Epstein evidence collection
Ukraine
(focus on above [for now])
[Watch NYC]
https://twitter.com/SDNYnews/status/1274178732476059650
THE GUARD REFUSING TO STEP DOWN?
POTUS refusal to formally nominate?
APPOINTED TO POST BY SDNY JUDGES [unusual][removal of 'acting']?
The stakes are high.
They will fight.
Super bowl > puppy show
Q
See RSBN on TwitterTweets by RSBNetwork
https://t.co/kl3MqWch37

— l E T 17 (@Inevitable_ET) June 20, 2020
These are interesting times, folks. I've had connectivity issues on the bridge this morning and hubby informs me I have to get a new iPad because mine is so old that very little works on it any more and can't be updated. The prices have come down a lot, thankfully.
You gotta love technology. We got a heads up from the team that…
…you might want to check your phone. It seems the interruptions to cell phone service recently may have been linked to adding a cute little feature to your iPhone or Android. They located it on their phone under the "privacy" settings, lol, and shared this video. I love my flip phone. Burner phones, anyone?
It seems this feature is wildly popular down under as nearly 2 million apps were downloaded for CV19. Wakey-wakey.
COVID-19 Trackers on Our Phones
That won't take long did it? A fatal shooting in Seattle… The autonomous zone may turn into a chop shop where they shoot and cut up each other. Why would any sane person go there? It's not fair to the businesses there.
Delay, delay, delay. That's the result of the court proceedings this past week.
Dan Bongino did a great show yesterday and had me laughing out loud a few times as he puts everything in perspective. He said the same thing I did; watch the media claim after the Tulsa rally that Trump killed people.
You can download or listen to audio only at the link. Video below.
MrMBB333 has a good video covering a number of things we're watching; the sun, the Bush fire here in AZ where my other half went out a couple of nights to capture some spectacular shots, the Bighorn Fire near Tucson, AZ, the Yellowstone caldera, which Scott Mowry says the military are watching closely… and more. Folks are seeing rainbows in odd places.
Its ALREADY changed course…and it's early!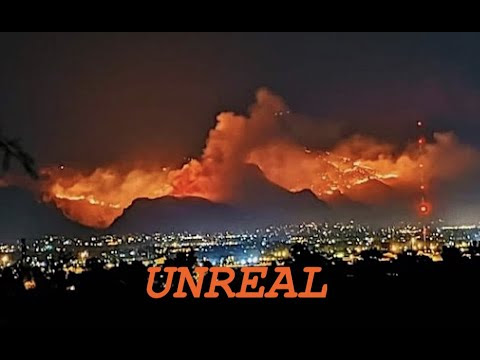 Gina shared this. Not sure what to make of it. What do you think?
This is so cool! The other dimension is bleeding thru on the waterfall in Tennessee! pic.twitter.com/blLsdv1HJu

— Gina Maria Colvin Hill (@GinaMColvinHill) June 19, 2020
I want to get this out so I'm closing for now. Have a great weekend. ~ BP