Incredible information and events are the order of the day, every day and the volume is difficult to process. Much of it is subtle, as LT shows us in his newest video, below.
For example, television screens featured a "We are here with you" during several programs. Not sure which networks yet, but consider what that might mean. Who is "we", my friends? And how can they put that on the screen? Do you suppose the White Hats have some control over the media?
Did anyone in other countries see that on their televisions? If so, I would say it's an indication that the video updates in all languages we were told would play non-stop on televisions, right on Q, are probably a reality and soon to take over our television screens; 80 hours of brutal truth and revised history. It could theoretically play into the "10 days of darkness", could it not?
Scott Mowry suggested we stay tuned to Fox News, in America, for anticipated updates, in case they do air to inform the public what has transpired, what it means, and what to expect going forward.
If the info-programming airs, there's going to be a whole lot of hurtin' and a whole lot of anger from those in the trance who didn't know any of this or refused to believe the "conspiracy theories". We were told there would be suicides, particularly from deeply religious people, but perhaps the fate of so many children will overshadow even that shock.
As the President said, there will be a lot of death, but not as much as if this didn't happen. It's an all-out military operation waged on the invisible enemy, he said, and General Milley amped it up in no uncertain terms in his message to the dark mere days ago.
Watch. Mandatory.
AWK News 4.6.20: EVERYTHING IS AT STAKE. INFORMATION WARFARE!
It seems unimportant at this stage, but I wanted to mention that this blog is now 8 years old, and I can't believe we've been doing it that long. I never thought it would take until now to get here. It's obvious the digital soldiers are needed more than ever, because our traffic doubled in the past few weeks since the White Hats modified the Google algorithms. We grew quickly for a few years but then new traffic slowed dramatically. We still managed to grow slowly and are now approaching 21 million hits.
We hardly dare to hope that what seems to be happening truly is, but the evidence and our intel from good sources tells us it is so. The Event is in progress. Humanity rose up and is taking our planet back. Evil is exposed, and the true nature of Humanity is on display. The devil and his disciples are finally given the bum's rush and the new count for the sealed indictments is 160,000+. That's up over 5,000 in one week.
Now, more than ever, "Trust the Plan" and remember, "Patriots are now in control." "Trust POTUS".
As the President stated in the briefing, things are going to get bad, but then they'll get really good. The prosperity packages and redistribution of wealth, new technologies, and high vibration will take the sting out of the wounds and we'll rapidly be on our way to a much better world that many will have difficulty believing is real. It will be like a dream, and we'll learn we just woke up from the nightmare.
The crew shared a couple of videos I didn't get to and must feature. Our world is really all about vibration, and we must keep our frequency high.
One indicator is the Schumann Resonance. Mr. MBB shows it in this video. Our thoughts, and what's in our hearts can alter it. We want to raise it. There's an auspicious planetary alignment that may also be playing a role.
This is the reality at the moment folks.
Officer Sarah Tonen shared a video below as an indicator of her fighting spirit, she made this video when she has no microphone working. She had to get her message out and she didn't let that obstacle stop her. Bravo! That is the mark of a dedicated digital soldier.
Stay in High Vibration!!!!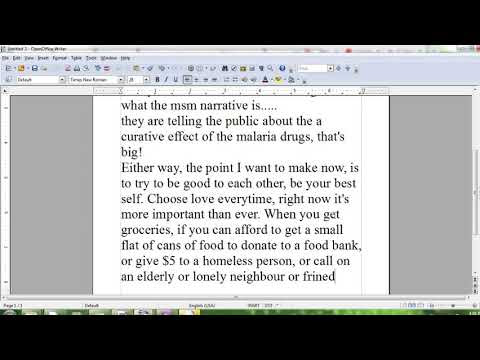 And what would happen if we all did this? Thanks, S.
I forgot about this one until Scott Mowry featured it on his Miracles Intel Call last night. (which was amazing, of course.) Q is a LARP? A fake? Israeli intelligence? Really? Then why is the entire world on board? Why do Human Beings the world over love Donald Trump and what he has done? One has to ask.
The answer: Because "Where We Go One, We Go All" is a fact, not just a slogan. We are together as ONE. Awakened people everywhere can feel it, and the lies can't change it or stop it.
WWG1WGA – WORLDWIDE
There is a long list of confirmed Pedowood arrests according to Scott Mowry, and coded language concerning their disposition. If they are "quarantined" it means one thing, if they tested negative it means something, and if they tested positive it means something else, etc. They may or may not be running around with an ankle bracelet like Ellen Degenerate or could be locked up in a federal facility. It was after midnight when I finally got to listen to the call and I couldn't have a light on or take notes.
The toilet paper virus is a wonderful distraction for the world as the militaries rescue the children and make arrests and works really well on the media, too. It pains me to see their attacks on the President every single day at the press briefings but like he said, he takes all the slings and arrows gladly for us and lets them know who's boss. The way some of them interrupt him makes my blood boil.
The culmination of the Military Action Plan (MAP) will be spectacular and we're told there are MULTIPLE Alliance operations currently underway. The Plan is complicated—and that's why it works. Don't worry if you can't make sense of it.
LIGHT AT THE END OF THE TUNNEL!

— Donald J. Trump (@realDonaldTrump) April 6, 2020
Simon Parkes was a guest on Out of This World radio recently and you can listen to his update here. It is not a mirror of the information he has shared thus far and he confirms that the operation underway currently is about rescuing the children from underground.
He says the "mass arrests" will be one of the last things to occur, and that the Mercy and the Comfort are for the enemy, not the children, as Gene suggested might be the case. I am hoping that some of those ships above us are here to take the children to heal them in every way necessary so they can reintegrate into our society.
He says the peak of the underground liberation of the children will hopefully be a few days before Easter, which would account for the President's "burst of light" statement, as thousands of children are brought out of the tunnels and caverns.
For the ones bred in captivity and never exposed to our daily contaminants and contagions, the medical staff will have to protect them as they minister to them and perhaps that's where so many of the masks are going.
Out Of This World 4-03-20 hour one
I'm going to leave it here for now, folks. ~ BP