We're back! If you are reading this, we, and YOU, are still here to live another day; to soldier on and face the enemy, shoulder to shoulder with our compatriots.
If bad news were arrows, we would have been long dead, but we're rallying like never before. More and more people worldwide are waking up to the reality that they have been betrayed, and they have been prey.
To focus on the negative would be suicide. We need to know the facts, and move forward from there. The way Humanity is responding to the coronavirus threat is inspiring. Such loving. Such giving. Such creativity. It is bringing out the best in so many—and the worst in others.
My advice to everyone is to nurture your soul. We have facts. We have fiction. We have dire predictions.
Follow the lead of President Trump and his administration. Take your cues from QAnon. That would be my advice if I were asked.
I'm seeing a tug of war, my friends. I'm seeing the efforts of some to suck us down in the depths of despair. We cannot afford to go there.
Despair means no hope, and there is nothing wrong with hope. Sometimes hope is all we have.
What are the three graces? They are faith, hope, and charity. Can we do this with any grace at all?
How do you explain this?
Our Fleet cleaning s*** up! TD swamp critters are very desperate at this hour so stay safe!pic.twitter.com/s34WiZZeKp

— GalacticConnection1 (@HMajesty888) March 31, 2020
We don't enjoy saying farewell to our loved ones, but when I see footage like this below from Global News (Canada), I want to say, "Well, duh! It's the elderly who are always at highest risk of the annual influenza. Coronavirus is no different."
The illuminating news reporter points out that the province of Ontario now has the highest number of deaths attributed to coronavirus in the country. Well, duh! Ontario has the highest population! Do the math. Why don't you bring "news we can use" instead of this drivel?The Most Populous Canadian Provinces
Ontario is the most populous province in Canada with 14.45 million people representing 38.3% of the country's population. …Quebec has a population of 8.4 million people, making it the second most populous after Ontario.
Coronavirus outbreak: Nursing home in Ontario hit hard; Feds announce coronavirus wage subsidy
And how do we know all these poor elderly souls died of the coronavirus? How do we know they didn't have serious pre-existing respiratory conditions or health issues that dramatically affected their immune system? We don't. We have to take their word for it. Chances are, if they're old enough to be in a home like this in Bobcaygeon, they have a weakened immune system.
We already know that in other countries we are getting death statistics that are skewed. They are lumping deaths from other health issues into the coronavirus category.
And that illustrates my point, my friends. Don't get hung up on statistics and the picture painted by the lamestream media. They are not your friends.
I recommend you take the "big picture" approach, recognize there is a virus threat, and acknowledge that there is a virus threat every single year. Look up the statistics on the number of people in the Unites States and Canada or the world—who die of influenza every year. That will put the coronavirus deaths into perspective for you. You will see that this is not the extinction-level event the media would love to portray.
James O'Keefe has been investigating the coronavirus situation and brings his update on what some of the boots on the ground are calling "the flu".
National Guardsman At NY Testing Center Says Media Has Overblown COVID19 Pandemic "It's the Flu!"
Our elderly neighbour (80+) has had a number of health issues including a lung problem in the last few months and was just re-admitted to hospital for 2 – 3 days because they said his oxygen is low. He can have no visitors. Stated purely for perspective. He is the only one I know with any kind of health condition.
You might see where they're going with this. Will they use this strategy to take Pelosi out—meaning remove she or her or her clone from the chess board?
I don't believe we're going to see every bad actor get their just desserts. It would take too long and drag out the drama and negativity rather than focusing on positive things. They may simply fade away into oblivion at the urging of the White Hats. Good riddance. Let them go.
Mike Pompeo donned a gold tie and did a positive State Department update this morning on the developing situation in Venezuela he says they see as a "clear pathway to peace", as well as the coronavirus. He doesn't seem at all stressed and keeps it very light, joking with the press.
Pompeo addresses coronavirus news, Venezuela relations in press briefing
It's quite the ride we're on, folks. After Trump appointed actor Jon Voight and former congressman Mike Huckabee to the board of the Kennedy Center we never know what will happen next in this game of 5D chess.
This is so bizarre. They want us in our own countries. They want us in our own state, and in our homes.
DAHBOO77 shows us retailers all boarded up "in anticipation of riots and civil unrest". I think we can live without the high-end retailers. Without the filthy-rich actors in Pedowood and the El-ites, they won't be sustainable. When I walked down Rodeo Drive in Beverly Hills a year or two ago there were associates standing in the stores with nothing to do. No shoppers. The El-ite's world is disappearing.
Retailers Prepare For Civil Unrest; Boarded-Up Stores Seen From SoHo To Beverly Hills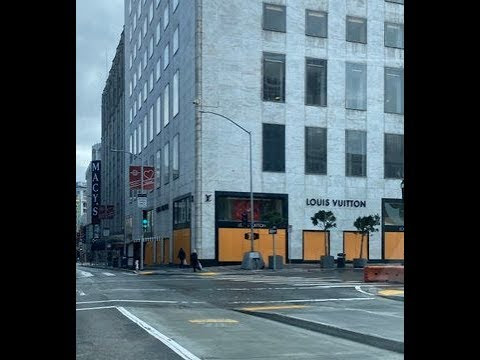 As usual, Dave seems to see the "big picture" the same way I do.
Panic Accelerates, Exposure,The [DS]/MSM Are In The Process Of Destroying Themselves-Episode 2135b
Number One brings us this video update from across the pond…
Good grief.
No, the Rangers did not score a goal.
That is the Empire State Building. https://t.co/6KU8wf3NXl

— In Pursuit of Truth (@IPOT1776) March 31, 2020
Don Jr. Stands Up for Christians, Blasts NYT over DIRECTLY Targeting Evangelicals in SICK Piece
Lest we forget…
Signing off for now… ~ BP