Do you think the White Hats have the public's attention yet? The tension is so thick you can cut it with a knife, and I think this is what 5D chess looks like. Keep 'em guessing!
Some said they thought today might manifest a big event of some kind. We'll see.
I woke up very early so decided to go to the grocery store when they opened and the parking lot was full. Only the main doors were open and a young police officer in a mask and ball cap stood guard. It was okay in the store but a lot of shelves were empty and nearly everyone was buying TP. It was full of elderly people with their scooters.
When I left the store at 6:45 am there was a lineup to get in. I asked the police officer how he's finding things and he said not too bad, but there have been some dicey situations… like people were busting down the doors of the Safeway food store earlier this morning. He said the police were told it was probably going to get worse.
When I asked if the snowbirds seem to be going home he said they revoked the Canadians' visas so they wanted them to leave. The American ones… can't do anything. Usually most leave at Easter—regardless if Easter is in March or April—go figure.
The entrance to the nearby Ghost Town was barricaded at the highway so it was… like a ghost town. Most of the campers left, and there were only a couple of horses in the paddock. No one on the zip line or the loud speaker, no locomotive whistle. Kind of eerie.
Mica and I talked to a some neighbours and both told me where they had greater shopping success and more stock on the shelves. One, I learned, is a real "conspiracy theorist" and we had a great, long chat. He said Columbia University was publishing outrageous fear porn.
He wasn't as up on things as I am, and was happy to hear about the pedos getting rounded up. He didn't know about adrenochrome, but now he does. He said people used to roll their eyes at the things he said but now they're coming to him and asking him what should they do—just as Q said they would.
Check out this message from another HollywoodAnon that Number One posted.
Simon has some interesting thoughts about the latest on Harvey Weinstein. These people think they shouldn't have to suffer any consequences and can pull their usual Hollywood stunts and disappearing acts.
2020 03 23 Update – Simon Parkes
What's NOT happening… the stimulus package the Republicans want to get approved. Why? Pelosi wants to deal. Blackmail.
Of course it's not necessarily what they say. It could be something else entirely holding up the funding. Much of this is for "optics", I feel.
This bitch is looking right at the camera & lying.

She's saying:

If you can't make your mortgage/rent…FU

If you can't afford groceries…FU

If your business shut down…FU

If you've lost your job…FU#NancyPelosi here's a collective FU from US

— ALSHOARDING (@HLAurora63) March 23, 2020
And why is Trump dealing with the WHO and the CDC? Why does he work with anyone who's cabal? To expose them. Why interfere with the enemy when they're in the process of destroying themselves?
Dr. Fauci is determined to take federal funding to develop a "new vaccine" for coronavirus when President Trump has already revealed that Chloroquine tablets and Zithromax have been used successfully together in the past for CV and respiratory ailments. The globalists are bound and determined to jab everyone with a new vaccine. Ain't happening. We're onto them.
The crew says everyone's talking about the advice of the Surgeon General.
"Donate" or "don't eat"… you decide. Not all is what it seems and code-speak is embedded in conversations every day as the White Hats communicate with the Black Hats under the radar of the general public.
Did y'all hear the Surgeon General, I repeat the SURGEON GENERAL at the end of the press briefing a few minutes ago on COVID-19…

"Don't eat blood, don't eat blood, don't eat it…"

BOOM — we know who that was for…#Biblical #TheGreatAwakening #Q #QAnon #FactsMatter pic.twitter.com/0VNqBxSsft

— вєєиα ︎ (@redpill_beena) March 22, 2020
And when Trump and his administration are finished with these shysters, the whole world will know what they've done.
What do you know? Never saw this coming. Thanks, J.
Is this an indication of just how virulent they expect the CV-19 to be? Back in the Jade Helm days we also saw instances where "old" hardware people found threatening was sold as parts or scrap is waiting to be refurbished or junked and was not a threat at all so let's not jump to conclusions. There are those who want us to believe this is a global extinction event, and it isn't—except for the cabal.
WHOA! Mobile Morgue Trailers Found Hidden On Farm Near Chicago
When Scott Mowry told us the pressure was going to increase this month still, he wasn't kidding. Asteroid threats now? Could they pile it on any thicker?
Corey Lynn has advice for those struggling to separate fact from fiction.
There is indeed a war brewing and it's difficult to watch and hear people suffering. There are so many mixed emotions. Curfews and quarantines are foreign to most of us, but we need to comply.
Travelers, no matter where they are, need to go home immediately and support their families.
Peru is in LOCKDOWN!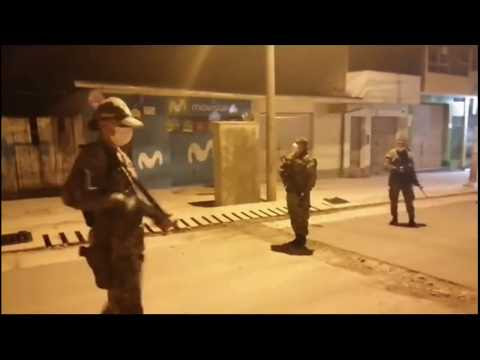 The News You May Have Missed in 2010… In Hollywood you can be anyone you want to be. It's make believe, and it makes everyone believe it.
Whoa! Like decodes? You'll love this video from And We Know. "The enemy is attacking 144 countries", Trump said. Interesting number, wouldn't you say? Look at all those 17's!!! And check out the room Kansas is in—it's loaded with messages.
Sec. Pompeo also says "almost finished", while President Trump says it "will be over sooner rather than later".
And just prior to press time this headline popped in…
AWK News 3.23.30: Many are waking up to the [DS] tactics. Do not fear.
Did you hear Gene C tell us the White Hats shut down another base (DUMB) under Manhattan, New York last week—and they found all kinds of food stores and brought out all the frozen food to distribute to us?
That should top up your feel-good vibrations. Lots of positive stuff going on, folks. ~ BP