Editor's Note: LOT's of news out there today (Thanks J!) as the cabal continues to crumble. Be safe, stay low, prepare with extra supplies for the short haul before our lives get so much better, and…
InJoy!
________________________________________________________________________________
11 Comments
A company has posted a job ad on Indeed.com seeking "Casualty Role Players" (CRP)" for both a West Virginia National Guard "exercise" on September 8 and an Indiana National Guard training exercise Sept 10-12 that includes a simulated response to a natural/manmade disaster including a structural collapse and/or nuclear, biological or chemical incident.
Keep an eye on this folks; September 11 is right in the middle of that Indiana date range and it is not beyond the realm of possibility that a FALSE FLAG attack will be perpetrated from one or both of these "training exercises."
The ads seeks the following:
$125 a day

Contract

WHEN: September 10 – 12, 2018

WHAT: A Role Player Actor, also known as a Casualty Role Player (CRP), will assist in providing key rescue training during an Indiana National Guard training exercise that includes a simualted response to a natural/manmade disaster including a structural collapse and/or nuclear, biological or chemical incident. CRPs will go through triage, decontamination, and medical treatment at least 3 times during each day of the exercise. CRPs will be provided cut-away prop clothing.

ELIGIBILITY: There is no security clearance requirement, so it is open to all, but criminal background checks and U.S. employment eligibility checks will be accomplished. All personnel must have appropriate ID and be without criminal background. IDs are scanned by security personnel and persons with felony convictions will not be allowed on site. Priority will be given to those with previous experience with role playing, acting, military, and/or first responder/disaster response experience. We also look for diversity amongst our CRPs, including gender, ethnicity, age, body type, disability, and foreign language ability – American Sign Language (ASL) speakers are also highly desired. Due to a potentially strenuous decontamination process, and varying outside temperature, CRPs may not have life-threatening or serious medical conditions.

This is an excellent opportunity to give back, and show appreciation, for these brave men and women of the National Guard. Individuals who have participated in past disaster response exercises have found it very rewarding: you support this important national and community service and you get PAID to have FUN while doing so!

PAY for the exercise ranges from $125 to $375 The exercise hours are approximately 7:00 AM to 5:00 PM with arrival at 6:45 AM. Meal, snacks, and water/soft drinks will also be provided.

MORE INFO: work4hds.com/apply – OR – http://www.humandomainsolutions.us

Job Type: Contract

Salary: $125.00 /day

Experience:

Acting: 1 year (Preferred)

Location:

Camp Atterbury, IN (Preferred)

Work authorization:

Shifts:
Here is a direct link to the actual Ad for the WEST VIRGINIA operation: Click HERE
Here is the actual Ad on Indeed.com for the larger Indiana "Exercise" from Sept 10-12: HERE
Please pass this info or a link to this story to anyone you may know in Indiana, or anyone else you may want to alert as to a possible PENDING FALSE FLAG in America's heartland.
+++++++++++++++++++++++++++++++++++++++++++++++++
Category: World News
Tuesday, 04 September 2018 07:28
17 Comments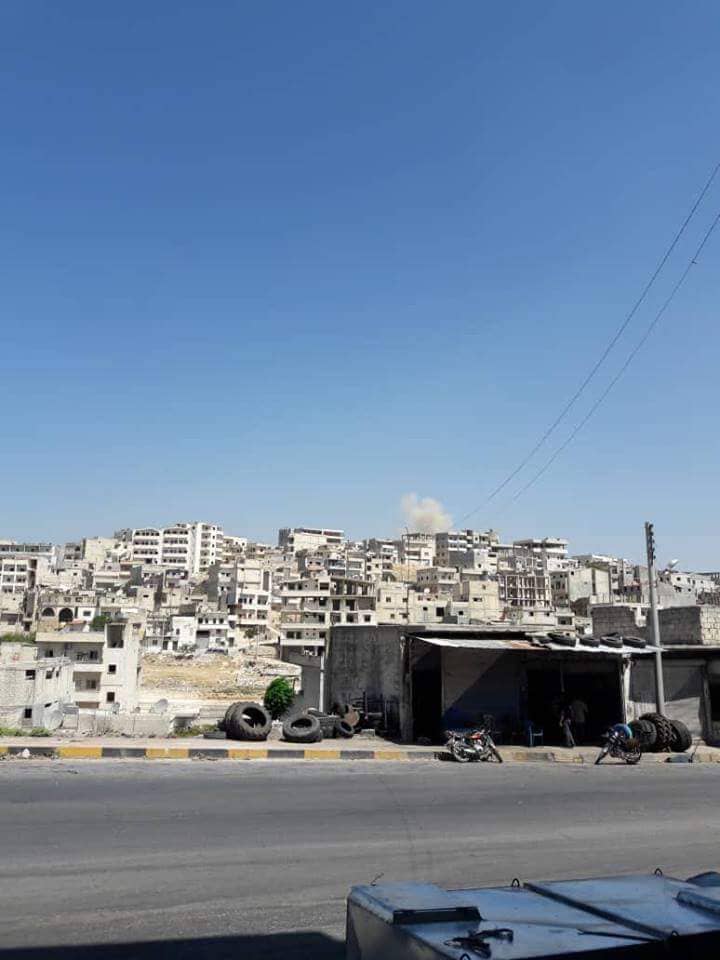 UPDATED 7:50 PM EDT — (See bottom)
Important events occurring in Syria today:
– Turkey continues to move units closer to the border and past bolstering its presence in the region.
– Israel strikes Iranian targets.
– Russia conducts limited airstrikes and continues Mediterranean Sea drills.
– US issues warning to Syrian gov
– USS Newport News attack submarine noted entering Med yesterday
– Turkey deploys a limited number of combat vessels to Med
– Syrian units continuing massing near #Idlib"
ISRAELI FIGHTER JET HIT BY SURFACE-TO-AIR MISSILE, MAKES EMERG. LANDING IN TURKEY
Less than 48 Hours ago, on September 2, this web site reported to the world that the Syrian Arab Army offensive to re-take Idlib Province from Terrorists and Rebels had begun (HERE).  Yet within a couple hours, that "Offensive" stopped dead in its tracks without any public explanation.
Yesterday, September 3, it was revealed that the "offensive" was halted because the United States told Russia and Syria that it would not simply sit-by and do nothing as a Province with 2.3 Million people came under attack.  The US made clear it felt such an attack would be a humanitarian disaster and urged both Syria and Russia to refrain from such activities, despite Idlib Province being the final holdout of Terrorists and Rebels who have torn Syria apart for the last 7 years.
Today, September 4, Russia answered those US concerns by conducting at least twenty-six  (26) air strikes upon Idlib.  Some photos are beginning to emerge from the area: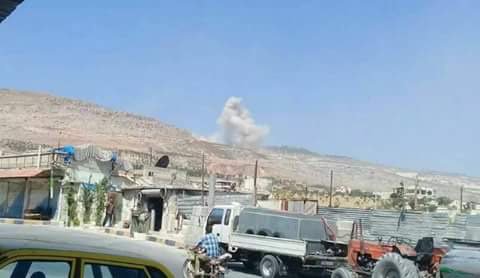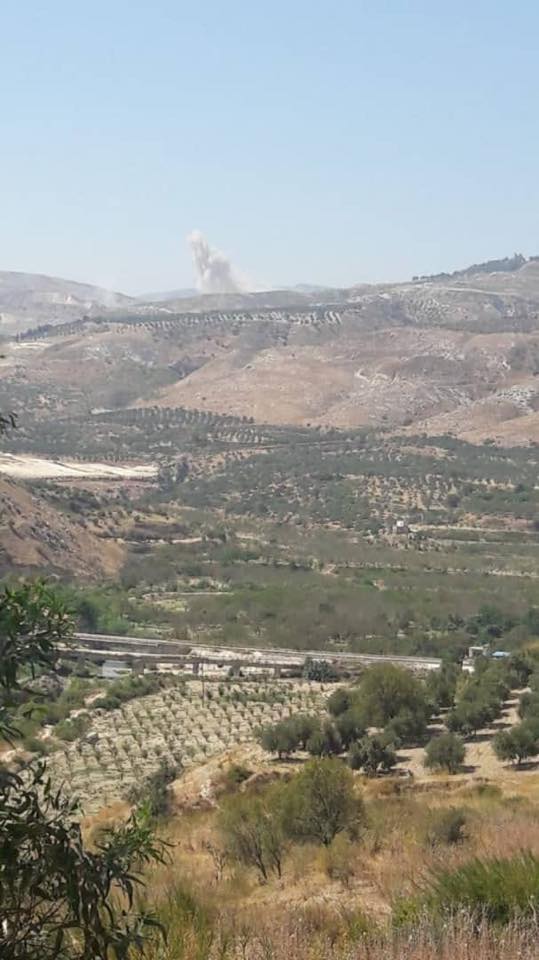 Hardly spectacular.
The Kremlin also stated this morning that "The Syrian Arab Army (SAA) is preparing to solve the Idlib terrorism problem" which seems to indicate the SAA is not yet prepared for the major offensive planned.
Yesterday, RUMORS indicated the SAA offensive was delayed until "at least Friday" but again, these were merely RUMORS.
UPDATE 7:50 PM EDT —
The US and its allies supplied weapons to isis and Nusra Front terrorists via third countries such as Ukraine, according to Alaa Saeed Din Hamdan, the first secretary of the Syrian Foreign Ministry's international relations department.
"It is obvious that the United States and its allies are supplying a huge amount of ammunition and weapons, using third countries such as the Eastern European countries, Ukraine, and the Balkan states, to fuel the Nusra Front and ISIS," the official said.
Syria has made progress in the destruction of international terrorism, but the actions of external players are hampering its victory, he added.
——————-
Israel Airport Authority announces changes to international routes & expected delays to Ben-Gurion airport due to huge Russian military drills in coming days. Russian buildup in Mediterranean has significantly increased recently to it's largest presence since entering Syria.
——————-
Several explosions rocked the strategic town of Masyaf in western Hama.
According to the source, an Israeli warplane was spotted flying along the Syrian-Lebanon border before crossing into the Homs Governorate.
The source added that five missiles struck the Wadi Al-'Ayoun area.
——————–
A second explosion around the coastal city of Banias, north of Tartus, is confirmed, the cause of the explosion remains unknown, could be an Israeli air strike or a failed ground to air missile that was launched at Israeli warplanes\missiles.
——————-
Lebanese Sources are informing me they heard possible Israeli warplanes in the skies over Beirut 15 minutes ago, reports of some explosions in Maysaf in Syria now, unconfirmed reports of Syrian Air Defenses engaging targets"
+++++++++++++++++++++++++++++++++++++++++++++++++
U.S. National News
10 Comments
An Emirates Airline Airbus A380 with 500 people aboard, has landed and been QUARANTINED at John F. Kennedy (JFK) Airport in New York City as of Wednesday morning at 9:10 AM EDT.
Sources on the ground here in New York City tell me the concern, yet unproven, is Y-Pestis . . . Pneumonic Plague.
Over 100 of the 500 passengers and crew took ill during the flight from Dubai to New York.  Passengers developed fevers over 100 degrees and sudden, severe-onset coughing.  Three of them are so sick they were taken by Ambulance to hospitals in the area.
Port Authority Police have moved the jet to a staging area while Doctors from the Centers for Disease Control (CDC) investigate.
First-Responders from the New York City Fire Department Emergency Medical Service (FDNY-EMS) are on the scene assisting other passengers.  At least seven additional Ambulances are on site as are other Emergency Service capabilities.
Pneumonic Plague wiped out one-third of the population of Europe 600 years ago.  It was said at the time that a person who became infected "could have  breakfast with their family, but would have dinner with their ancestors;" that's how fast it kills.
Thankfully, it is now treatable with antibiotics.
UPDATE 2:00 PM EDT —
SOMETHING'S FISHY . . .
The story has now changed – dramatically.
Authorities now saying only 19 people sick; big drop from 100+
Of the 19, nine refused medical attention, leaving ten hospitalized.
Officials also now saying it is FOOD Related.   (Food sickness NEVER causes coughing.)
This is the Emirates A380 seating map.
The lower deck has all/only Economy seats.  Info from scene: ALL Sicknesses on LOWER DECK.
The upper deck has Business Class and Suites (including a shower).

Business and Suites pax are allowed to go to the lower deck, the other way around is not possible.
The flight deck is located between both decks. They are 100% enclosed with their own bunk beds.
Press Secretary for NYC Mayor's office says "Health officials are processing tests now to determine the cause. Symptoms still pointing to the flu."
Flu?